5 GOP House Seats That Democrats Can Steal In 2014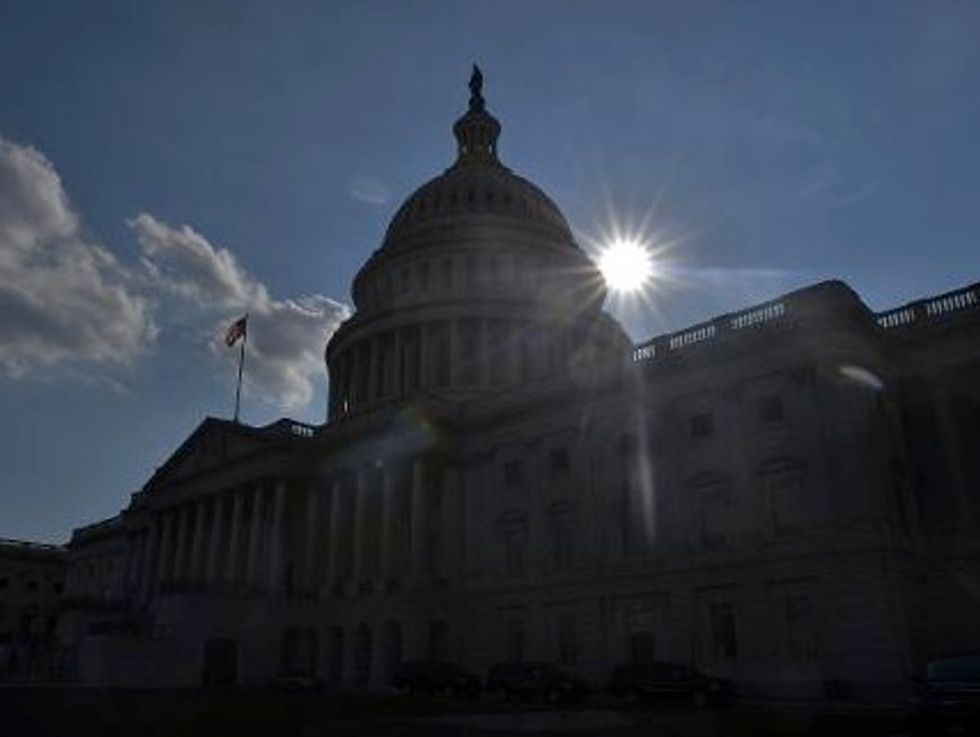 AFP Photo/Jewel Samad
Although most analysts predict that the Republican Party will keep its House majority in the 2014 elections, Democrats still have a real chance of making gains.
As MSNBC's First Read points out, Republican representatives are leaving office in five districts where President Obama won at least 48 percent — suggesting that Democrats have a realistic shot at stealing the now-open seats. Considering that several of those lawmakers belong to the GOP's more moderate caucus, the seats in question are especially vulnerable.
Read on to learn more about the districts that could host five of the most competitive midterm elections in the country:
New Jersey's 3rd District
Representative Jon Runyan, who represents New Jersey's 3rd congressional district, announced in early November that he would not seek re-election in 2014.
"After a great deal of thought and discussions with my family, I have decided not to seek re-election in 2014. Politics shouldn't be a career and I never intended to make it one," Runyan said in a statement.
The moderate Republican's decision comes after reports that he was upset with his own party during the October government shutdown.
Though in a generally red district, Runyan's seat – which was previously occupied by Democrat John Adler – is sure to trigger a competitive race as Democrats will undoubtedly try to steal the district that President Barack Obama won in the 2012 presidential election – 52 percent to 48 percent.
Various Republicans have voiced interest in replacing Runyan, but only former Senate candidate Steve Lonegan – a Tea Partier — has confirmed he will run in 2014. On the Democratic side, Burlington County Freeholder Aimee Belgard has announced her bid in the race.
Photo via Wikimedia Commons
Iowa's 3rd District
In an email sent out to supporters in mid-December, Representative Tom Latham of Iowa's 3rd district announced he would not run again in 2014.
"It is never a perfect time or a right time to step aside," Latham wrote. "But for me, this is the time."
Latham's now-empty seat may easily be picked up by a Democrat this year.
In both the 2008 and 2012 presidential elections, President Obama won Latham's district – 51 percent to 47 percent in 2012 and by a wider six points in 2008.
Former state senator and Democrat Staci Appel is seeking the Democratic Party nomination. On the GOP side, former congressional aide David Young and elementary school teacher Joe Grandanette have announced their bids.
Other potential Republican candidates include businessman David Oman, bridge contractor Robert Cramer, Senator Brad Zaun, and state elections chief Matt Schultz.
Photo: Gage Skidmore via Flickr
Virginia's 10th District
Republican representative Frank Wolf also announced in mid-December that he would not be running for re-election in 2014.
Wolf said he hopes to "focus [his] future work on human rights and religious freedom."
Though the conservative lawmaker has beaten a handful of relatively unknown Democratic challengers over the years, his 10th congressional district might give way to a party switch.
In 2012, Wolf's district was viewed as a competitive district for Obama and Mitt Romney. Romney managed a narrow victory, by only roughly 1 percent.
The battleground district is now being eyed by well-known GOP politicians, Delegate Barbara J. Comstock and Senator Richard H. Black. There is no official Democratic challenger yet.
Photo: Frank Wolf via Flickr
Florida's 13th District
After Representative Bill Young's death in October of last year, GOP candidates Congresswoman Kathleen Peters and lobbyist David Jolly launched nasty campaigns as they battled for the Republican nomination to succeed him.
The two Republicans are joined in the primary by retired Marine General Mark Bircher. The winner will then face off with Democratic nominee and former state CFO Alex Sink, and Libertarian Lucas Overby.
Besides having to worry that the Republican vote might be split between the chosen Republican nominee and Overby, the GOP might also lose the seat if Peters' and Jolly's overwhelmingly negative campaigns leave a bad impression on voters – one that may still be fresh when the special election rolls around in March. Additionally, Sink's fundraising — she has raised $1.1 million so far and has another $1 million on hand — will be hard for her opponents to match in just two months.
Considering Obama won 50 percent of Young's 13th district in 2012, Republicans might really be in trouble here.
Photo via Wikimedia Commons
Pennsylvania's 6th District
On Monday, Representative Jim Gerlach from Pennsylvania's 6th district announced that he would not seek re-election this year.
"It is simply time for me to move on to new challenges and to spend more time with my wife and family," Gerlach said in a statement.
Gerlach's decision has now placed another Republican seat up for grabs.
In the 2012 presidential election, President Obama won 48 percent in Gerlach's district. Though Romney ultimately won it, that 48 percent for Obama is significant, considering that it was redrawn by the GOP to ensure a more right-wing constituency.
Also important to note is that Gerlach, like Runyan, belongs to the more moderate wing of the Republican caucus, which makes his seat especially vulnerable to a Democratic victory.
Though potential GOP candidates – including Chester County Commissioner Ryan Costello, Senator John Rafferty, and former Senate candidate Som Rohrer — have not yet announced a bid in this year's election, Democratic businessman and Army veteran Michael Parrish has already filed to run.
Photo: America 2050 via Flickr