Some Florida Doctors Decline To Accept Obamacare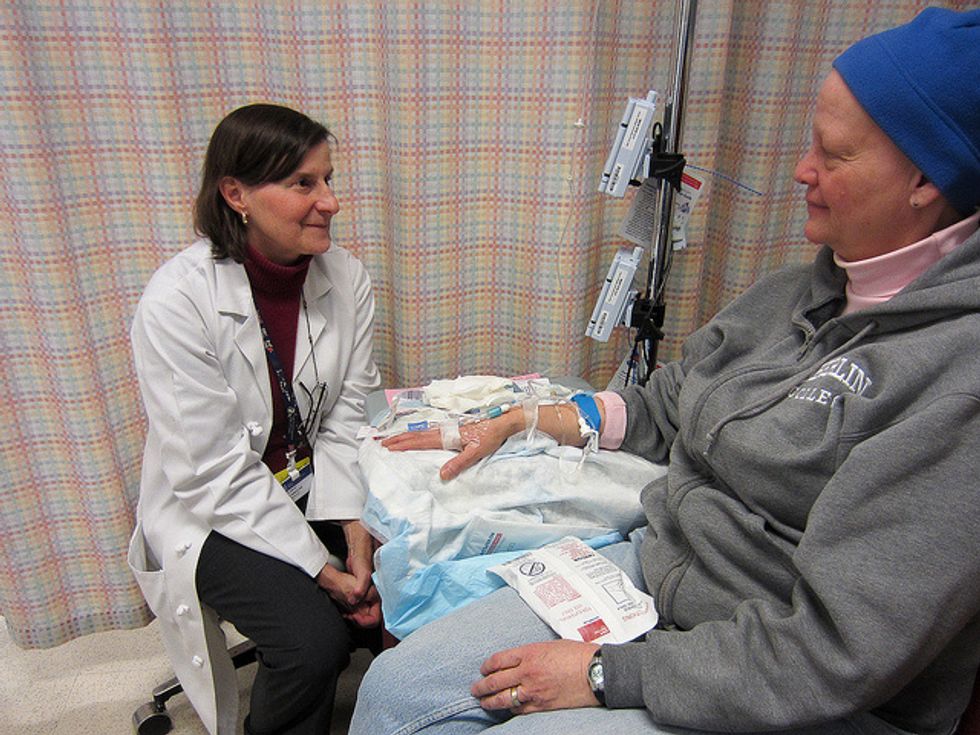 By Daniel Chang, The Miami Herald
MIAMI — After being without health insurance for two years, Miranda Childe of Hallandale Beach, Fla., found a plan she could afford with financial aid from the government using the Affordable Care Act's exchange.
Childe, 60, bought an HMO plan from Humana, one of the nation's largest health insurance companies, and received a membership card in time for her coverage to kick in on May 1.
But instead of being able to pick a primary care physician to coordinate her health care, Childe says she repeatedly ran into closed doors from South Florida doctors who are listed in her plan's provider network but refused to see patients who bought their coverage on the ACA exchange.
"I just felt that I wasn't being treated like a first-class citizen," said Childe, who eventually found a doctor with the help of a Humana counselor. "Nobody, I don't care what kind of degrees they have, should ever be treated that way."
Nearly 1 million Floridians enrolled in a private health plan through the ACA exchange, but some, like Childe, are finding that some physicians refuse to honor their coverage — even when the doctors are included in the plan's provider network.
Some physicians say they're concerned they won't be paid for their services by either the insurer or the patient, and that insurers are not adequately informing doctors of their inclusion in exchange plan networks.
"You don't want to be in a situation where you provide service, and turn around and there's no contract in place to reimburse you," said Jay Millson, executive vice president of the Florida Academy of Family Physicians.
For some patients, though, the elation they felt about being insured has been tempered with rejection at doctors' offices.
Sal Morales, 48, of Kendall, said a physician and her staff humiliated him when he tried to make an appointment at her Hialeah office earlier this year.
"They made me feel really bad," said Morales, who bought a Florida Blue plan in March and qualified for subsidies to help pay his monthly premium and out-of-pocket costs. "I felt, seriously, like I had a horrible disease that they couldn't, or wouldn't, or didn't want to cure, or at least see and examine."
Morales, who lost his employer-provided health insurance in October when he was laid off from his job as a TV producer, said he has been turned away by at least three primary care physicians in his plan's provider network.
"I actually went to a doctor," he said, "and in the lobby they had an 11-by-14-inch sign in bright yellow that said, 'We do not accept anything from the marketplace (Obamacare).'"
But Morales said the worst experience was standing by at another doctor's office as the receptionist called Florida Blue to verify his coverage.
"They got into a screaming match," he said, "with the receptionist, a lab technician, and even the doctor — and me at the dividing wall, listening to all this, with about 17 patients in that little room listening to the fact that I had what I thought was the worst insurance on the face of the earth.
"This person kept saying that they were not going to be taking any Obamacare insurance because they will never get paid," he said.
Morales said he stood his ground and finally got an appointment. But he chose not to return after that experience.
He said he finally found a doctor he likes, near his home in Kendall, and saw him for the first time July 1 — four months after his insurance took effect.
Morales said his new doctor doesn't make him feel like "a second-class citizen, and that is important to me because regardless of where that insurance comes from, I still pay $145 (monthly premium)."
Health plans that consumers buy on the ACA exchange are private insurance, even for consumers who receive federal government subsidies.
It's unknown how many of the 983,775 Floridians who selected a private plan have been turned away by doctors in their network, but Florida's Department of Financial Services reported receiving 63 complaints from consumers who bought a plan on the ACA exchange but could not get in to see a physician in their network.
Childe said she complained to the state and to her congresswoman, U.S. Rep. Debbie Wasserman Schultz, who chairs the Democratic National Committee.
Wasserman Schultz issued a statement saying she has heard from "a couple of constituents" about this issue. "My staff has raised it with the Department of Health and Human Services as well as directly with some of the insurance companies. … I believe the onus is on the insurers and the providers to bridge this gap and provide reliable, consistent customer service."
Bernd Wollschlaeger, a family physician in Aventura, said his contracts with insurers require him to see members from all of that insurer's plans — unless the agreement cites an exclusion.
"Once you're a provider for an insurance company," he said, "you cannot discriminate."
Wollschlaeger said he does not ask his patients where they bought their health insurance. But, he added, on occasion some insurers have delayed reimbursements for patients who bought their plans on the ACA exchange because the companies were waiting for the patient to pay their share of the bill.
"But it's not significant for my cash flow," Wollschlaeger said of those experiences, "nor did I see any systematic effort by insurance companies to delay payment until the patient pays."
Wollschlaeger, a past president of the Dade County Medical Association — the largest group representing physicians in the area — said many doctors were opposed to the Affordable Care Act from the outset.
"There was a strong opposition, specifically by physicians in Florida," he said, adding that "even though it has simmered down a bit, whether out of resignation or exhaustion, there is an underlying resentment."
Wollschlaeger said he supports the ACA and expects it will evolve to address issues such as physician payment rates by insurers.
He's also an advocate of educating consumers about their health plans, particularly those who may not have been insured before and might believe that their only obligation is the monthly premium.
"They have financial responsibility," Wollschlaeger said. "It's not a free-for-all."
Photo: kbrookes via Flickr
Interested in national news? Sign up for our daily email newsletter!