Florida House Passes Religious Exemption To Block Gay Adoptions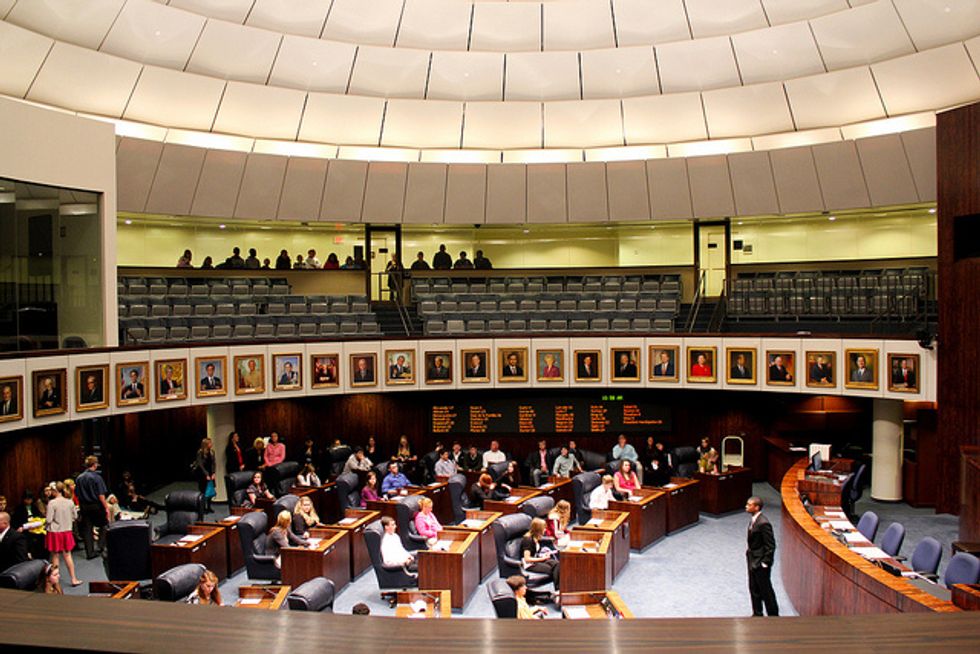 By Gray Rohrer, Orlando Sentinel (TNS)
TALLAHASSEE, Florida — The Florida House on Thursday approved $690 million in tax cuts and a bill allowing residents fleeing hurricanes to carry guns without a permit, but the bill attracting the most controversy allows private adoption agencies to reject gay couples if they have a religious or moral objection.
The vote for that measure (HB 7111) was 75-38, with most Democrats opposing the bill, calling it state-sponsored discrimination.
Representative David Richardson (D-Miami Beach), likened the measure to the struggle for civil rights for African-Americans in the 1960s, citing the sit-ins at the lunch counters of Greensboro, N.C., in 1960.
"If you're open to the public, you're open to the public," said Richardson, the first openly gay member of the Legislature. "If the lunch counter's open, it's open for everyone."
Republicans, however, countered that forcing religious adoption agencies to either go against their consciences or shut down would ultimately lead to less opportunities for children in need of foster parents. Also, gay couples can go to another of Florida's 82 adoption agencies if they are refused, they argued.
Representative Scott Plakon (R-Longwood), suggested lawsuits were already being lined up to restrain religious adoption agencies from refusing gay couples.
"You may disagree with their beliefs, you may even think that they're crazy, but they are their sincerely held beliefs," said Representative Scott Plakon (R-Longwood).
Social conservative groups put pressure on Republican legislators after the House voted last month to strike down Florida's ban on gay adoption. An appeals court struck down the provision in 2010 and the Florida Department of Children and Families doesn't enforce the ban, but the statute has remained on Florida's books.
The bill still needs to pass the Senate.
Most Democrats also objected to SB 290, which would allow residents under mandatory evacuation orders to carry firearms without a concealed weapons permit up to 48 hours after the order is given.
Representative Ed Narain (D-Tampa), said the bill would bring unintended consequences, especially for black males, similar to the "stand your ground" law.
"It's the potential combination of these two (laws) that could mix and create a deadly scenario that none of us want to imagine or even consider," Narain said.
But Republicans in favor of the bill said it was needed to protect property during hectic evacuation periods, especially firearms that aren't protected through permits or licenses.
"What some people in this chamber don't understand…is that you can't get a permit or a license for a rifle or a shotgun," said Representative Neil Combee (R-Polk City).
The bill passed 86-26 and now heads to Governor Rick Scott's desk.
A bill garnering more bipartisan support was HB 7141, which cuts $690 million in taxes, mostly from cable, satellite, and phone bills. The cut to the communication services tax will save TV and phone users $470 million, with the average cable user spending $100 a month saving about $43 over 12 months. The cut is a top priority for Scott.
Although some Democrats bemoaned parts of the bill cutting sales taxes on gun club memberships and providing a sales tax holiday for some firearms and ammunition on July Fourth, the bill passed 112-3.
The Senate has advanced individual tax cut bills but because of the uncertainty surrounding the Medicaid budget that the chamber is waiting to pass its preferred tax-cutting measures.
Photo: Second Judicial Circuit Guardian ad Litem Program via Flickr