Florida's IQ Exam Fails Test Of Justice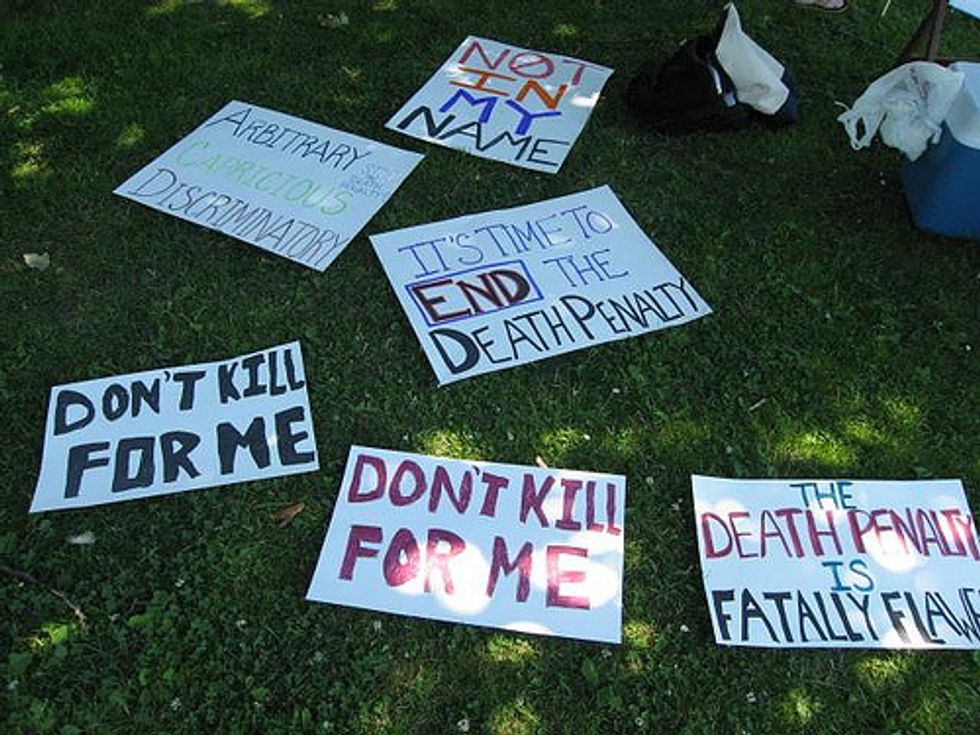 For 35 years, Florida has been trying to execute Freddie Lee Hall, who is mentally disabled and has been his whole life.
Last week, the U.S. Supreme Court heard the state's solicitor general argue that the execution should go forward because Hall scored too high on IQ tests to be spared from the death penalty.
The cutoff in Florida is 70 points. Hall's lowest score was 71.
There's not a credible expert in the field of learning disabilities who doesn't acknowledge a margin of error in IQ testing, but Florida is one of nine states that set a rigid numerical bar.
The result is a morbid lottery that once again lays bare the gross malfunction of capital punishment laws.
It's indisputable that Hall participated in terrible crimes. In 1978, he and a man named Mack Ruffin abducted a pregnant woman named Karol Hurst from the parking lot of a Pantry Pride in Leesburg, FL. She was raped, beaten and then shot to death.
Afterward, Hall and Ruffin took Hurst's car to a convenience store they intended to rob. There they scuffled with a sheriff's deputy, who was also fatally shot.
Both Hall and Ruffin were sentenced to die for Hurst's murder. They were also convicted in the deputy's death, though the charge against Hall was later reduced to second-degree murder.
Twenty-four years ago, Hall won a motion for a new sentencing hearing in the Hurst case. Numerous psychiatric experts testified about his extremely low IQ scores and severe mental deficiencies. As early as elementary school, Hall's teachers had repeatedly categorized him as "mentally retarded."
The trial court that resentenced Hall agreed that he had "been mentally retarded his whole life," was brutally tortured as a child and suffered from organic brain damage.
At that time, it wasn't enough to save him from Death Row. By an 8-4 margin, a jury reinstated his original sentence. Since then the law of the land has changed.
In 2002, the Supreme Court ruled it was unconstitutional to execute mentally retarded persons, saying that IQ scores below "approximately 70" showed serious intellectual disability. Individual states were left to hammer out details of the exemption.
Several of the Supreme Court justices last week questioned why Florida lawmakers imposed an arbitrary IQ threshold of 70 when most psychiatrists recognize margins of error spanning five points or more.
Justice Stephen G. Breyer proposed that trial courts require clinical experts to explain IQ parameters to the judge or jurors who were deciding if a defendant was intellectually disabled.
Asked Breyer, "What's so terrible about doing it?"
"What is so terrible about doing it," replied Florida solicitor general Allen Winsor, "is you end up increasing the number of people who would be eligible for a mental-retardation finding."
God forbid.
The last thing we'd want to do is thin out Death Row, where inmates currently spend an average of about 25 years appealing their sentences, at enormous taxpayer expense.
Some will say it's just as immoral to lock up a mentally disabled person for life as it is to execute him, but nothing can excuse the crimes that Freddie Lee Hall took part in. He belongs in prison forever.
And that would be his certain future, if only he'd gotten one or two problems wrong on his IQ test, scoring a 70 instead of a 71. It's like a twisted Comedy Central sketch — if you pass the exam, you die.
Florida authorities seem concerned that some inmates who aren't really mentally disabled will be able to dodge lethal injection if the law is made more flexible.
However, the high court's 2002 ruling requires not only an extremely low IQ, but also a demonstrable lack of practical and social skills — and proof that both conditions existed before the defendant turned 18.
It's not an easy scam to pull off. In Hall's case the evidence of his lifelong impairment was overwhelming and fully acknowledged by the same court that re-sentenced him to death in 1991.
Not that the radical inconsistency in capital punishment cases needs highlighting, but consider what happened to Hall's cohort in the kidnap and murder of Karol Hurst.
Mack Ruffin — the one with the normal IQ and no brain damage — got his death sentence reduced to life in prison.
Fourteen years ago.
(Carl Hiaasen is a columnist for The Miami Herald. Readers may write to him at: 1 Herald Plaza, Miami, Fla., 33132.)
Photo: javacolleen via Flickr