Food Companies Back Group Fighting Nutrition Standards On Capitol Hill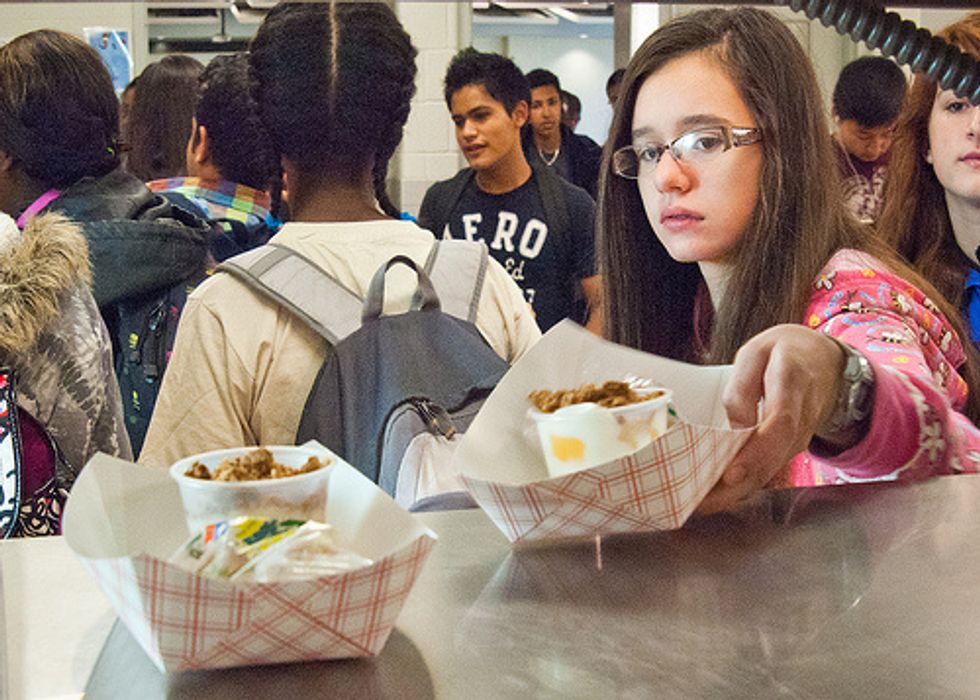 By Allison Sherry, Star Tribune (Minneapolis)
WASHINGTON — A special interest group representing school nutritionists and backed financially by big food companies — including six from Minnesota — is pushing legislation that would allow school districts to bypass new lunch rules restricting sodium and requiring more fruits, vegetables, and whole grains.
The Minnesota companies — Schwan's, General Mills, Cargill, Land O'Lakes, Hormel, and Michael Foods — have officially stayed neutral on the issue, taking no position on the dispute on Capitol Hill. Some companies, such as General Mills, say they already are working on products that would conform to the new standards.
Instead, the fight over the phased-in nutritional rules signed into law in 2010 is being waged by the School Nutrition Association. Once a genial, low-profile school nutrition advocacy group that initially supported the new rules, the SNA now is leading an aggressive charge in lobbying Capitol Hill for waivers from those very requirements.
The rules require school districts to gradually reduce sodium, calories, and starch while increasing vegetables, fruits, and whole grains. When passed in 2010, it had bipartisan support that stretched from first lady Michelle Obama to the U.S. Senate and some House Republicans. School districts and the SNA were among the cheerleaders.
That has all changed. The SNA now is pitted against more than 200 health organizations such as the American Heart Association and the American Medical Association, which support keeping the requirements intact. Even the food industry, which has long funded the SNA, is publicly distancing itself from the group's prominent lobbying efforts.
The SNA, which has local operations in every state, is urging lawmakers to adopt waivers that would allow school districts that are losing money on school meals to opt out of the rules. That position is backed strongly by Republicans, including Rep. John Kline, a Minnesota Republican and chairman of the House Education and the Workforce Committee. The White House has threatened a veto of waivers to the nutritional rules.
Jean Ronnei, vice president of SNA and chief operating officer for St. Paul public schools, said her district has been able to make the new rules work so far, but she wants flexibility going forward. She worries about the growing number of students dropping out of the school lunch program.
"I'm losing customers," Ronnei said. "What do I decide to do? Charge more for that entree?"
The business of feeding school kids is lucrative: The Department of Agriculture this year will devote $16.5 billion to pay for students' lunches, breakfasts, milk, snacks, and state administrative expenses.
Compliance with the new standards so far is high. More than 90 percent of schools across the country meet the current standards.
Yet the SNA has become increasingly dogged in its efforts to obtain waivers that would allow some schools to deviate. Association officials cite the healthier food — more whole wheat, fruits and vegetables, and less salt — as a reason behind falling participation in the school lunch program. They also say the 6 cents more given by the feds for lunches meeting the requirements fails to offset the higher cost of fruits and vegetables.
The SNA for years worked from a different playbook. It employed an old-school Washington lobbying firm that specialized in agriculture. It worked closely with the USDA, made few waves and captured even fewer headlines.
That changed last year. The SNA dumped its old lobbyist and hired Barnes & Thornburg, a group known for its top-notch, aggressive grass-roots outreach, whose client roster includes the National Rifle Association. The NRA last year snuffed out two major gun control measures in the U.S. Senate, employing a similar grass-roots approach.
Nutritional advocates and USDA officials say privately that with the new SNA lobbyist came a new, tougher approach. SNA stopped working through the executive branch and began pushing legislative fixes. In media calls, school directors told stories of food waste and dwindling bottom lines, all because of the new rules.
USDAGov via Flickr
Interested in news about health? Sign up for our daily email newsletter!