Fordham Law Professor: Mueller Revealed Trump-Russia Conspiracy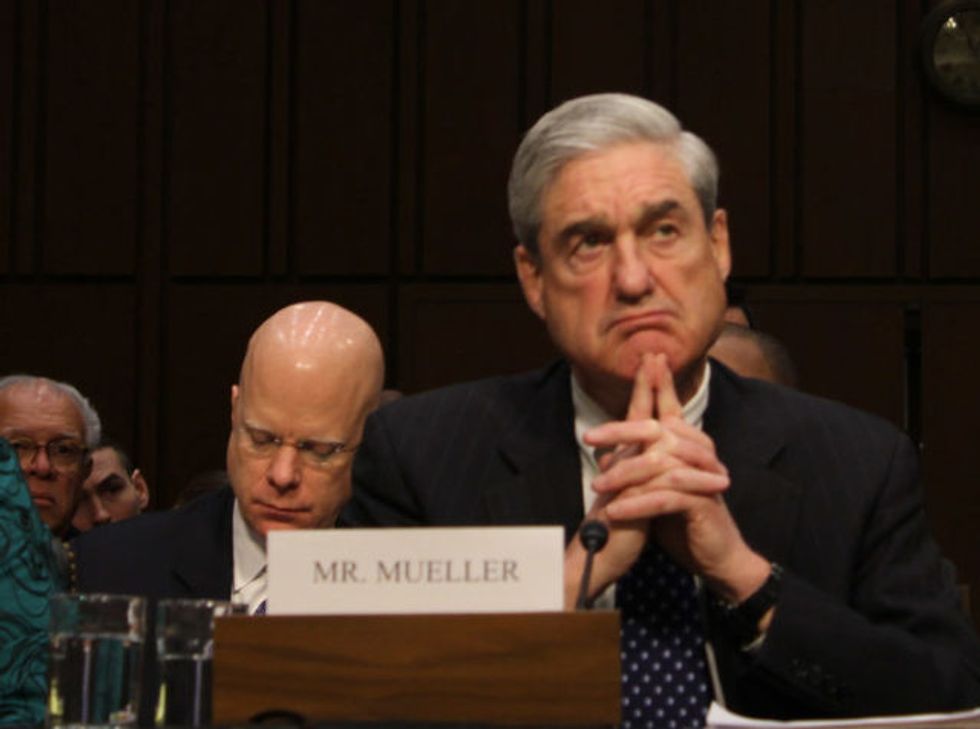 In a new op-ed for the New York Times, Fordham University Law Professor Jed Shugerman argued that, despite the headline conclusions of Special Counsel Robert Mueller's report on the Russia investigation, the evidence shows there really was illegal conspiracy and coordination between the Trump campaign and the hostile foreign power.
It's a surprising and bold conclusion because Mueller's report clearly says the opposite. Despite hundreds of pages of evidence, none of it, Mueller said, established that the Trump campaign "conspired or coordinated with the Russian government in its election interference activities."
So how does Shugerman reach his conclusion? He makes two clever analytical moves. First, he points to Mueller's implicit standard of evidence: proof beyond a reasonable doubt. As a prosecutor who would be called upon to demonstrate his conclusions in a court of law, the former FBI director held himself to a rigorous standard for his claims: just below certainty.
But Mueller did not even suggest that there was a conspiracy. We know he was willing to discuss possible charges in the report because he weighed the idea of charging Donald Trump Jr. of a campaign finance crime in soliciting election help from Russians, before declining to bring such a charge for several solid reasons. He never gets even this far with a conspiracy case.
That's where Shugerman's second analytical move comes in, arguing that Mueller's standards for assessing conspiracy and coordination may have been too stringent:
Even without knowing what is redacted, the report offers "substantial and credible information" of the Trump campaign conspiring or coordinating with the Russian government. Under federal criminal law, "conspiracy" does not require direct proof or explicit words of agreement. It can be proven by action and circumstantial evidence from which the agreement may be inferred. And on campaign "coordination," the Mueller report made a significant omission or oversight on this question when it stated that "'coordination' does not have a settled definition in federal criminal law. We understood coordination to require an agreement — tacit or express."

As the election law expert Paul Seamus Ryan noted, Congress in its 2002 campaign finance law rejected that view: Federal law "shall not require agreement or formal collaboration to establish coordination." The federal regulations followed this command: "Coordinated means made in cooperation, consultation or concert with, or at the request or suggestion of, a candidate," with no need to show any kind of agreement. Expenditures for coordinated communications are considered in-kind contributions, and foreign contributions — public or private — are illegal.
With these less demanding interpretations of the charges, Shugerman argues that at least three events from the Mueller report could be seen as evidence of conspiracy and coordination: Campaign Chair Paul Manafort's sending of internal polling data to a man believed to be a Russian spy; Roger Stone's interactions with WikiLeaks, which could directly implicate Trump (though much of these sections are redacted); and Donald Trump Jr.'s communications with WikiLeaks.
"This conduct by President Trump, his son and his campaign manager and deputy campaign manager are probably civil violations of coordination for enforcement by the F.E.C.," Shugerman argued.
While the evidence isn't firm enough to reach a conclusion "beyond a reasonable doubt," it does rise to the level of proof "by a preponderance of the evidence," wrote Shugerman. This is an acceptable standard for civil violations not punishable by prison time.
Why does all this matter? Shugerman said that it could be relevant to impeachment. Congress gets to decide what counts as a "high crime or misdemeanor" — and there's no reason these acts couldn't qualify. Congress also gets to decide what standard of proof it needs. There's no reason to insist on knowing "beyond a reasonable doubt" when the integrity of the presidency is involved.
But I think Shugerman's strongest argument is actually on obstruction. As I have argued previously, Trump's obstruction of justice may have indeed blocked the investigation from obtaining vital evidence in the Russia case. We likely will never know — but that's exactly why it's important to treat obstruction of justice just as seriously as we would other crimes. By the nature of the crime, it can make it impossible to know if other grievous infractions are being covered up.