Former Acting AG Whitaker: 'Abuse Of Power Not A Crime'
@jeisrael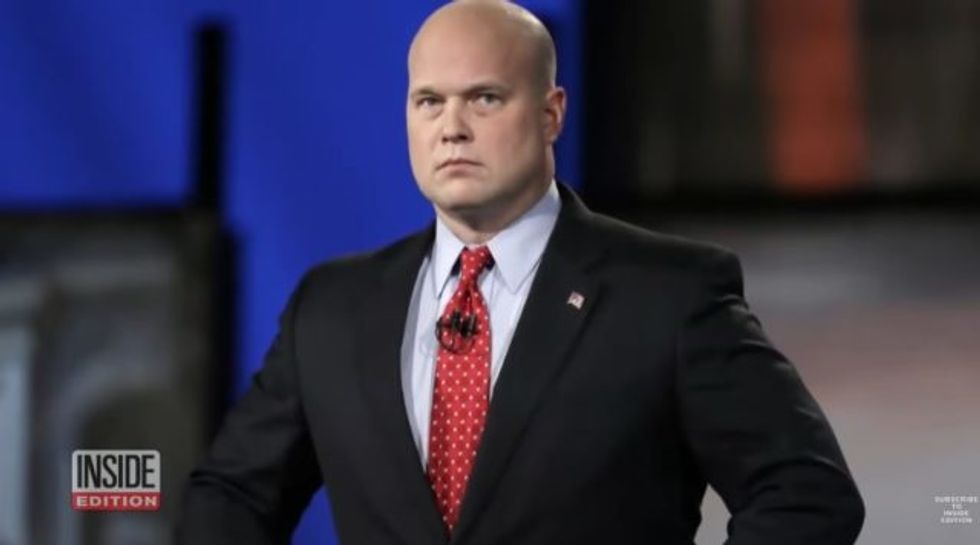 Matthew Whitaker, the man Trump appointed as acting attorney general during special counsel Robert Mueller's investigation into Russian interference, despite never being confirmed by the Senate, offered a stunning defense of his former boss on Tuesday night.
"Abuse of power is not a crime," he argued in a Fox News interview, speaking of the ongoing House impeachment inquiry.
"What evidence of a crime do you have?" he asked host Laura Ingraham. "…Let's fundamentally boil it down. The Constitution is very clear that this has to be some pretty egregious behavior. And they cannot tell the American people what this case is even about right now, because they have to do it in secret."
When Trump forced out his first attorney general, Jeff Sessions, in late 2018, he temporarily selected Whitaker to take over the Justice Department and assume oversight of the special counsel's probe into Russian meddling in the 2016 election. Legal experts noted that his appointment may have been unconstitutional, given that he was never Senate-confirmed to any position in the department.
House Democrats have made clear that the impeachment inquiry is focused on Trump's attempts to pressure Ukraine to investigate one of his 2020 election rivals, former Vice President Joe Biden. Accepting or soliciting election assistance is a crime, according to the Federal Election Commission and Justice Department.
Additionally, Trump's own chief of staff, Mick Mulvaney, admitted to reporters in a press conference last week that Trump had withheld military aid to Ukraine in order to secure such an investigation, as well as a probe into a long-debunked conspiracy theory about the DNC servers. Mulvaney has since attempted to walk back those comments, saying he never admitted the existence of that deal.
Further complicating the matter, Bill Taylor, the current top diplomat for Ukraine, testified before lawmakers this week and confirmed that such a quid pro quo had indeed existed. In a roughly hour-long opening statement, Taylor said that "everything" had depended on Ukrainian President Volodymyr Zelensky announcing the investigations publicly — including the military aid.
Whitaker's argument that Trump can abuse power with impunity mirrors Trump's own comments from 2016, when he claimed he could "could stand in the middle of 5th Avenue and shoot somebody" and still maintain the public's support.
And for good measure, Trump's attorney, William S. Consovoy ⁠— who has been tasked with shielding Trump's financial documents from being made public ⁠— argued in court this week that Trump would in fact be immune from criminal investigation even if he did shoot someone.
Published with permission of The American Independent.