Former Chiefs Tight End Sean McGrath Isn't Alone As Other Young NFL Players Retire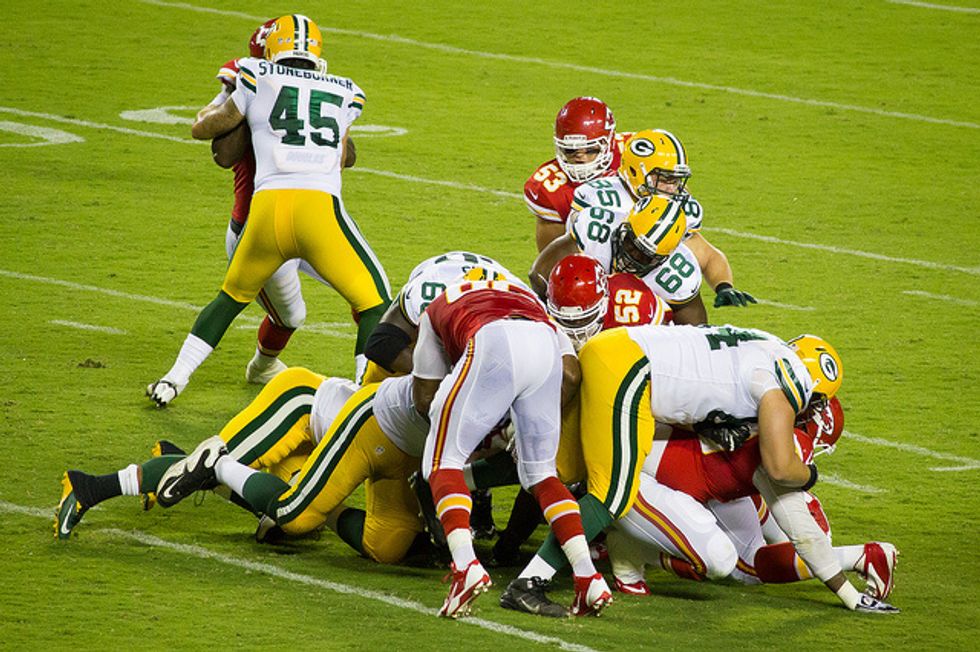 By Terez A. Paylor, The Kansas City Star (TNS)
Late last July, a young tight end walked slowly into the Chiefs' training camp dormitory at Missouri Western in St. Joseph, sporting his trademark beard and a hat.
The smile that had been plastered on Sean McGrath's face the previous season was gone; instead, he appeared emotionless as he disappeared inside the building on this bright, sunny day.
No one — not the reporters nor his teammates standing nearby — knew the message he would soon give Chiefs coach Andy Reid and general manager John Dorsey.
McGrath, 27, was retiring from professional football.
Seven months later, McGrath attends art classes at Henderson State University in Arkadelphia, Arkansas, where he played college football. He's working on a master's degree, according to his agent.
And seven months later, McGrath isn't alone in his decision. Several young, established players, not unlike McGrath, have recently left professional football.
At the top of the list is San Francisco linebacker Chris Borland, 24, who made national headlines this offseason when he retired after a 100-plus-tackle rookie season because of his concerns about the long-term effects of concussions.
Also this offseason, Pittsburgh linebacker Jason Worilds, a Jehovah's Witness, retired at age 27 to work for his religion, and Tennessee quarterback Jake Locker, 26, retired because of what he said was a loss of passion for the game. Before last season, former Arizona and Pittsburgh running back Rashard Mendenhall, 26, retired because he wanted to pursue writing as a career.
McGrath, by all accounts, loved football. But the Chiefs and McGrath's agent, Richard John Owens, said other passions — particularly art — overtook his desire to play. Before he quit, McGrath was a solid contributor on the Chiefs' depth chart, catching 26 passes for 302 yards and two touchdowns in 2013.
"We sat and talked for an extended period of time," Dorsey said of McGrath at the NFL's annual meetings last week in Phoenix. "And part of that was to see, truly, is this what you want to do in life?
"Because if you don't have it inside your soul, if you're not totally committed to execute what you want to execute, it's not going to work."
Owens said he speaks to McGrath roughly once a month, in addition to receiving pieces of art from the former player. McGrath gave Owens a piece of pottery at his pro day workout in 2012.
But Owens remains surprised by his client's decision. He said McGrath remains a "bit of a different guy."
"The main reason, he told me, is that the idea of art was drawing him away from the game," Owens said, adding that he gets the impression McGrath wants to teach and be part of an art gallery. "But I still, to this day, scratch my head.
"Sean, to this day, absolutely loved the game, and I think he still does. I'm just as baffled, probably, as you are."
By last July, based on what he told the Chiefs, McGrath's commitment level had fallen off.
"He said, 'I'm not totally prepared.' But you applaud him because he didn't at least come out there and try to fake it. Nobody has time for that," Dorsey said. "So you applaud him for at least standing up, realizing where he was in his career and ultimately making the toughest decision of his life."
Reid, who has been an NFL head coach for 16 seasons, said his reaction to McGrath was simple — he told him you've got to do what you've got to do.
"I listen to him, and then, if I feel like he wants advice or wants to talk through it, options, I'll give him the options," Reid said. "But normally if you're in that position, if they've come to you with it, they've probably thought it through pretty good."
When asked directly, Owens said McGrath did not retire because of concern about his long-term health, or any other reason. But safety is exactly why Borland's retirement made such a splash this month.
According to ESPN, more than 70 former players have been diagnosed with progressive neurological disease after their deaths, and numerous studies have shown connections between the repetitive head trauma associated with football and issues such as depression and memory loss. The NFL implemented five rule changes at its annual meetings directly related to player safety, including a few aimed at protecting players against concussions.
But multiple coaches quizzed at the NFL meetings seemed largely unconcerned about whether Borland's decision — and the decisions of others to put other interests and passions ahead of football — will soon become a trend.
"I don't think so," said Borland's coach in San Francisco, Jim Tomsula. "The game's getting safer, man. It's going back to safety. I'm excited about where it's heading that way."
Pittsburgh coach Mike Tomlin — who was surprised by Borland's decision "considering the energy and effectiveness in which he played" last season — agreed with Tomsula.
"It's a hot topic right now, but I imagine it's been going on since the beginning of time, guys choosing to walk away from the game seemingly at an inopportune time when they had youth and health," Tomlin said. "It's the flavor of the month."
Still, Borland's story is a cautionary tale for teams trying to build a championship roster. The 49ers, after all, spent a valuable second-round pick on Borland and got only one season from him.
"It makes the job harder, truth be told, because you're going to weigh those components in your decision-making," Dorsey said.
But Dorsey also said it's really not that hard to find players who love football. This month, the NFL held a veterans combine in which 120 players paid their own way to work out in front of all 32 teams in hopes of landing a job.
"Is there a story there? I don't know," Dorsey said. "Are we trying to create something bigger than it is? Possibly could be."
When Owens first heard about Borland's retirement, he couldn't help but think about McGrath.
"You see a retirement from a guy who has played a short period of time in the league, a guy who probably could play in the league for years," Owens said. "But it's Sean's life. Not many guys like that could be able to walk from the game on their own terms."
But Owens also wouldn't rule out whether McGrath might decide to return to football.
"He's still working out, he's still in phenomenal shape," Owens said. "We'll see what happens."
Photo: Anthony Roderman via Flickr