Former Dean Of Yale Law School Calls Kavanaugh Confirmation 'An American Tragedy'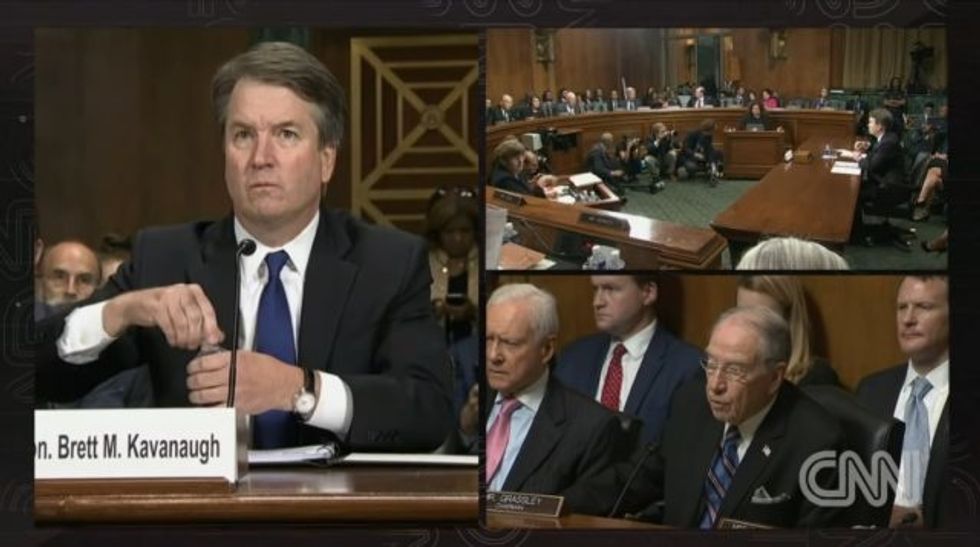 Reprinted with permission from AlterNet.
In an op-ed published Saturday by Politico, former Dean of Yale Law School Robert Post called Brett Kavanaugh's appointment to the U.S. Supreme Court "an American tragedy," writing that the nation's newest Supreme Court justice is the "black-robed embodiment of raw partisan power inconsistent with any ideal of an impartial judiciary."
Post described Kavanaugh as a "casual acquaintance," noting he watched the judge's testimony before the Senate Judiciary committee last month with "something approaching unbelief."
"With calculation and skill, Kavanaugh stoked the fires of partisan rage and male entitlement," Post wrote. "He had apparently concluded that the only way he could rally Republican support was by painting himself as the victim of a political hit job. He, therefore, offered a witches' brew of vicious unfounded charges, alleging that Democratic members of the Senate Judicial Committee were pursuing a vendetta on behalf of the Clintons."
"If we expect judges to reach conclusions based solely on reliable evidence, Kavanaugh's savage and bitter attack demonstrated exactly the opposite sensibility," Post wrote, adding he was "shell-shocked" by Kavanaugh's performance.
Kavanaugh, Post said, chose "ambition over professionalism" and will "remain a symbol of partisan anger, a haunting reminder that behind the smiling face of judicial benevolence lies the force of an urgent will to power."
"Each and every Republican who votes for Kavanaugh, therefore, effectively announces that they care more about controlling the Supreme Court than they do about the legitimacy of the court itself," Post wrote. "There will be hell to pay."
Post warned Kavanaugh's "very presence" on the Supreme Court "will undermine the court's claim to legitimacy; it will damage the nation's commitment to the rule of law."
"It will be an American tragedy," he said.
Read the full op-ed at Politico.
Elizabeth Preza is the Managing Editor of AlterNet. Follow her on Twitter @lizacisms.