Former NYT Executive Editor Tells Politico: The Times Gives Hillary Clinton Unfair Scrutiny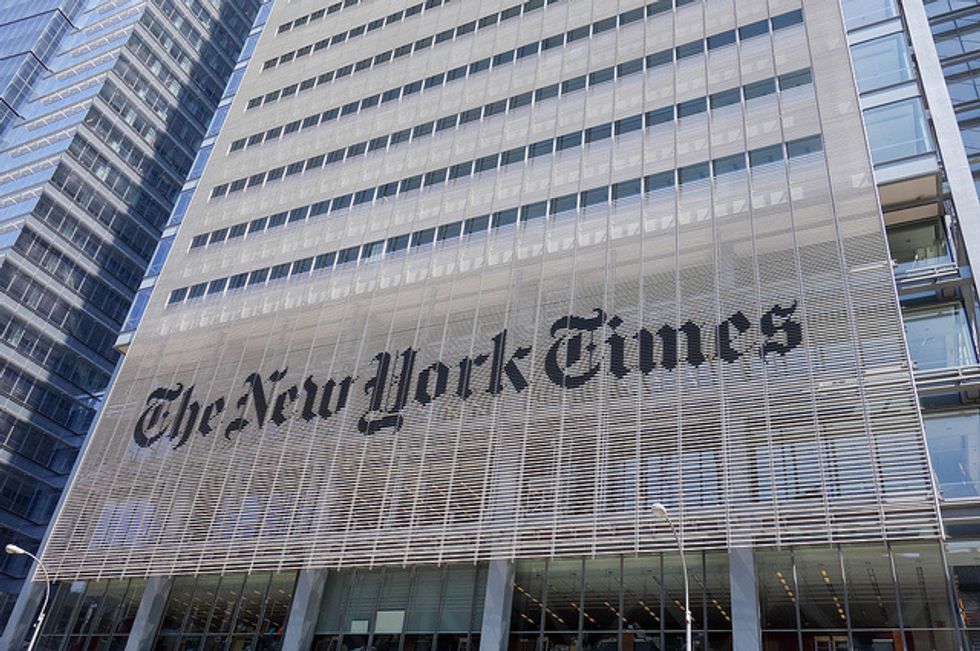 This article originally appeared in Media Matters.
According to Politico's Glenn Thrush, Jill Abramson, the former New York Times executive editor, said in a recent interview that she agreed with Media Matters founder David Brock that the Times has given an unfair "level of scrutiny" to Hillary Clinton.
Over the past year, the Times has repeatedly bungled reporting on Hillary Clinton's use of email, falsely claiming in a July report that Clinton was under criminal investigation, a story for which they issued numerous corrections. The Times' public editor Margaret Sullivan criticized the paper for publishing a "sensational" story with "major journalistic problems." In response to that report and several other issues with the paper's journalism David Brock called on the Times to commission a review of its reporting on Clinton.
Politico's Glenn Thrush reported March 21 that Abramson, in an interview, said she "agree[d]" with Brock that the Times gave the Clintons "an unfair 'level of scrutiny,'" saying Hillary Clinton "'does get more scrutiny" than other candidates – especially male candidates.'" From Politico:
A couple of years back, a friend of Hillary Clinton's told me the candidate-to-be was "disappointed" that the first woman to edit the New York Times — veteran investigative reporter Jill Abramson — wasn't more sympathetic to her plight as a feminist pioneer in politics.

In fact, both the candidate and her more volatile spouse went a lot further, venting to people around them that they saw the country's most powerful paper as a kind of special prosecutor in a blue plastic bag, whose top editors were bent on scouring them with an alacrity not directed at other politicians ("They are out to get us," the former president told a friend more recently).

No way, says Abramson, whose personal association with the Clintons goes back nearly 40 years. (Little-known fact: the woman who led coverage of the Clintons at the Times for a decade — as Washington bureau chief, and then as executive editor — briefly worked as a consultant on one of Bill Clinton's campaigns in Arkansas.) But Abramson lingers on the larger point of media fairness to Hillary Clinton, and gingerly concedes something few editors would ever admit.

"She does get more scrutiny" than other candidates – especially male candidates, Abramson told me during a 50-minute interview for POLITICO's "Off Message" podcast last week. When I asked her if Clinton's arch-defender David Brock had a point when he lashed the Times for giving the Clintons an unfair "level of scrutiny," she interrupted – to agree.

"Yeah, I do," said Abramson – who was ousted in 2014 after reportedly complaining that her compensation package was inferior to that of her male predecessor, Bill Keller.

"[W]e, for some reason, expect total purity from a woman candidate," added Abramson, who rose to the top job in 2011. "I did not feel, during my regime, that we were giving her way more scrutiny than anyone else." But, she said, "Where I think Hillary Clinton faces, you know, certainly more of a burden is that the controversies she's been in are immediately labeled, you know, Travel-gate or Email-gate… if you actually asked people what about any of these controversies bothers them, they don't know anything specific about any of them."

[…]

And Abramson isn't overly impressed by the one Clinton storyline getting the most attention: the lingering probe into the former secretary of state's "homebrew" email server during her Foggy Bottom tenure. Like Whitewater, the scandal was uncovered by a New York Times reporter; like Whitewater, it is regarded as a deus ex machina by Republicans facing political gloom; and like Whitewater, it will likely turn out to be more froth than flood, in Abramson's view. "I won't say nothing – but very little," she said, referring to the sum significance of Clinton's scandals.

When I asked if the Times email stories (executed after her departure, in 2015) were "a big deal," Abramson – who has taken pains not to criticize her former paper or its current editors – paused.

"It depends on, you know, what your definition of "big deal" is, but I'm not going to play Bill Clinton for you here," she said, referring to the former president's infamous what-is-is monologue during his Monica Lewinsky deposition. "The issue, to me, that's at the crux is that everything that we know that was classified was classified after the fact, after the emails were sent. And so, why is that a big deal? And the fact that she had this private email is something that, you know, I've read widely, a lot of people in the government – Colin Powell, let's face it, got much bigger speaking fees than Hillary did."
Photo: Flickr user Scott Beale.