Former Pakistan Prime Minister, Security Officials Deny U.S. Drone Collusion
@AFP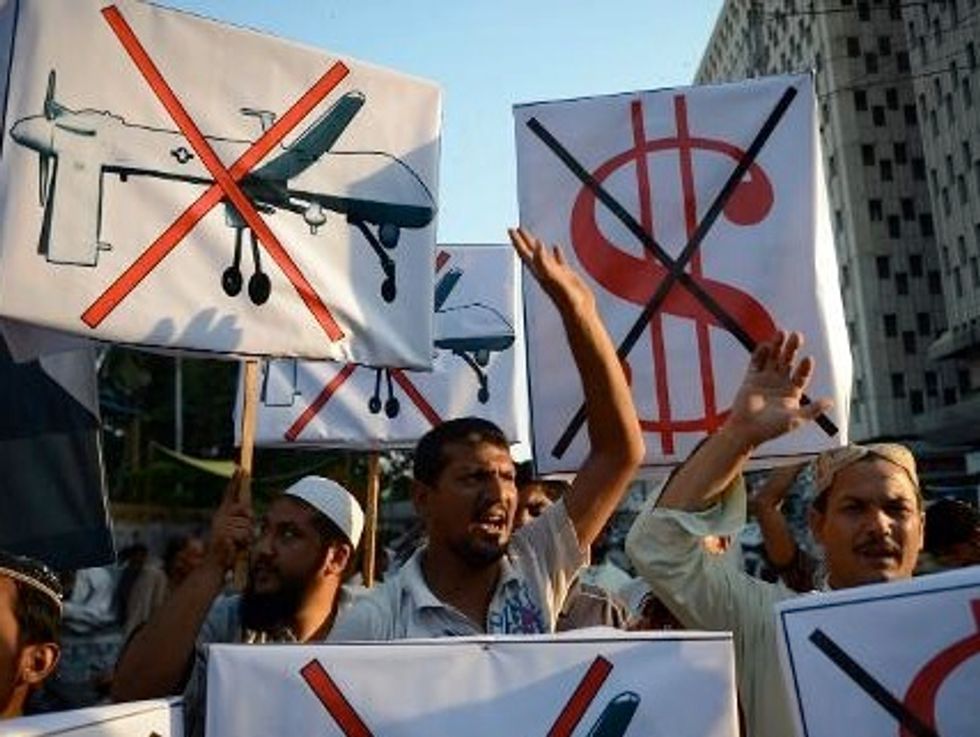 Islamabad (AFP) – Pakistani security officials and former prime minister Yousuf Raza Gilani Thursday denied a report that they had approved U.S. drone strikes on the country's soil.
The Washington Post on Wednesday quoted leaked secret documents as saying Pakistan had been regularly briefed on the strikes and in some cases helped choose targets.
The purported evidence of Islamabad's involvement came as Prime Minister Nawaz Sharif visited the White House and urged an end to the attacks, which are widely unpopular with the Pakistani public.
A senior Pakistani security official said the story was a U.S. attempt to undermine Sharif's position and reduce criticism of the drone campaign, days after an Amnesty International report warned some of the strikes could constitute war crimes.
The Washington Post's revelations concerned strikes in a four-year period from late 2007, when military ruler Pervez Musharraf was in power, to late 2011 when a civilian government led by the Pakistan People's Party had taken over.
Gilani, prime minister from 2008 until June last year, vehemently denied giving any approval for drone strikes.
"We have never allowed Americans to carry out drone attack in the tribal areas," Gilani told AFP.
"From the very beginning we are against drone strikes and we have conveyed it to Americans at all forums."
Islamabad routinely condemns the strikes targeting suspected Taliban and Al-Qaeda militants in its northwest tribal areas. But evidence of collusion or tacit approval has leaked out in recent years.
A diplomatic cable from then-U.S. ambassador Anne Patterson, dated August 2008 and released by Wikileaks, indicated Gilani had agreed to the strikes in private.
"I don't care if they do it as long as they get the right people. We'll protest in the National Assembly and then ignore it," the leaked cable quoted Gilani as telling U.S. officials.
In April this year Musharraf told CNN that he had authorised drone strikes in Pakistan while he was in power.
The Post said that top-secret documents and Pakistani diplomatic memos showed the Central Intelligence Agency, which runs the drone programme, had drafted documents to share information on at least 65 attacks with Pakistan.
In one case in 2010, a document describes hitting a location "at the request of your government" and another refers to a joint targeting effort between the CIA and Pakistan's Inter-Services Intelligence agency.
The senior Pakistani security official flatly denied any official deal to help with the drone campaign.
"There has never been official arrangement at the strategic or government level," he told AFP on condition of anonymity.
"The purpose of giving such stories is nothing but face-saving. Americans are trying to dilute the growing pressure by using back channels and making Pakistan a party to the whole issue."
The U.S. has carried out nearly 400 drone attacks in Pakistan's restive tribal districts along the Afghan border since 2004, killing between 2,500 and 3,600 people, according to the London-based Bureau of Investigative Journalism.
AFP Photo/Asif Hassan