Former Security Officials Say Trump Syria Policy Increases ISIS Threat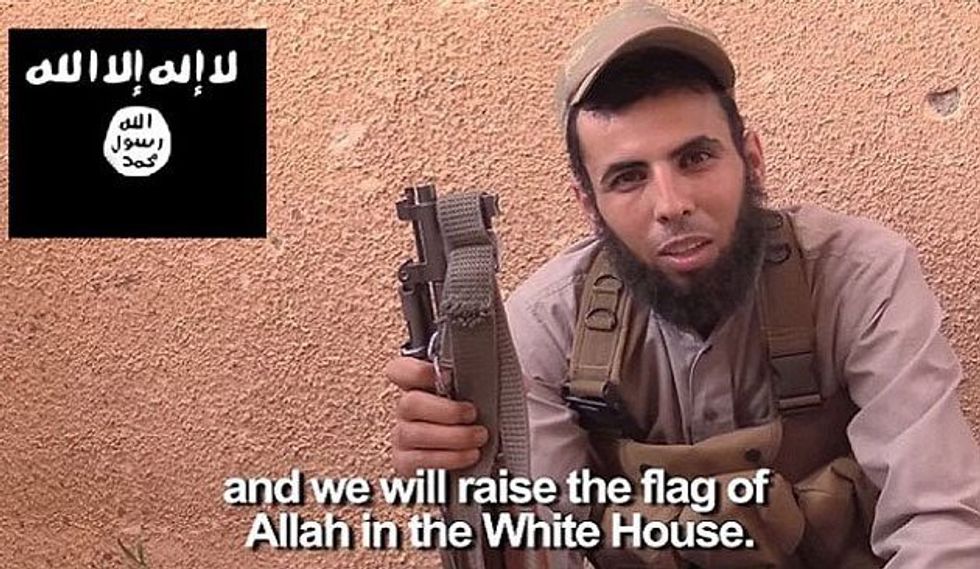 Current and former intelligence officers have warned Donald Trump's policy in Syria could endanger American lives in addition to the lives of Kurdish allies, NBC News reported Wednesday.
On Sunday night, Trump announced the United States would abandon the Kurdish-led Syrian Democratic Forces (SDF) in northern Syria, giving Turkey tacit permission to invade and attack the region.
The SDF were allies with the United States in the fight against ISIS for years, and intelligence officials fear that 12,000 ISIS prisoners could be released as the Kurdish groups guarding them are forced to flee or battle Turkish forces.
Those officials told NBC News that Trump's decision dramatically increases the threat to Americans from ISIS, since Trump "set the conditions for potential reemergence in a very powerful way," one official said.
Trump has repeatedly claimed over the past year that his administration successfully defeated ISIS. In March, the Trump administration specifically claimed ISIS had been "100% defeated." Hours after that announcement, CNN reported that the fighting was far from over, showing video footage of American forces engaged with ISIS fighters.
In July, Trump repeated the "100%" claim, only to be contradicted a month later by his own Defense Department, which reported the group had in fact "consolidated its power in Iraq and mounted a resurgence in Syria" during April and June. The report stated ISIS likely had between 14,000 and 18,000 members.
Trump's new policy in Syria will have devastating consequences for Kurdish allies in the region, experts say.
"I've worked directly with the SDF and had many fighters from the group I grew to trust with my life," a former CIA officer told NBC. "Now, I realize they are all going to be killed or detained after we betrayed them — killed with weapons we gave to Turkey."
Even Trump's staunchest defenders have defected from his latest policy.
The new conflict "is going to lead to ISIS reemergence," Sen. Lindsey Graham (R-SC), a member of the Senate Foreign Relations Committee, said on Monday.
He added that the policy "is a big win for Iran, a big win for ISIS."
Shortly after midnight on Thursday, Trump tried to reassure those worried about the release of thousands of ISIS prisoners that his administration was preemptively taking care of the problem.
"In case the Kurds or Turkey lose control, the United States has already taken the 2 ISIS militants tied to beheadings in Syria … out of that country and into a secure location controlled by the U.S.," he tweeted.
He added, "They are the worst of the worst!"
Published with permission of The American Independent.