Fort Hood Shooter Saw No Combat, Had No Signs Of Terror Ties, Army Says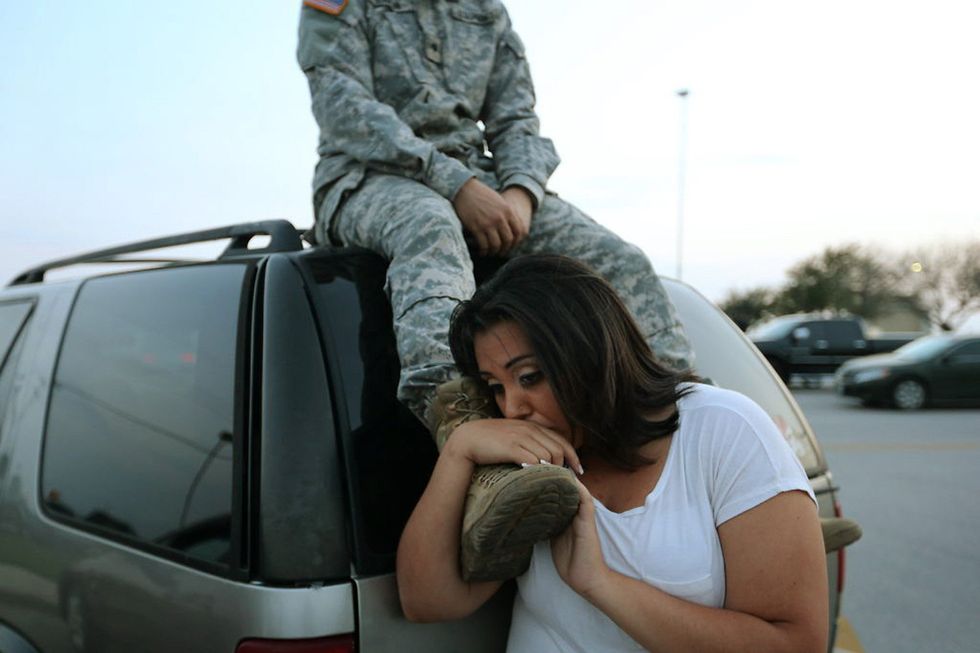 By Molly Hennessy-Fiske and Adolfo Flores, Los Angeles Times
KILLEEN, Texas — Military officials are scouring the background of the Fort Hood shooter, who saw no combat during his 2011 service in Iraq and was not wounded, Secretary of the Army John McHugh told the Senate Armed Services Committee on Thursday morning.
Army Spec. Ivan Lopez — who opened fire on the base Wednesday, killing three and wounding 16 before killing himself — was being treated for depression, anxiety and sleep disturbances, McHugh said. Lopez had been examined by a psychiatrist last month and was prescribed Ambien, among other drugs, and was undergoing evaluation for post-traumatic stress disorder.
The Puerto Rican native had two deployments, one as a truck driver in Iraq from August to December 2011, McHugh said. He enlisted in the Army in June 2008 as an infantryman before switching his specialty to truck driver. He had previously served in the Puerto Rico National Guard for nine years.
Lopez had a "clean record" with no outstanding issues or significant misbehavior that indicated he would hurt himself or others, McHugh said. His background shows "no involvement with extremist organizations of any kind," McHugh said.
"We're not making any assumptions by that. We're going to keep an open mind and an open investigation. We will go where the facts lead us. And possible extremist involvement is still being looked at very, very carefully," McHugh said.
Lopez opened fire with a .45-caliber Smith & Wesson semiautomatic pistol purchased recently in the area, igniting an afternoon of chaos at the nation's largest military base, which was put in lockdown for hours.
The FBI, Texas authorities and Veteran's Affairs officials were assisting in the investigation.
At least two victims were shot multiple times in the abdomen and extremities. The most seriously injured were taken to two local hospitals, including Carl R. Darnall Medical Center, where their conditions ranged from stable to critical, a hospital spokesman said.
Nine of the 16 wounded were being treated at Baylor Scott & White Hospital in Temple and three remain in critical condition, doctors said Thursday morning. Two patients were in fair condition and four in good condition, the hospital said. They have injuries to the abdomen, neck and spine. At least two of them will require additional surgeries.
Gen. Raymond T. Odierno, U.S. Army chief of staff, said the procedures put in place after the 2009 shooting at Fort Hood in which 13 were killed — the deadliest shooting on a military base in the U.S. — kept the incident from being "much worse."
Odierno described Lopez as "an experienced soldier … he spent nine years in the Puerto Rico National Guard before coming onto active duty." Lopez had transferred to Fort Hood in February, along with his wife and young daughter.
Security was tight Thursday morning at the base, where one main parking lot was being patrolled by uniformed soldiers. A line of traffic flowed into the base's main gate, past an encampment of media assembled outside the visitor center. Soldiers and relatives could be seen entering the County Directorate of Emergency Services nearby.
The dead and wounded were all military personnel. A few of the injured had superficial wounds from shattered glass or cuts suffered while they scaled fences to flee the scene, Lt. Gen. Mark Milley, the Fort Hood commander, said.
Milley said the gunman, dressed in military fatigues, opened fire about 4 p.m. The initial shots came inside the 1st Medical Brigade Area, he said, then the gunman got into a vehicle and went to a second building where he continued shooting.
Within 15 minutes military police responded. Milley said a female officer confronted the suspect in a parking lot near the second building. He approached the officer but stopped about 20 feet from her and put his hands up. Then, Milley said, the gunman reached into his jacket and pulled out his weapon. As the officer opened fire, the man shot himself in the head.
Deborah Cannon/Austin American-Statesman/MCT