Fort Hood Shooting Focuses Attention On Military Mental Health
@jinATX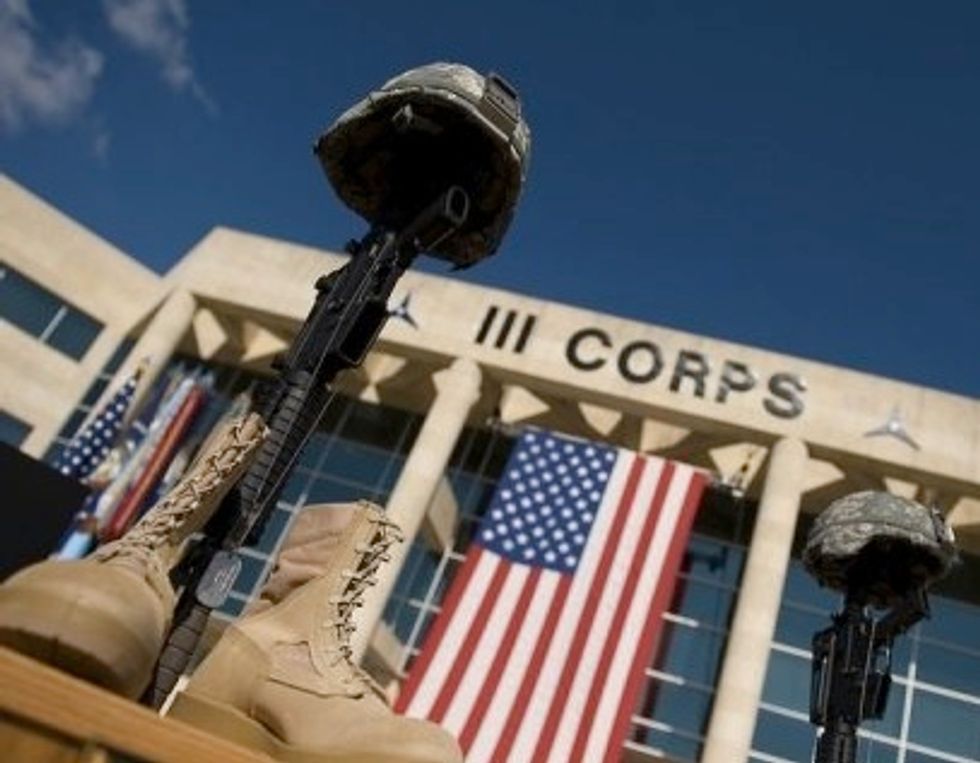 By Jeremy Schwartz, Austin American-Statesman
AUSTIN, Texas — As the second-highest-ranking officer in the U.S. Army, retired Gen. Peter Chiarelli was briefed on all soldiers who killed themselves during the military's burgeoning suicide crisis between 2008 and 2012.
With numbing regularity, mental health professionals made notes indicating that the troubled soldiers weren't a threat to themselves or others — judgments often made just days before the suicide.
"The diagnostic tools we have are so crude that even the best-trained providers made (erroneous) determinations," the former vice chief of staff of the Army said in an interview with the Austin American-Statesman. "It should be sobering."
That scenario played out with tragic results last week in the case of Spc. Ivan Lopez, the Fort Hood soldier who killed three of his fellow soldiers, wounded 16 others and killed himself. A month before the rampage, a psychiatrist examined Lopez and concluded he showed "no sign of likely violence," according to Secretary of the Army John McHugh.
In the wake of the killings, the second mass shooting to rock the post in five years, Fort Hood officials have once again promised a thorough review of the post's mental health system and fixes if outside investigators find gaps. But Lopez's case suggests that the underlying problem goes deeper than any shortages of mental health professionals or shortcomings in prevention efforts.
Despite unprecedented investment in its mental health program, military and medical leaders still lack a basic understanding of what causes individual soldiers to kill themselves and, far less commonly, others.
The scale of the problem is potentially vast. In 2011, there were nearly one million service members or veterans of Iraq and Afghanistan who had been diagnosed with a psychological condition and nearly half had received diagnoses for multiple conditions ranging from major depression to anxiety to post-traumatic stress disorder.
Young veterans are particularly vulnerable to fatal mental health outcomes and, according to the Department of Veterans Affairs, are killing themselves at rates four times higher than the overall U.S. population of the same age.
But Chiarelli, who now heads the One Mind for Research nonprofit, said medical experts have a hard time accurately diagnosing post-traumatic stress and traumatic brain injury, the two signature wounds of the wars in Iraq and Afghanistan.
"I hate to say it, but it's almost a crapshoot, even for the best-trained (providers)," said Chiarelli, whose nonprofit is seeking to develop more scientific diagnostic methods such as biological markers for brain and psychological trauma.
And determining whether a troubled soldier will become violent is even more difficult, especially for soldiers without a history of incidents. "Our best predictor is still past violent behavior," said John Klocek, director of the Baylor University Psychology Clinic who works with service members and veterans. "It's a tough thing to predict."
What's clearer is that history has had a tendency to repeat itself at Fort Hood. Four years before Fort Hood Commander Lt. Gen. Mark Milley vowed to plug holes in the post's mental health system, his predecessor, Lt. Gen. Robert Cone, similarly pledged to bolster behavioral health programs after the post's first mass shooting in 2009. And indeed, the following years were marked by significant investments in mental health at the sprawling post, one of the nation's largest.
At the time, the military was staggering under a devastating shortage of counselors — more than 1,000 were lacking, top officials said — and an escalating suicide epidemic that would only grow in later years.
The post was short about 50 mental health professionals before the Nov. 5, 2009, shooting, in which Army psychiatrist Nidal Hasan killed 13 people and wounded 30 in a paroxysm of jihadist violence. The shortage was blamed for Hasan's continued promotions despite poor evaluations.
In the aftermath of that shooting, Fort Hood officials moved quickly to plug holes; within three weeks, the post had added 75 to 80 mental health providers. Militarywide, the number of behavioral health providers, most of them civilians, increased 43 percent between the end of 2009 and 2013, according to information the military provided to USA Today. Fort Hood officials didn't respond to questions about staffing levels.
Since the 2009 shooting, Fort Hood has made other changes, including embedding behavioral health providers with units. The mental health officers, who wear uniforms and deploy with the units they serve, are meant to be more approachable for soldiers who might balk at seeking out help through the post's medical center.
The post has also changed how it responds to suicides. In 2011, it began including deceased soldiers' immediate supervisors in fatality review boards in an attempt to better understand what happened.
And, like the rest of the Army, Fort Hood instituted a slew of suicide prevention efforts, including interactive role-playing exercises and intensive classes in so-called "suicide first aid."
Despite the improvements, Fort Hood has been rocked by periodic mental health crises since the Hasan shooting. A year afterward, the post suffered through a record-breaking year of suicides, in which 22 soldiers killed themselves, including four over a single summer weekend.
The spate of suicides spurred leaders to order home visits to all lower enlisted soldiers who lived off-post and a comprehensive review of all soldiers deemed at-risk by their commanders.
After declining in 2011, suicides surged again in 2012, with 20, including a troubling rash of self-killings by senior soldiers at the rank of sergeant and above.
Last year, suicides fell to their lowest level since 2007, though experts caution that it's not clear whether the new prevention efforts deserve the credit. The Institute of Medicine said in February that there is "insufficient evidence" and a "lack of systemic evaluation" to determine if the myriad of Defense Department programs are working throughout the military.
Ryan Holleran, a former Fort Hood infantry soldier who served from 2010 to 2013, said the post's mental health system remains difficult for lower enlisted soldiers to access. He said that, despite official directives urging soldiers to seek out mental health help, "any kind of weakness is frowned upon. You are immediately ostracized from the unit."
Holleran, 28, said he also encountered difficulties getting diagnosed with PTSD, which prevented him from getting the treatment he needed after returning from a deployment to Iraq in 2011. He said that while he was diagnosed with many of the symptoms of post-traumatic stress, including anxiety and depression, it was only after he left the service that he received a PTSD diagnosis from the VA.
"It's clear there is something wrong with the system," Holleran said.
According to officials, Lopez was also being treated for depression and anxiety, and was under evaluation for PTSD, when he opened fire on his fellow soldiers.
A diagnosis of PTSD, however, wouldn't necessarily lead providers to predict violent actions from Lopez. "There is not a real strong link," said Klocek, adding that, while PTSD can increase aggressive behavior, it is nearly always expressed in less violent verbal outbursts or domestic altercations.
But Lopez also complained of a traumatic brain injury, which does affect impulse control and judgment. Texas authorities, concerned about the number of standoffs and shooting incidents involving combat veterans with traumatic brain injuries, have devised training materials for police aimed at de-escalating such tense situations.
Army officials have insisted that Lopez wasn't wounded during his short, four-month stint in Iraq in 2011, and he apparently never received an official diagnosis, which might have opened the door to more intensive treatment.
Most military traumatic brain injuries, which are caused by concussive blasts to the head, don't result from combat, despite that popular perception. According to the Defense Centers of Excellence, between 2000 and 2012, 244,217 service members suffered traumatic brain injuries, the majority of which occurred outside the war zone.
"It's equally as daunting to diagnose TBI, if not more daunting," Chiarelli said. "It's a very sad situation, in my opinion."
afp.com / Jim Watson