Four Arrested On Drug Charges After Death Of Philip Seymour Hoffman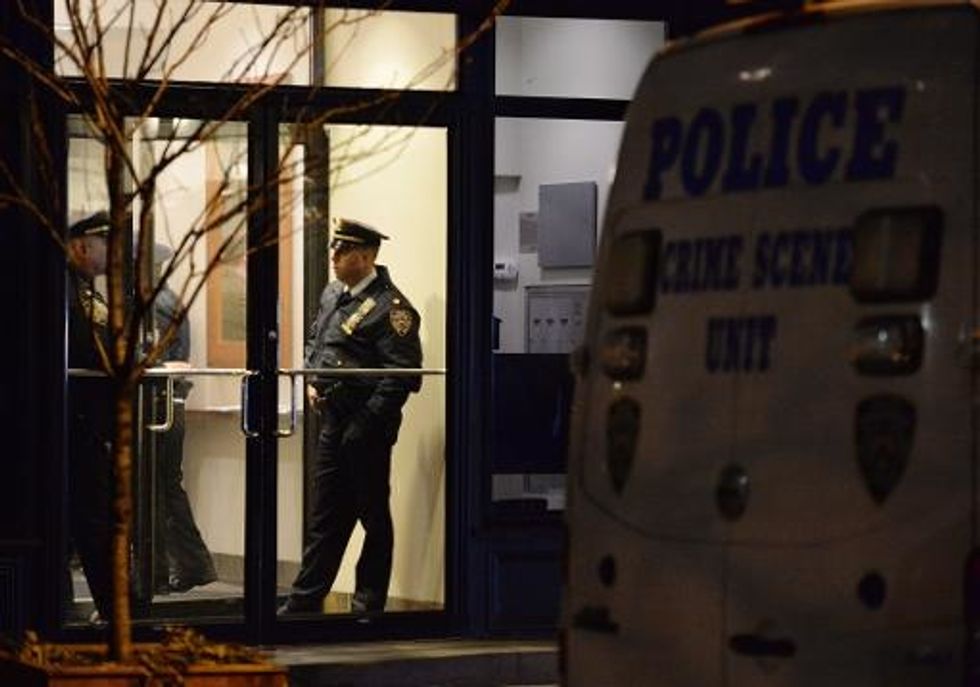 Michael Muskal, Los Angeles Times
Four people have been arrested on drug charges after the death of Philip Seymour Hoffman in an apparent heroin overdose, although whether the suspects were involved with the actor remained unclear on Tuesday.
"The four have been arrested for drug charges. That's all we can tell you," a New York Police Department spokesman told the Los Angeles Times. Robert Vineberg, 57, and Thomas Cushman, 48, were both charged with felony criminal possession of a controlled substance. Vineberg was also charged with criminal use of drug paraphernalia. Max Rosenbloom and Juliana Luchkiw, both 22, were charged with criminal use of drug paraphernalia, criminal use of controlled substance, and unlawful possession of marijuana. All are from New York.
Police refused to discuss what, if any, was the relationship between the arrests and Hoffman's death over the weekend.
But local media reports, based on unnamed police sources, said the arrests came after raids based on information gathered from the Hoffman investigation. Several reports said police had recovered heroin packaged in the same way as the drugs found in Hoffman's West Village apartment. Dealers often brand their products, and in this case the drugs carried the brands identifying them as Ace of Spades or Ace of Hearts.
Hoffman's body was found at his home on Sunday with a syringe in his arm, police said. Investigators recovered more than 50 bags of heroin, along with other syringes, a charred spoon and various prescription medications, including a blood pressure drug and a muscle relaxant, law enforcement officials have said.
Hoffman's death has led to an outpouring of grief by entertainers and fans alike, calls for police to investigate the death and for officials to address the growing use of heroin. While heroin has never gone away — despite enforcement efforts that include destroying poppy fields, paying farmers outside the United States to grow other crops and police crackdowns on street dealers — its use has surged in recent years.
New York City and other urban areas have long been major marketplaces, but the use of heroin has spread. The governor of Vermont recently warned that his small state faced a heroin epidemic.
The New York police's intensive effort to determine the source of the drugs in an apparent accidental overdose is unusual, however. State courts have found that drug dealers are not liable for a customer's death, although the legal area is still unclear. In other states, including nearby New Jersey, a different set of laws has led at least one prosecutor to bring such a case recently.
New York officials said Wednesday the autopsy on Hoffman, 46, was inconclusive, and that more tests are needed.
On Tuesday, a police official said heroin recovered at the Oscar-winning actor's apartment has tested negative for the powerful additive fentanyl, used as painkiller in some cancer treatments. Fentanyl has been blamed for more than 20 overdose deaths in Pittsburgh.
Police have said the medical examiner's ruling on his cause of death will determine whether there is any criminality but they suspect it was an overdose.
The Frank E. Campbell Funeral Home, which has been the scene of funerals for celebrities such as Jacqueline Kennedy Onassis and James Cagney, said Hoffman's family has requested a private funeral. It will be held Friday.
On Wednesday night, the Broadway theater district will dim its marquees for one minute at 7:45 p.m. in Hoffman's memory. Hoffman appeared on Broadway three times.
AFP Photo/Stan Honda