Four Confederate Flags Left At MLK Center, Church In Atlanta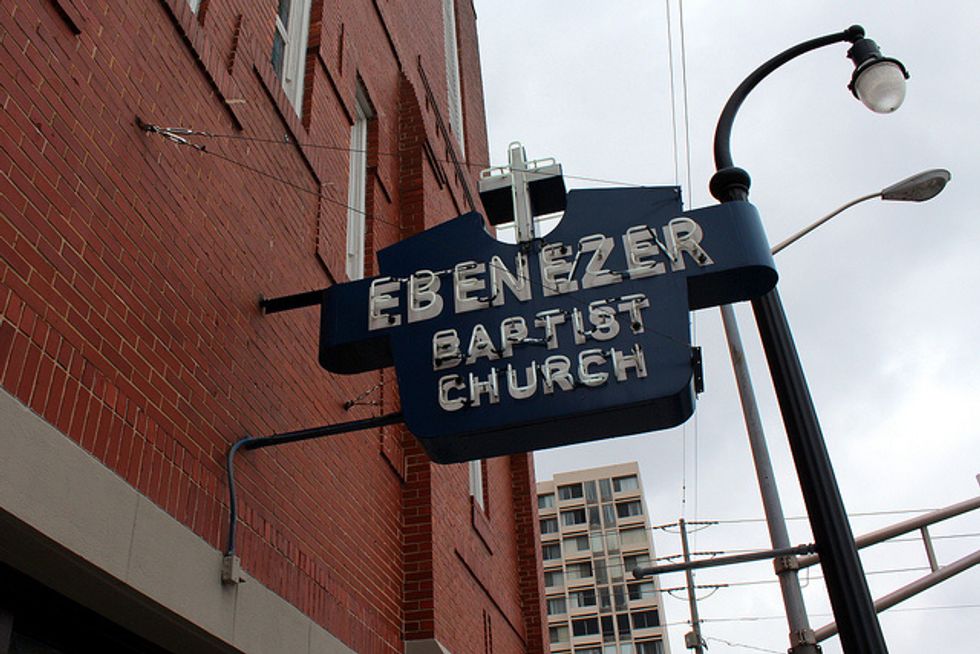 By David Markiewicz, The Atlanta Journal-Constitution (TNS)
ATLANTA — Four Confederate flags were placed overnight at Ebenezer Baptist Church and the Martin Luther King Jr. National Historic Site Visitor Center in Atlanta, police said Thursday morning.
Police were called to investigate the incident at the historical sites, Officer Kim Jones said.
Rev. Shanan Jones said the church expects to release a statement about the flags later in the day. Homeland Security was also called to investigate, she said.
The flags were placed below a poster that reads "BLACK LIVES MATTER, HANDS UP," by a garbage can, on the path to the MLK Visitor Center and on the corner near the church. Just after 9:30 a.m., the flags were removed and placed in the trunk of an Atlanta police squad car.
Azuria Beeks, a 17-year-old member of the church, stood solemnly across the street from Ebenezer watching police officers scour the area.
"It's disgusting," she said. "They're living in the past. They want us to fear them. And it's not working."
Tracey Jackson, a 45-year-old from Atlanta who lives near the historic church, said: "This breaks my heart. It's just taking the flag to another level. That flag represents what happened in the past. And too many people are holding on to that past. It just hurts."
Photo: Ebenezer Baptist Church, Atlanta, Georgia. Wally Gobetz via Flickr