Four More Votes Needed To Remove Confederate Flag From SC Capitol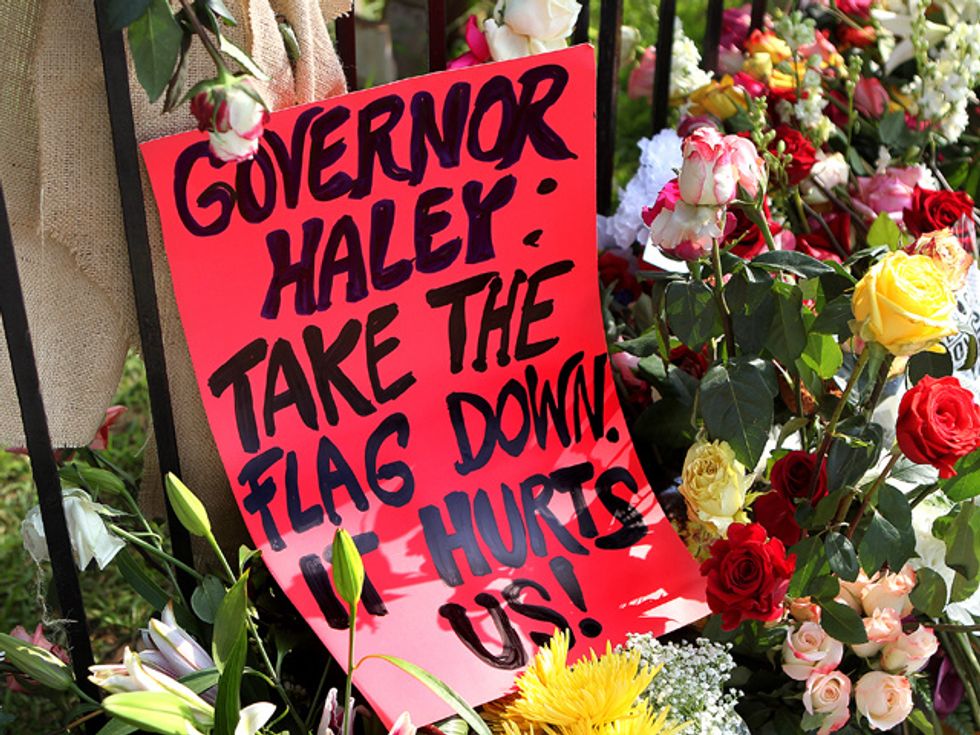 As Rev. Clementa Pinckney, one of nine victims of a racially motivated mass shooting last week, was laid to rest on Friday in Charleston, South Carolina, the Confederate battle flag — the symbol worn by shooter Dylann Storm Roof — continued to fly outside the South Carolina Capitol building in Columbia.
A growing number of Southern politicians and U.S. businesses have called for the flag's removal following the killing of nine black parishioners of Emanuel AME Church on June 17 by Roof, a 21-year-old white man.
This week, South Carolina governor Nikki Haley, a Republican, joined the chorus of conservative officials changing their tune. "It's time to move the flag from the Capitol grounds," she said at a news conference. But the decision is ultimately not Haley's.
Any measure to remove the flag from the South Carolina State House's grounds requires a two-thirds supermajority in the state legislature, under the 2000 South Carolina Heritage Act.
Four more members of the South Carolina House of Representatives must commit to vote in favor of removing the flag in order for the state legislature to mandate its removal, according to polling data by The Post and Courier.
In the state Senate, 33 of 45 members (73 percent) have told The Post and Courier that they agree the flag should be taken down. Currently, 78 of 123 (63 percent) House representatives in South Carolina have said the flag should come down, just four representatives shy of the two-thirds majority needed for a bill to pass.
In both houses, every lawmaker who told The Post they were either undecided or would vote against removing the flag, as well as anyone who refused or neglected to answer the question, were Republicans.
State senators have introduced a bill to move the flag from its current location near the Confederate Soldier Monument outside the State House to the Confederate Relic Room at the State Museum. House representatives also introduced two bills that call for the flag to be removed. Discussion of the bills and a final vote are expected in coming weeks.
Photo: A sign urging South Carolina Gov. Nikki Haley to take down the Confederate flag is part of the sidewalk memorial at the Emanuel A.M.E. Church on June 20, 2015, in Charleston, S.C. (Curtis Compton/Atlanta Journal-Constitution/TNS)