Four Ways The Petraeus Case Differs From Clinton's Email Scandal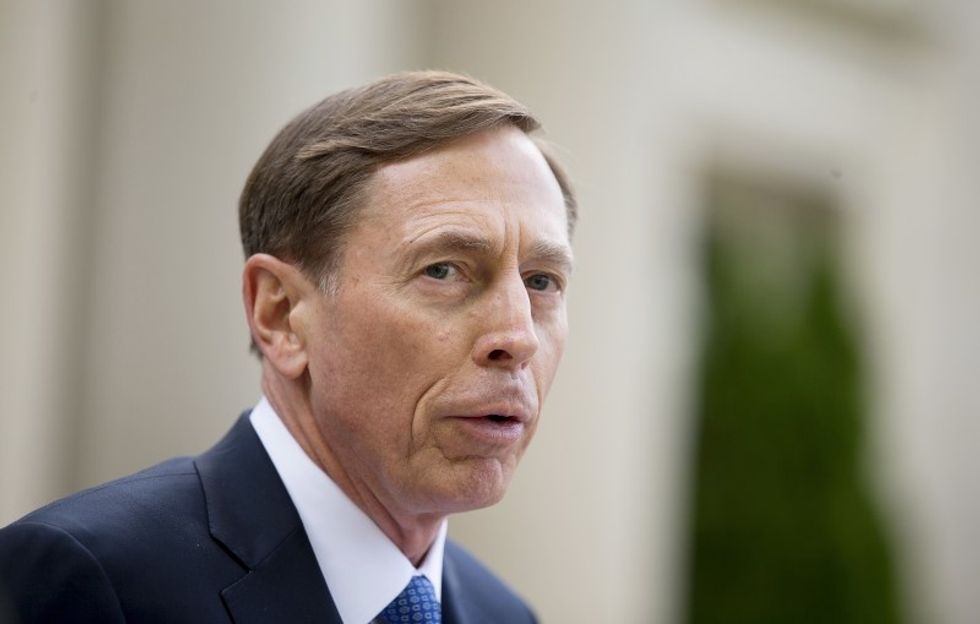 After FBI director James Comey's announcement Tuesday that he would not recommend that the Justice Department bring charges against Hillary Clinton, Trump supporters seemed to all shout one word in unison: Patraeus.
But comparisons between Clinton and Petraeus, the former CIA director who lent notebooks containing classified information to his biographer, ignore the differences between how David Petraeus and Hillary Clinton put classified information at risk.
"The system is rigged. General Petraeus got in trouble for far less," Donald Trump wrote on Twitter. "Very very unfair! As usual, bad judgment."
Trump's tweet reiterated a familiar claim a frequently made by Republicans on the campaign trail. For the G.O.P., the differing FBI recommendations — a felony charge for Petraeus, compared to no charges recommended for Clinton — were determined by politics instead of by the law.
While it's true that both controversies consist of high-level officials leaking classified information (to little actual harm), the parallels seem to end there. Here are four reasons why the Petraeus and Clinton cases are different.
1. Petraeus deliberately shared classified information.
Perhaps most obviously, Petraeus knew exactly what he was doing when he gave away eight of his personal notebooks. Known as the "Black Books," they contained several years' worth of notes and classified information on war strategy, code words, and meetings with President Obama, among other topics.
His actions demonstrate more intent than those taken by Clinton, who used a personal email address on a private server, thus making classified information more vulnerable to hackers. Using this private server was "extremely reckless," as FBI Director James Comey put it, but Clinton didn't definitively give this information away.
The statement of facts accompanying a plea deal for Petraeus said his actions "were in all respects knowing and deliberate, and were not committed by mistake, accident or another innocent reason," according to the Washington Post.
Comey hinted at the differences in intention himself. In a statement on Tuesday, he said that before Clinton, cases prosecuted involved "clearly intentional and willful mishandling of classified information," though he did not specifically name the Petraeus case.
2. That information was classified — and Petraeus knew it.
During the height of Petraeus' case, there was no question that the information he gave away was classified.
In Clinton's case, however, much of the controversy in earlier months revolved around whether or not the emails she sent on her private server were in fact classified. The FBI investigation found that 110 emails in 52 chains contained classified information, but it's unclear whether Clinton knew they were at the time she sent them.
And because much (though not all) of the classified information sent by Clinton was classified after-the-fact, this question becomes even more complicated. As the Washington Post noted, similar charges could not be brought against a Chinese spy because the retroactive classification meant the case would be difficult to hold up in court.
3. Petraeus shared information with someone outside of government.
Petraeus gave the "Black Books" to his biographer, a journalist named Paula Broadwell, with whom he was also engaged in an extramarital affair at the time.
Clinton, meanwhile, sent emails to other State Department officials — people who, in many cases, are believed to have had access to the information she shared to begin with. While Clinton's use of private email servers did make sensitive information more vulnerable to hackers, the FBI investigation found no evidence that Clinton's email server had in fact been hacked.
Though little harm ensued from Petraeus' actions — Broadwell never published what Petraeus gave her — it's worth noting that his intended recipient was not supposed to see the classified information at all, while Clinton's intended recipients were.
4. Petraeus lied to the FBI.
Legal documents released in spring 2015 revealed that Petraeus told FBI officials he had never given classified documents to Broadwell, though he had in fact done that. That lie is a felony punishable by up to five years in prison, though Petraeus only pled guilty to a misdemeanor and received a $100,000 fine and a two-year probation.
Clinton did lie to the public — she said in March that she hadn't sent classified information over email — but there is no evidence that she lied to the FBI. Legally speaking, then, her actions are missing a crucial element of the Petraeus case, albeit one for which he never had to pay the consequences.
According to Comey's Tuesday statement, the FBI investigated Clinton only on "a federal statute making it a felony to mishandle classified information either intentionally or in a grossly negligent way, or a second statute making it a misdemeanor to knowingly remove classified information from appropriate systems or storage facilities."
Photo: Former CIA director David Petraeus speaks after leaving the Federal Courthouse in Charlotte, North Carolina, April 23, 2015. REUTERS/Chris Keane