Four Worshipers Killed In Attack On Jerusalem Synagogue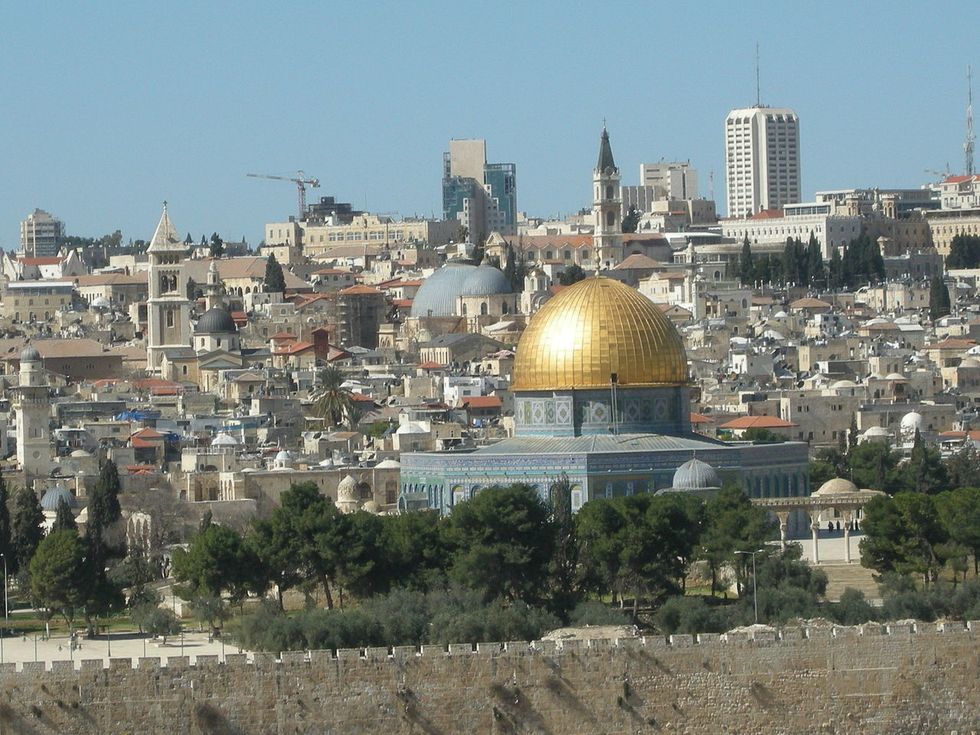 By Batsheva Sobelman and Laura King, Los Angeles Times (TNS)
JERUSALEM — A pair of attackers armed with axes, knives, and firearms stormed a Jerusalem synagogue on Tuesday, killing at least four worshipers and injuring others before a police officer shot them dead, in the most serious strike in the holy city in years, police said.
Palestinian media named the attackers as Udai Abu Jamal and Ghassan Abu Jamal, cousins from the Palestinain village of Jabel Mukabar in south Jerusalem. Fresh clashes broke out Tuesday as police arrived to arrest several of their relatives.
According to eyewitnesses and initial Israeli news reports, the attackers burst into the four-story synagogue in the devoutly religious western Jerusalem neighborhood of Har Nof, attacking a crowd attending early morning prayers.
Israeli media cited witnesses as describing worshipers wrapped in their prayer shawls felled in mid-prayer, on the floor in pools of blood. Among the victims was a prominent rabbi.
Prime Minister Benjamin Netanyahu was convening a special security meeting, and said Israel would "respond harshly" to what he called "the cruel killing of Jews…by despicable murderers."
In a phone call to Netanyahu, U.S. Secretary of State John F. Kerry expressed condolences for the attack and condemned it as "senseless brutality." Kerry was in neighboring Jordan for talks aimed at calming tensions, and met separately last week with Prime Minister Benjamin Netanyahu and Palestinian Authority President Mahmoud Abbas.
Kerry's demand for Palestinian condemnation prompted a statement from Palestinian Authority Chairman Mahmoud Abbas, who denounced "killing civilians from any side" including the Jewish worshippers.
At the same time, Abbas demanded a halt to what he called Israeli "intrusions" into a contested holy site in Jerusalem's old city.
In the Gaza strip, the attack was welcomed with celebratory gunfire and a statement from Hamas spokesman Sami Abu Zuhri, who called it a response to the "continuing crimes of the occupation." Another official, Hussam Badran, called it an "heroic act."
While recent Israeli-Palestinian tensions have been punctuated by "lone wolf"-type of attacks, such as stabbings, Tuesday's assault represented a marked escalation, chillingly reminiscent of large-scale strikes in Israeli cities that took place during two previous Palestinian uprisings during the period from the late 1980s to the early 2000s.
The fact that the attack took place at a Jewish house of worship was certain to further inflame religious tensions. This month has seen fiery attacks on a northern Israeli synagogue and a West Bank mosque, however these caused property damage and no loss of life or injuries.
Police said preliminary indications were that the assailants were Arabs from east Jerusalem, which for months has been the scene of near-daily clashes between police and Palestinians.
In Har Nof, those living near the synagogue were told to remain indoors while authorities ruled out the presence of another assailant, but eventually were given the all-clear after the presence of a third attacker was ruled out.
Helicopters circled overhead, and windows glowed with reflections of the flashing lights of emergency vehicles. Residents in their ultra-Orthodox garb filled the streets, wandering among the emergency personnel.
The attack was the latest in a wave of violence sweeping Jerusalem and other locations, against a backdrop over friction over the holy site revered by Jews as the Temple Mount and known to Muslims as the Noble Sanctuary. Other issues, such as stepped-up plans for Jewish buildings in traditionally Arab east Jerusalem, plans to enlarge West Bank settlements, and the summer's war in the Gaza Strip have also generated fury and resentment among Palestinians.
"We're at war," Israeli lawmaker Aryeh Deri, a resident of the typically quiet ultra-orthodox Jewish neighborhood where the attack took place, told Israel radio. "If every synagogue in the country needs protection, we have returned to bad times."
At least six people have died in attacks over the past month, including four people killed by vehicle attacks at tramway stations in Jerusalem, a soldier who was stabbed to death in Tel Aviv and a Jewish woman settler who was killed in the West Bank.
Photo via Wikicommons