Fox & Friends Was The Only Cable News Morning Show Not To Mention Trump's Pardon Of Racist Sheriff Joe Arpaio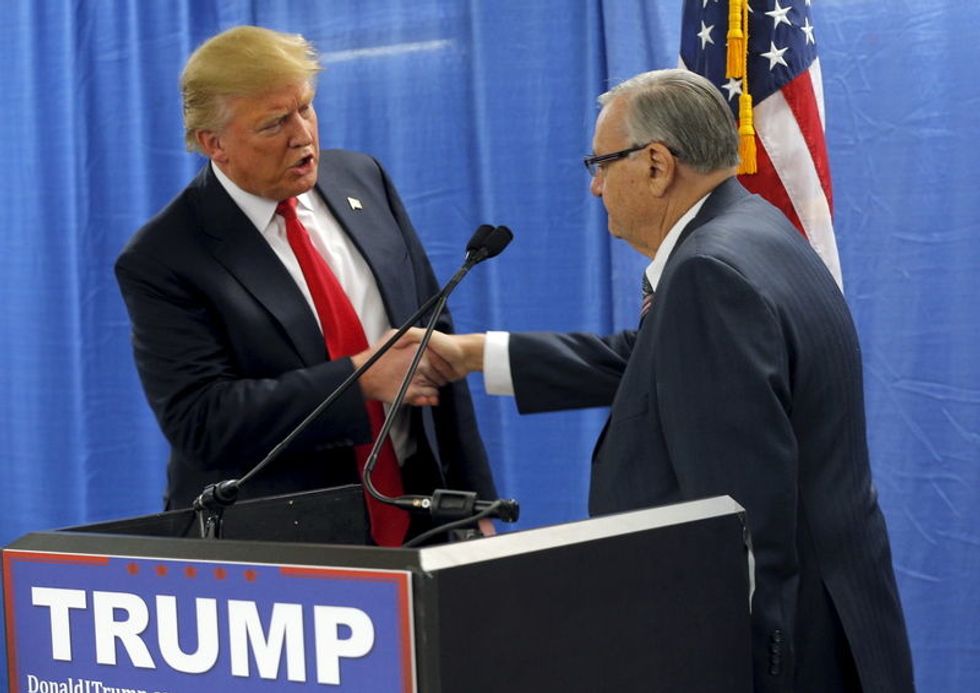 Reprinted with permission from AlterNet.
CNN's and MSNBC's morning shows on August 28 featured substantial discussion of President Donald Trump's pardon of racist former Sheriff Joe Arpaio, but Fox News' Fox & Friends failed to do the same.
On July 31, Arpaio was found guilty of criminal contempt of court after he defied "a court order to stop detaining suspected undocumented immigrants," according to The New York Times. As the Times noted, the order originated from a lawsuit filed a decade ago "charging that the sheriff's office regularly violated the rights of Latinos, stopping people based on racial profiling, detaining them based solely on the suspicion that they were in the country illegally, and turning them over to the immigration authorities." Fox reported on August 14 that Trump was considering a pardon for Arpaio, and the president followed through on Friday, August 25, while Hurricane Harvey in Texas was dominating the news cycle.
Over nearly the past two decades, Fox News and Fox Business have repeatedly praised Arpaio, while hosting him no less than 65 times. Yet on August 28, apart from Fox & Friends co-host Brian Kilmeade making a passing reference to the pardon, the show didn't mention Arpaio or report on or discuss the pardon news at all.
By contrast, MSNBC's Morning Joe aired multiple segments on Arpaio's pardon. NBC News political analyst Philip Rucker appeared on the show and explained that "this pardon was in the works for many months" and reminded viewers that Trump and Arpaio were first associated through the racist birther conspiracy theory they pushed that President Barack Obama wasn't born in the U.S. He also noted that during that period, Trump had sent Arpaio a "fan letter" and tweeted in support of him.
CNN's New Day also aired multiple segments about the pardon and highlighted Trump's attempt to bury the news of the Arpaio pardon, with co-host Chris Cuomo saying, "It was not a coincidence that on Friday … we heard about the Arpaio pardon. The news cycle is 24 hours now — you don't get the Friday pass the way you used to. But it was also not that clever a move. He was trying to hide that." CNN political analyst Alex Burns and Dallas Morning News Washington bureau chief Todd Gillman both also called out Trump for attempting to pardon Arpaio under the "cover of darkness," with Gillman criticizing the president for using "the cover of [Hurricane] Harvey to do things that are going to be politically unsavory."
Some legal experts have said that Trump's pardon of Arpaio is an abuse of power and may even be an impeachable offense. University of Missouri law professor Frank O. Bowman wrote on his blog that Trump has "committed his first verifiable impeachable offense" by misusing his power to pardon. Harvard constitutional law professor Noah Feldman wrote before Trump announced his decision that a pardon of Arpaio "would not be an ordinary exercise of the power — it would be an impeachable offense," and that it "would be an assault on the federal judiciary, the Constitution and the rule of law itself." And Northwestern University constitutional law professor Martin H. Redish wrote in The New York Times the day before the pardon was granted that because of the nature of Arpaio's conviction — he violated "constitutional rights, in defiance of a court order" — a court challenge to the pardon could reveal limits to the president's pardoning power.
Fox & Friends has long been a safe space for Trump, and he uses it as his source of morning news. And at his recent rally in Phoenix, AZ, Trump gushed over Fox & Friends' coverage of him while warning the network that it should continue to treat him "fairly." With its failure to cover the mounting backlash to Trump's pardon of Arpaio, Fox is demonstrating that it will keep shilling for the president and treating him with kid gloves.