Fox 'Judge' Pirro Wants Sessions Out — So She Can Take His Job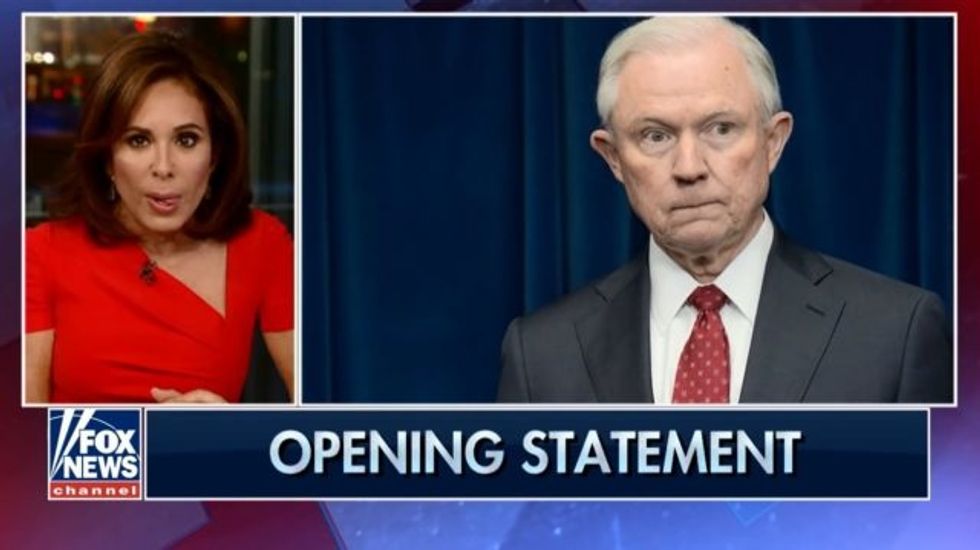 Reprinted with permission from MediaMatters.
The key to understanding how Fox News' Jeanine Pirro operates is to realize that she is single-minded in her personal ambition while completely unencumbered by anything resembling shame, dignity, or professional integrity. As it stands, Pirro is one of the more influential pundits in the country by virtue of her close relationship with President Donald Trump. She uses her awful Fox News program, Justice with Judge Jeanine, to propagandize on Trump's behalf, for which she is granted access to the president, interviews with key administration officials, etc.
But that's not enough for Pirro, who turned to televised punditry only after her once-promising political and legal career was left in smoldering ruin by her personal scandals and widely mocked campaign ineptitude. According to Politico, Pirro aspires to the lofty office of attorney general of the United States and has been telling the president's advisers that "she's interested in taking over as the nation's top law enforcement official."
Ordinarily, it would seem ridiculous that a cable pundit would have any chance of serving as attorney general, but that was before the reality TV star president tapped two cable pundits to be his chief economic and national security advisers and nominated his doctor to run the Department of Veterans Affairs because he gave a good press conference.
There are, however, some major obstacles to Pirro landing her dream job: chief among them, the guy currently holding it. She can't be attorney general while Jeff Sessions is still in office. So Pirro is taking matters into her own hands and using her cable news program to undermine her supposed rival and publicly call for his resignation (or ouster).
Here's Pirro on June 2 saying, "If Jeff Sessions can't do his job because he's too scared or recusing himself, maybe he ought to resign himself. But that's just me."
And here she is one week before that calling Sessions an "absentee attorney general" and asking White House press secretary Sarah Huckabee Sanders, "Isn't it time to get a working attorney general on staff?"
And here she is one week before that calling Sessions "the most dangerous man in America" because he refuses to use the awesome powers of his office to protect Donald Trump and arrest the senior staff of the Justice Department (seriously):
This is all quite insane and grotesquely unethical and fatally shot through with toxic self-interest. All those characteristics should, under normal circumstances, prevent Pirro from having her name even briefly considered for any government position, let alone attorney general. But these are strange times in which a televised authoritarian harangue in support of turning the Justice Department into a weapon against the president's political enemies can win you plaudits in the Oval Office. "Attorney general nominee Jeanine Pirro" would be a sad, surreal joke, but there's absolutely no guarantee that it won't happen.