Fox News Hates That An Oregon Bill Provides Immigrants With Health Care — Including Abortion
@julietulbert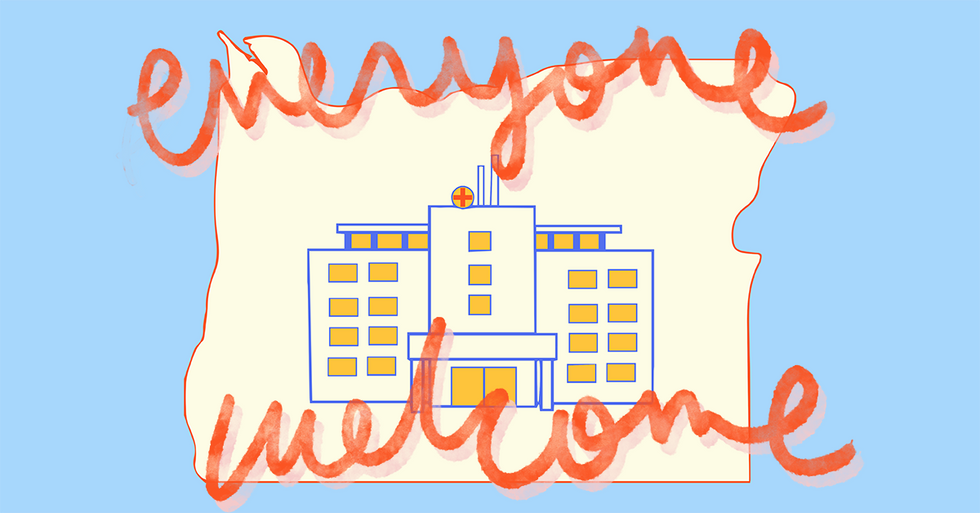 Reprinted with permission from MediaMatters.
On Fox News' The Story with Martha MacCallum, host Martha MacCallum slammed an Oregon bill that would protect reproductive health care for all — including undocumented immigrants. MacCallum used the segment to misinform about the bill, combining xenophobic statements about immigrants with misinformation about so-called "sex-selective" and late-term abortions. In reality, the Oregon bill correctly treats abortion as an essential part of health care and ensures access for the most vulnerable communities — measures that are particularly important as Congress threatens to decimate the Affordable Care Act and defund Planned Parenthood.
The Oregon bill, titled the Reproductive Health Equity Act, requires insurance providers to cover a range of reproductive services, including abortion, regardless of income, citizenship status, or gender identity. The bill also includes a trigger law that would go into effect to protect the legal right to an abortion if the Supreme Court overturned Roe v. Wade. As Slate explained, "If the Supreme Court overturns Roe, abortion care won't immediately become illegal," but instead will go back to the states. Oregon's trigger law therefore ensures the protections of Roe will remain in place, unless the Oregon legislature repeals the protection. The bill has passed Oregon's legislature and is expected to be signed by Gov. Kate Brown.
Nevertheless, during the July 13 edition of The Story, MacCallum mischaracterized the bill, claiming it would force "insurers and taxpayers to fund free abortions for virtually any reason, at any time, including sex-selective and late-term abortions." MacCallum alleged that the bill was "radical" and that opponents had called it "grisly" and "appalling." MacCallum also continued the long history of Fox hosts invoking undocumented immigrants as a scare tactic to rile up their right-wing audience. As her colleagues on Special Report with Bret Baier, Happening Now, and America's Newsroom had previously done when reporting on the Oregon bill, MacCallum peppered her segment with outrage that bill provided so-called "illegal immigrants" with access to abortion and reproductive health care.
As the United States Congress threatens to eliminate access to abortion and reproductive health care, Oregon is moving to protect access — for everyone, regardless of their citizenship status, gender identity, or income. Here are the myths MacCallum presented about "sex-selective" and late-term abortions to attack the Oregon bill, and the facts that counter them:
Sex-selective abortions are an anti-choice myth repeated by the right-wing media
During the July 13 segment, MacCallum repeatedly pushed the myth that the Oregon bill would enable so-called "sex-selective" abortions, alleging that the bill would say "it's OK for someone to decide because they don't like the sex of their baby to abort it at eight months." Fox News and the right-wing media have long promoted thismyth, which was pushed by anti-abortion groups in order to encourage state and federal legislatures to introduce or pass bills restricting abortion.
The Oregon bill includes no language about "sex-selective" abortions — probably because no such procedure is legally practiced or promoted in the United States. Instead, the discussion of "sex-selective" abortions appears to be an allegation conjured directly from right-wing media. As the National Review speciously complained, because the bill did not expressly "prohibit sex-selective abortions," the natural consequences would be that an "insurer has no choice but to cover that."
Bans against "sex-selective" abortion have no basis in scientific research or the medical practices of abortion providers. In a study conducted in Illinois and Pennsylvania following the enactment of "sex-selective" abortion bans in those states, researchers found that "the bans were not associated with changes in sex ratios at birth." Laws banning "sex-selective" abortions also rely on "false stereotypes and misleading language" to allow providers to deny access to people of color, particularly Asian Americans. The National Asian Pacific American Women's Forum found that "these bans are detrimental to the reproductive health of Black and Asian American women" and violate the trust in a doctor and patient relationship by "turning a doctor into an interrogator of any woman seeking an abortion, especially women of color."
Fox claimed Oregon bill pushes "abortions on demand" and promotes late-term abortions
MacCallum consistently fearmongered about what she described as the Oregon bill's promotion of "abortion on demand" or even "full-term" abortions. At one point, MacCallum argued that the bill would allow "free abortions for virtually any reason at any time" and alleged that it would enable "late-term, even full-term, abortions." These are all talking points used by right-wing media to create unease about late-term abortions and promote limitations on abortion access. In reality, abortion is a personal decision, like any other health care decision, and has been specifically protected by the Supreme Court as such. In contrast to MacCallum's argument, late-term abortions are extremely rare and performed largely for medically necessary, or health-related, reasons.
The personal accounts of the people who've actually had late-term abortions are far more representative than what Fox News continually invokes. A woman profiled in a ThinkProgress article about late-term abortion described her pregnancy with twins as "the most wanted and planned pregnancy ever," but after her one of the twins died and the other was discovered to have a fatal birth defect, an abortion was necessary to save her life.
Although MacCallum used the Oregon bill as an opportunity to recycle all of right-wing media's favorite myths about late-term abortion, in reality it has little to do with the type of abortion allowed. Instead, the bill prevents insurance providers from denying people coverage based on immigration status, income, or gender identity. Unfortunately, segments like this are not uncommon on Fox. As a study by Media Matters found, Fox News frequently and consistently uses its platform to advance inaccurate information on abortion.
Header image by Dayanita Ramesh / Media Matters