Fox News Hires Sarah Sanders (She'll Fit In Well)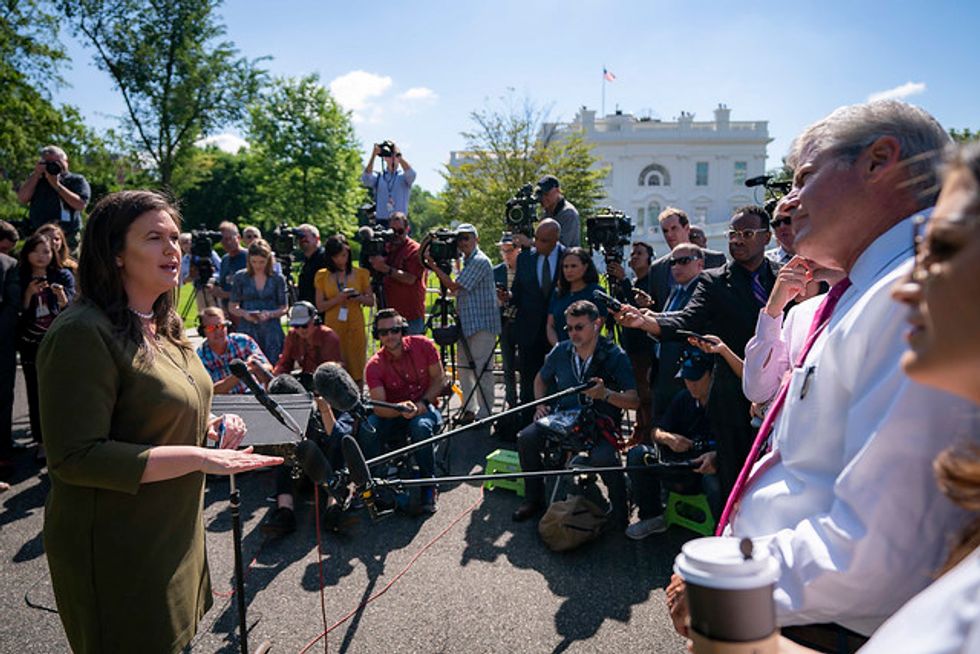 After she repeatedly lied to reporters and the American public for nearly two years, Fox News announced on Thursday that Sarah Huckabee Sanders will be its newest official contributor.
"The former Trump administration advisor is expected to contribute commentary to Fox News Channel, Fox Business Network, Fox News Digital and the Fox Nation streaming service, the Fox Corporation unit announced Thursday," Variety reported .
Sanders is set to make her first official appearance as a Fox News employee on "Fox & Friends," Trump's favorite show on the disinformation network.
Since Trump took office, there has been a revolving door of employment between the network and members of his administration. Former communications director Hope Hicks is now an executive at Fox's parent company along with several others, while multiple members of Trump's team came from Fox.
Sarah Sanders will join following a confession to special counsel Robert Mueller, who was at the time investigating the Trump campaign, that she blatantly lied to reporters and the public.
Sanders had claimed in a White House press briefing that Trump fired then-FBI director James Comey because FBI agents had "lost confidence" in him. But she admitted to investigators that she simply made up the cover story.
When she wasn't lying to the public while she was a government employee, Sanders was hiding from the press. She effectively killed the daily White House press briefing, depriving the public of an opportunity to see the administration defend and support its actions under questioning from the independent press.
There has not been a White House press briefing since March 11.
Instead of facing reporters, Sanders often chose to appear on Fox News, where she could give the administration's spin on multiple issues in an environment and where she was not seriously challenged by the network's conservative hosts.
For over 23 years, Fox has operated as the leading outlet for pro-conservative, pro-Republican propaganda.
Sanders' hiring from the Trump White House press operation gives more fuel to the contention that the network is not a journalistic enterprise but rather just a dishonest GOP mouthpiece.
Published with permission of The American Independent.