Fox News' Shep Smith: The Caravan 'Is Not Coming To Get You'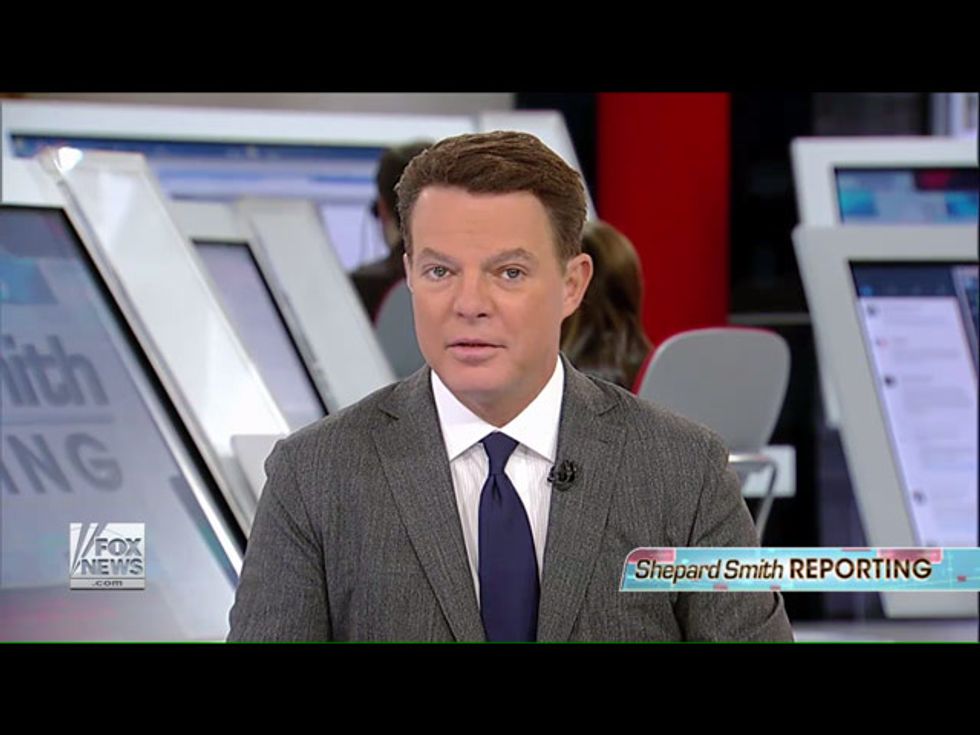 Reprinted with permission from AlterNet.
In the late afternoon, before the screaming heads of Fox News primetime appear, there's an hour of peace and decency on the network as host Shep Smith reports the news.
On Monday, Smith cut through the nonsense and demagoguery coming from much of the rest of the network and, most prominently, from President Donald Trump, about the migrant caravan in Central America. Trump and his allies on Fox have been stoking fears about the caravan in a clear and desperate effort to rile up voters in the runup to the 2018 midterm elections, despite the fact that there's little reason to fear the group.
And Smith made that very clear.
"Tomorrow, the migrants, according to Fox News reporting, are more than two months away, if any of them really come here," he explained. "But tomorrow is one week before the midterm election. Which is what all of this is about. There is no invasion. No one is coming to get you. There is nothing at all to worry about."
His calm and reassuring demeanor was a startling contrast to that of opinion show host Laura Ingraham, who just last week literally called the caravan an "invasion" on Fox News.
"When they did this to us, got us all riled up in April, remember?" he continued, referring to a previous caravan Trump had similarly bloviated about. "The result was 14 arrests. We're America, we can handle it. But, like I said, a week to the election."
Watch the clip below:
Shep Smith on the migrant caravan: "There is no invasion. No one is coming to get you. There is nothing at all to worry about." pic.twitter.com/4dLmPuZem0

— Jon Passantino (@passantino) October 29, 2018
Cody Fenwick is a reporter and editor. Follow him on Twitter @codytfenwick.