Fox News Spins Its Own Poll Showing 51% Favor Impeachment
@CourtneyHagle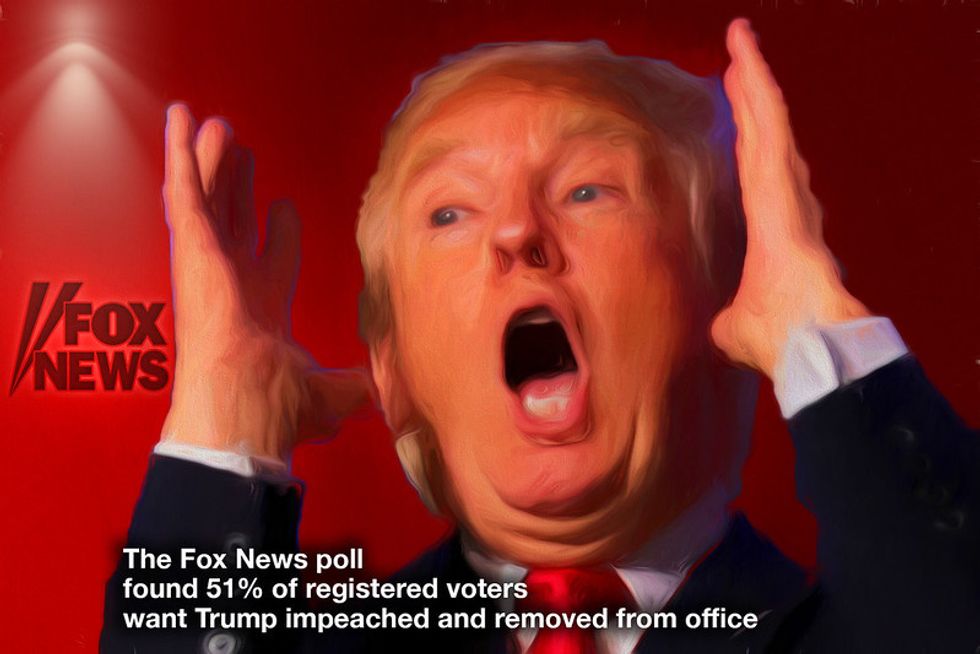 Reprinted with permission from MediaMatters
On October 9, Fox News released a new poll showing 51 percent of registered voters think Donald Trump should be impeached and removed from office over his abuse of power regarding Ukraine. Fox News personalities are now working to spin and downplay the poll.
The Fox News poll shows both record-level support for impeachment and removal among overall voters and upticks among Republican voters and independent voters, despite Fox's constant efforts to spin Trump's unfolding scandal. Trump, who has lashed out at Fox in the past for not "working for us anymore," criticized the poll on Twitter, saying that "from the day I announced I was running for President, I have NEVER had a good @FoxNews Poll" and complaining that "whoever their Pollster is, they suck."
Fox News guests and hosts are now either ignoring the poll altogether or working to spin it, arguing that polls don't matter anyway, that they don't accurately reflect Americans, or that the numbers are actually good considering the treatment of Trump by Democrats and the media.
On The Ingraham Angle, Fox host Laura Ingraham described the poll as "supposedly" saying 51 percent want the president "impeached or removed" (the poll actually asked if he should be "impeached and removed"). Fox contributor Dan Bongino said that "given the amount of misinformation" and "lies" from the media and others, "it's actually stunning those numbers aren't higher." Bongino concluded that he "wouldn't panic about any of those numbers — they'll ebb."
On The Story with Martha MacCallum, anchor Martha MacCallum asked her guest Lynne Patton, a member of Trump's administration, about the poll. Patton dismissed it by pointing to inaccurate polls in the 2016 election, adding that "the polls mean nothing" and that Trump and the Republican National Committee's fundraising number is a better indicator of support.
On Fox Business' Lou Dobbs Tonight, host Lou Dobbs did not name the Fox poll specifically, but he said that "we are looking at a lot of different polls here about their confidence in the president or the so-called impeachment inquiry" and that he thinks these polls are "absolute nonsense."
Fox News prime-time hosts Tucker Carlson and Sean Hannity did not mention the poll on the October 9 edition of their shows.
On Fox & Friends, guest co-host Ed Henry responded to Griff Jenkins' report on the poll by noting that "among Republicans, only 13 percent say they want the president impeached and removed from office" and concluding that Trump is safe from removal by Senate Republicans.
Fox Business anchor Maria Bartiromo shared the poll results and then concluded that "you've got the public and these polls saying one thing, but then when you actually look at the facts, … you've got a whole nother, really in my view, way to look at this."
On America's Newsroom, Fox News contributor and former White House press secretary Sarah Huckabee Sanders asserted that the impeachment inquiry has "not been bad so far for Republican fundraising or candidate recruitment," which she claimed "mean infinitely more than a poll."