Fox's Tucker Carlson Is Mad About An Undocumented Teen Paying For Her Own Abortion
@julietulbert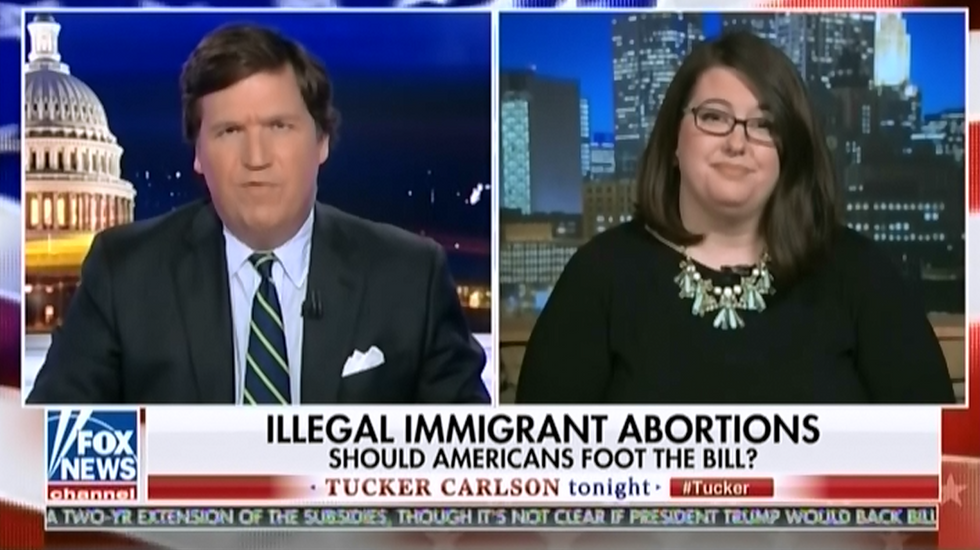 Reprinted with permission from MediaMatters.
Fox News host Tucker Carlson and guest Kristan Hawkins, president of the anti-abortion group Students for Life of America (SFLA), on Wednesday repeated the right-wing myth of so-called "taxpayer-funded abortion," alleging that a recent judicial ruling requires taxpayers to pay for abortions for undocumented immigrants.
On October 18, a federal judge in Texas ordered the Trump administration to quit barring abortion access for an undocumented teen (referred to as Jane Doe) who is being held in federal custody in the state by the U.S. Department of Health and Human Services' (HHS) Office of Refugee Resettlement. During the hearing, lawyers for the U.S. Department of Justice (DOJ) argued that the government was not impeding Jane Doe's access to an abortion because she was "free to return to her home country for the procedure." Judge Tanya Chutkan said she was "astounded" by DOJ's argument. "She can leave the country or not get her abortion. That's your position," she replied. On October 19, the DOJ appealed the ruling, and a federal appeals court in D.C. announced that it would hear oral arguments on October 20. The D.C. court also issued an administrative stay temporarily blocking the teen from having an abortion.
Rather than discuss the facts of the case, on October 18, Carlson hosted Hawkins to repeatedly lie that the ruling would require taxpayers to fund abortions for undocumented immigrants. Carlson claimed, "Liberals are arguing that U.S. taxpayers somehow have an obligation to fund abortions for illegal aliens." Hawkins agreed, stating that the American Civil Liberties Union (ACLU) — which argued the case on behalf of Jane Doe — "sees this opportunity, along with their abortion allies, to mandate that taxpayers facilitate her abortion." She also said that the organization was attempting to claim that the teen has a "constitutional right to have a taxpayer-funded abortion." Hawkins alleged that the ruling would set a "dangerous precedence" (sic) for other people to "come to the United States illegally or legally" because the country would "fund a taxpayer-funded abortion for you."
Unfortunately for Carlson, the facts of the case run contrary to his and his guest's claims. Despite Carlson and Hawkins' allegations, Jane Doe requires no government support to receive an abortion. According to BuzzFeed News, Jane Doe did not ask for "the government to pay for the procedure or arrange the transportation." Instead, as Politico reported, Jane Doe "has [already] obtained the money to pay for" the abortion. But rather than acknowledge those facts, Carlson and Hawkins instead joined in the Fox News chorusof xenophobic scare tactics about undocumented immigrants in the United States. Carlson also has a history of advancing anti-choice misinformation, often by hosting anti-abortion leaders.
Beyond Carlson, right-wing media frequently push the myth that taxpayers fund abortions. Under the Hyde Amendment, federal funding for abortion is prohibited except in cases of rape or incest or if the life of the mother is in danger.
During the October 18 segment, Hawkins additionally talked about the importance of having a "pro-life HHS" because "they're the ones trying to protect this young girl from the ACLU, from Planned Parenthood who are just simply using her." However, as Rewire's Tina Vasquez detailed, this so-called protection is actually harmful: She explained that there are numerous allegations of HHS using underhanded tactics to impede access to abortion for Jane Doe and other undocumented immigrants — often in direct opposition to the individual's wishes. As Vasquez noted, this interference is so extreme that some advocates have called Jane Doe's case "a harbinger of the 'anti-choice fanaticism' working its way into the immigration system since Trump's presidential inauguration."
For example, according to the ACLU's complaint, Jane Doe and other undocumented immigrants have been forced to go to crisis pregnancy centers (CPCs), which employ deceptive tactics and push medicalmisinformation to dissuade or intimidate individuals from receiving desired abortion care. And unlike abortion providers, CPCs actually can receive taxpayer funding, despite providing little that resembles genuine health care. The ACLU also alleged that Scott Lloyd, director of the Office of Refugee Resettlement, "personally contacted" one or more pregnant undocumented minors in order to dissuade them from having abortions. In one related incident, the ACLU found that an undocumented minor was taken to the emergency room after she had taken the first of two pills used in a medical abortion in order "to determine the health status" of the "unborn child" and potentially stop the procedure.
The stark reality is that, as the complaint stated, many of the undocumented pregnant minors who cross the Mexico border have an "acute need" for reproductive health care; studies have shown that many are pregnant as the result of rapes committed in their home countries or during the dangerous journey across the border. But instead of acknowledging that reality, Carlson and Hawkins opted to advance lies about immigrants and abortion access in order to vilify undocumented minors seeking medical care.