Frac Sand Boom: South Dakota Is Latest State To Try To Cash In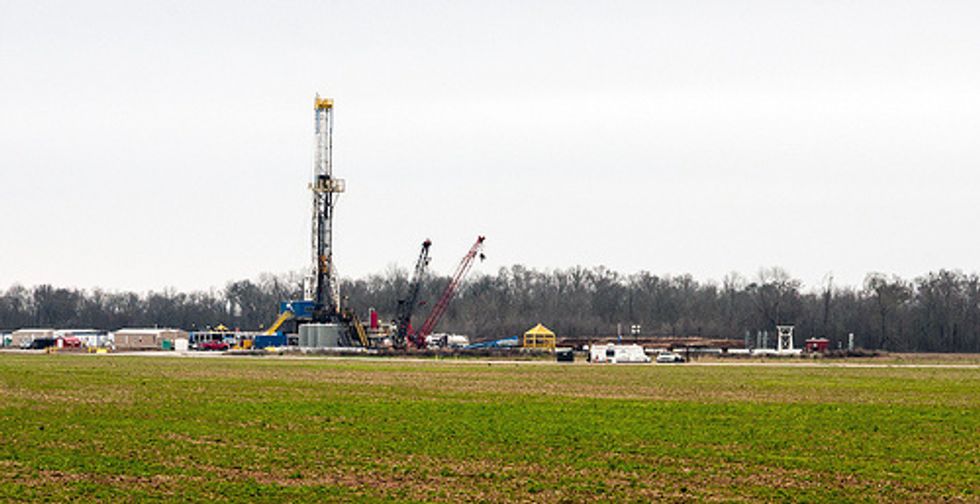 By Zahra Hirji, InsideClimate News
Oil and gas drillers are salivating over silica sand, a key ingredient in fracking operations, and their increasing demand for the stuff has the nation's industrial sand operators seeing green.
Now, a new player — and an unlikely one — is on the horizon: South Dakota is poised to cash in on the frac sand boom.
South Dakota Proppants, LLC, a fledgling frac sand company, plans to build the state's first silica mine under a sprawling 960-acre site in the state's largest forest, Black Hills.
Silica sand is incredibly strong and round, the best material to blast down drilling wells to open bedrock and release oil and gas. One well can use up to 10,000 tons of frac sand during its lifespan.
The demand for U.S. silica is at an all-time high, and there's no end in sight. According to the U.S. Geological Survey, the sand and gravel industry was worth $2.6 billion in 2013, up from about $830 million in 2009 — and frac sand drove that growth. Meanwhile, the price of a ton of sand has dramatically increased, from approximately $35 to $50. The USGS data are voluntarily submitted by companies and may underestimate the industry's magnitude.
The proposed mega-facility, a mine, processing and transport hub rolled into one, is strategically located within 300 miles of three major oil- and gas-rich shale rock formations: North Dakota's Bakken, Colorado's Niobrara, and Wyoming's Powder River Basin. If built, the facility will make South Dakota the latest state with marginal oil and gas reserves to profit from the nation's hydraulic fracturing drilling boom.
SDP says the proposed $65 million facility will generate one million tons of sand a year.
Today, sand often arrives at Midwest drilling sites by rail from Wisconsin or Minnesota, two of the industry's leading states. By using trucks instead of rail, SDP can save more than $50 per ton of sand, said Patric Galvin, the founder and owner of South Dakota Proppants.
South Dakota officials and companies have wanted to enter the frac sand industry for years but their sand's poor quality has held them back. State geologists have sampled dozens of potential sites for the right sand and consistently come up short.
But they missed a spot.
"This particular mine site is very unique," Galvin said. "We think that the same sand type (from Wisconsin) exists in this particular formation."
The company's sand quality tests confirmed their resource meets the American Petroleum Institute's standards.
Wisconsin's frac sand development has injected millions of dollars and thousands of jobs into the state. But it has also stirred public concern over unknown health and environmental effects and inadequate regulations, propelling this state into the national fight over the safety of fracking and related industries.
Frac sand mining releases into the air tiny dust particles invisible to the naked eye and sized at 4 microns or smaller. If inhaled, these jagged crystals can enter the bloodstream or lungs and cause respiratory problems including silicosis. Studies of this sand's effects on industry workers have prompted the Occupational Safety and Health Administration to try to boost its protections. However, little is known about how much of this sand is blowing into surrounding communities.
South Dakota has no silica-specific air standards — meaning it doesn't monitor for it. Once mining starts, South Dakota will have to rely on EPA's general small particle standards, which do not adequately cover the silica dust risk, according to many health experts.
Patricia Popple, an anti-silica sand activist in Wisconsin, is skeptical that South Dakota has strong enough regulations. In an email to InsideClimate News, Popple pointed to her home state as an example: "Wisconsin surely is lacking in expertise and it has taken them six years to get a grip on the multiple complications."
According to SDP's Galvin, the company's mine "is in the middle of nowhere."
"The remoteness of this facility is really appealing in comparison to the Wisconsin sand mines that are interspersed more densely in the population," he said.
The mine site is located in a national forest, around 14 miles from the nearest community, Hill City (pop. 1,000). A handful of families live within a few miles of the proposed site.
One local concern is that the facility's steady stream of trucks will clog up and damage the region's narrow roads. Silica dust can fly off the truck's bed — a big concern in the town of Winona, Minn., where two air monitors were installed in January to measure sand-related truck emissions.
If approved, SDP's facility won't be operational until 2016. Before then, the company has to complete an environmental impact study for the site, as well as submit several permits, including one with the U.S. Forest Service. The public also has a chance to weigh in. If the facility is approved, SDP will need another six to eight months to build it.
Photo: danielfoster437 via Flickr
Interested in U.S. politics? Sign up for our daily email newsletter!