Short On Supporters, Fracking Group Turns To The Homeless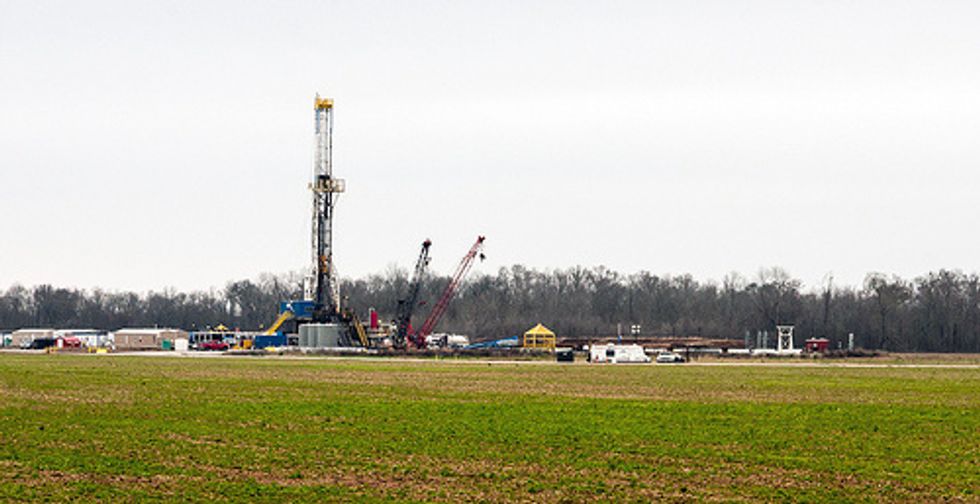 The North Carolina Energy Coalition couldn't find enough people who actually supported fracking to show up at a state hearing last week on the topic, so — in a move reminiscent of then-Senator Scott Brown's 2012 re-election campaign — they may have bused in homeless people instead.
The men, who reportedly has no idea what fracking is, were bused 200 miles to Cullowhee and given turquoise shirts and hats with sayings such as "Shale Yes," "Energy Creates Jobs," and "NCEnergyCoalition.com," according to the Citizen-Times.
"They were clueless," Bettie "Betsy" Ashby, a member of the Jackson County Coalition Against Fracking, told the Citizen-Times. "At least two of them I met definitely came from a homeless shelter. One of them even apologized to me and said, 'I didn't know they were trying to do this to me.' One said, 'I did it for the …' and then he rubbed his fingers together like 'for the money.'"
The North Carolina Energy Coalition's website states that its mission "is to provide the public with factual information and offer an in-depth look into oil and gas industry in North Carolina." It's not supposed to "advocate on issues but instead, provide the facts to let the public, business community, and elected officials decide for themselves."
But it also notes that it's sponsored by the American Petroleum Institute, a group that definitely advocates for the oil and gas industries.
North Carolina has a complicated history when it comes to fracking. It was first legalized in the state in 2012 when a state representative accidentally pressed the wrong button while casting the deciding vote. North Carolina law doesn't allow representatives to change their votes if they'll have an outcome on the verdict.
However, a ban on fracking permits was put into place until regulations were written to protect the environment. The Mining and Energy Commission worked on writing these regulations. But Greenpeace uncovered controversial emails between the commission and fracking companies, such as America's Gas Alliance and Halliburton. For example, the commission had originally proposed requiring fracking companies to disclose the chemicals used in fracking fluid. But Halliburton convinced them not to.
North Carolina governor Pat McCrory (R) has also faced criticism for his close ties to Duke Energy, where he worked for 30 years. The Associated Pressfound that his administration had blocked three lawsuits against Duke Energy and instead intervened, only making the company pay "modest fines" for its toxic waste ponds instead of requiring it to clean them up.
The state director of Environmental North Carolina, Elizabeth Ouzts, said that the regulations the Mining and Energy Commission has proposed so far are "inadequate," as they don't address air pollution and allow wastewater to be stored in pits, which could lead to leaks.
The Mining and Energy Commission is supposed to finish writing its regulations by January, and is holding public hearings (including the one last week) to discuss the rules. McCrory already signed a law in June lifting the state's ban on fracking. Permits will be issued as soon as next spring.
Below is a video of Ms. Ashby talking to the men wearing pro-fracking shirts, taken by the Blue Ridge Environmental Defense League.
Photo: danielfoster437 via Flickr
Interested in environmental news? Sign up for our daily email newsletter!