France Police Raid Homes, Vow It's 'Just The Beginning'
@reuters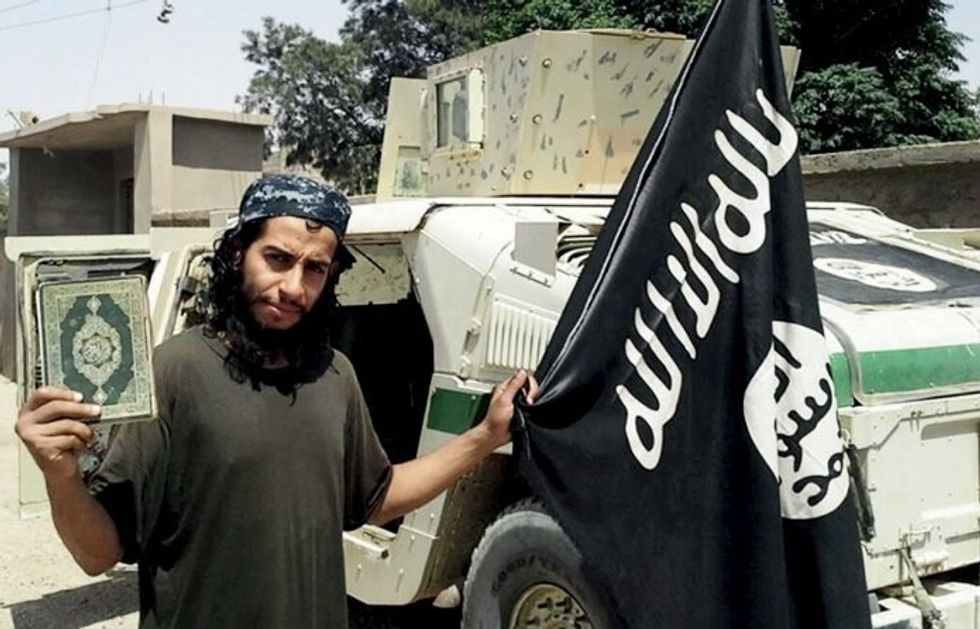 By Chine Labbé and Crispian Balmer
PARIS (Reuters) – Police raided homes of suspected Islamist militants across France overnight arresting 23 people, and investigators identified a Belgian national living in Syria as the possible mastermind behind Friday's attacks in Paris.
Much of France came to a standstill at midday for a minute's silence to remember the 129 killed in the co-ordinated suicide bombings and shootings. Metro trains stopped, pedestrians paused on pavements and office workers stood at their desks.
Prosecutors have identified five of the seven dead assailants — four Frenchmen and a foreigner fingerprinted in Greece last month. His role in the carnage has fueled speculation that Islamic State took advantage of a recent wave of refugees fleeing Syria to slip militants into Europe.
Police believe one attacker is on the run, and are working on the assumption that at least four people helped organize the mayhem, the worst atrocity in France since World War Two, which appears to have been organized in neighboring Belgium.
Belgian police arrested at least one person after a four-hour siege on Monday at a house in the Brussels district of Molenbeek, home to many Muslim immigrants, but failed to find a man believed to have played a key role in the assault.
"We know that more attacks are being prepared, not just against France but also against other European countries," French Prime Minister Manuel Valls told RTL radio. "We are going to live with this terrorist threat for a long time."
Islamic State, which claimed responsibility for the attacks in retaliation for French airstrikes in Iraq and Syria, warned in a video on Monday that any country hitting it would suffer the same fate, promising specifically to target Washington.
French warplanes bombed Islamic State training camps and a suspected arms depot in its Syrian stronghold Raqqa late on Sunday — its biggest such strike since it started assaults as part of a U.S.-led mission launched in 2014.
Interior Minister Bernard Cazeneuve told reporters police had arrested nearly two dozen people and seized arms, including a rocket launcher and automatic weapons, in 168 raids overnight. Another 104 people were put under house arrest, he said.
"Let this be clear to everyone, this is just the beginning, these actions are going to continue," Cazeneuve said.
NATIONAL MOURNING
A source close to the investigation said Belgian national Abdelhamid Abaaoud, currently in Syria, was suspected of having ordered the Paris operation. "He appears to be the brains behind several planned attacks in Europe," the source told Reuters.
RTL Radio said Abaaoud was a 27-year-old from Molenbeek. He was also reported by media to have been involved in a series of planned attacks in Belgium which were foiled by the police last January.
Police in Brussels have detained two suspects and are hunting Salah Abdeslam, a 26-year-old Frenchman based in the Belgian capital, who is one of three brothers believed to have been involved in the plot.
Schools and museums in Paris re-opened on Monday after a 48-hour shutdown, but some popular tourist sites, including Disneyland and the Eiffel Tower, remained closed.
French tourism-related stocks fell sharply on fears visitors might shun Paris, one of the most visited cities in the world, but the country's blue-chip CAC 40 index was steady, with no long-term economic impact seen.
Police have named two French attackers — Ismael Omar Mostefai, 29, from Chartres, southwest of Paris, and Samy Amimour, 28, from the Paris suburb of Drancy. A source close to the investigation named two other French assailants as Bilal Hadfi and Ibrahim Abdeslam.
A Turkish government official said Ankara had notified France twice in December 2014 and June 2015 about Mostefai, who entered Turkey in 2013 with no record of him leaving again. France only called back about him after Friday's events.
"This is not a time to play the blame game, but we are compelled to share (this) information to shed light on (Mostefai's) travel history," the Turkish official said.
France now believes Mostefai was in Syria from 2013-2014 and his radicalization underlined the trouble France faces trying to capture an illusive enemy that grew up in its own cities.
"He was a normal man," said Christophe, his neighbor in Chartres. "Nothing made you think he would turn violent."
Latest official figures estimate that 520 French nationals are in the Syrian and Iraqi war zones, including 116 women. Some 137 have died in the fighting, 250 have returned home and around 700 have plans to travel to join the jihadist factions.
The man stopped in Greece in October was carrying a Syrian passport in the name of Ahmad Al Mohammad. Police said they were still checking to see if the document was authentic, but said the dead man's fingerprints matched those on record in Greece.
Greek officials said the passport holder had crossed from Turkey to the Greek islands last month and then registered for asylum in Serbia before heading north, following a route taken by hundreds of thousands of asylum seekers this year.
The news revived a furious row within the European Union on how to handle the flood of Middle Eastern and African refugees. Senior Polish and Slovak officials dismissed an EU plan to relocate asylum seekers across the bloc, saying the violence underlined their concerns about taking in Muslims.
Britain announced on Monday it would boost its intelligence agency staff by 15 percent and more than double spending on aviation security to defend against Islamist militants plotting attacks from Syria.
A source in Prime Minister David Cameron's office said police had foiled one attack in Britain last month.
Valls said the French authorities would use every means at their disposal to counter the Islamist threat, adding that mosques harboring extremists would be shuttered and foreigners expelled if they "held unacceptable views against the republic".
France is home to some five million Muslims, many of them descendants from Algerian and Moroccan immigrants.
(Additional reporting by Emmanuel Jarry, John Irish, Leigh Thomas, Ingrid Melander, Marine Pennetier, Geert De Clercq and Claire Watson in Paris; Yves Herman, Robert-Jan Bartunek, Philip Blenkinsop and Alastair Macdonald in Brussels; writing by Crispian Balmer; Editing by Sonya Hepinstall)
An undated photograph of a man described as Abdelhamid Abaaoud that was published in the Islamic State's online magazine Dabiq and posted on a social media website. REUTERS/Social Media Website via Reuters TV