Francis Bacon Work Sets $142.4 Million Auction Record
@AFP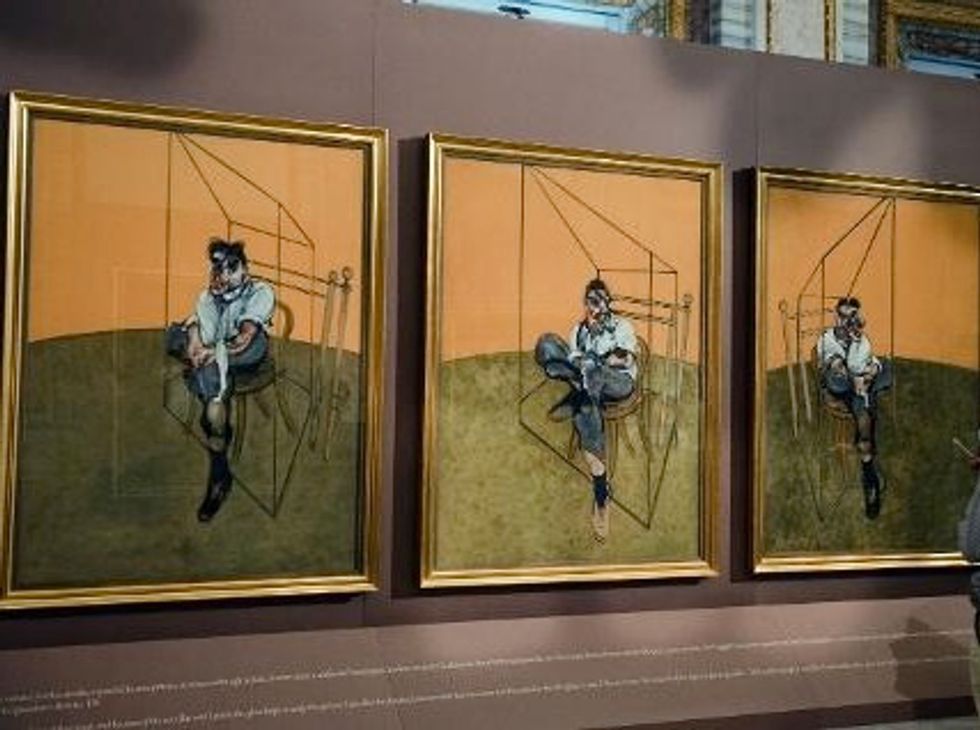 New York City (AFP) – A triptych by British painter Francis Bacon — "Three Studies of Lucian Freud" — sold for $142.4 million on Tuesday, smashing the world record for the most expensive piece of art auctioned.
The work by the 20th century figurative artist, who lived from 1909 to 1992, had never before been put under the hammer until Christie's flagship evening sale. It was bought by a New York gallery.
"What's amazing for us to see is obviously the highest price ever paid at auction for a work of art, the Francis Bacon," said Brett Gorvy, head of post-war and contemporary art at Christie's.
The most expensive artwork ever was a Cezanne that sold for $259 million in 2011. But that was a private sale, not an auction.
Gorvy named Acquavella Galleries, which is based in New York, as the buyer at a spectacular auction that broke a string of records and totalled sales of $691.6 million, the highest in auction history.
Hammered to an outburst of applause, the Bacon surpassed the previous record of $119.9 million fetched by Edvard Munch's iconic "The Scream" by rival house Sotheby's in New York in May 2012.
Bidding lasted six minutes and was split by would-be buyers on three continents, opening at $80 million and escalating in seconds.
"An historic moment," said auctioneer Jussi Pylkkanen at $126 million as he drove the price yet higher.
The triptych, the only one not in a museum to date and executed almost 25 years after Bacon and Freud met, is the most expensive single lot offered in the New York November auction season.
Officials said it was particularly special because Freud, a close friend of Bacon, went on to become a hugely important artist himself in later years.
The previous record for a Bacon painting was $86 million in 2008.
Christie's sold a total of 63 lots of post-war and contemporary art for $691.6 million, the highest total in auction history.
In total Christie's broke a further 10 world records.
It sold the giant orange "Balloon Dog" sculpture by Jeff Koons for $58.4 million, making history for the sale of a work by a living artist and history for a piece of contemporary sculpture.
It is one of five different colored such pieces by the American, who has most recently collaborated with Lady Gaga providing artwork for the pop diva's third album, "Artpop", which was released on Monday.
"We're also incredibly proud to see the highest price achieved for a living artist, Jeff Koons, well deserved for the 'Balloon Dog'," Gorvy told a news conference.
The statue, on display outside the auction house in Rockefeller Plaza, was eagerly snapped by tourists and art lovers outside. Several police officers mounted on horses sat guard late Tuesday.
The previous record for a Koons piece was $33.7 million.
Other artists who achieved world records were Christopher Wool whose "Apocalypse Now" sold for $26.5 million, Wade Guyton, Vija Celmins, Lucio Fontana, Ad Reinhardt, Donald Judd, Willem De Kooning and Wayne Thiebaud.
With Impressionist and Modern art harder to come by and many of the great works in museums, art officials say contemporary work has driven an explosion in prices in a flourishing market.
"Tonight we showed ultimately the strength of this market and the diversity of this market," said Gorvy, insisting that the value of post-war and contemporary art would only increase "incredibly".
"I really believe we are at the beginning of something. This is not a bubble. This is not something which ultimately doesn't have great foundation stones," he added.
He said collectors had bought "very sensibly" and "very aggressively with a lot of competition".
Buyers from 42 countries registered to bid on Tuesday and despite tremendous interest from emerging markets in Asia, the Gulf, Russia and Latin America, Americans dominated.
"A terrific, exciting night," Doug Woodham, president of Christie's Americas, told a news conference.
"The new world record for auctions anywhere in the world which is a phenomenal evening of amazing masterpieces," he added.
AFP Photo/Vincenzo Pinto