Francis Rejects `Superman' Status, Says More Popes May Resign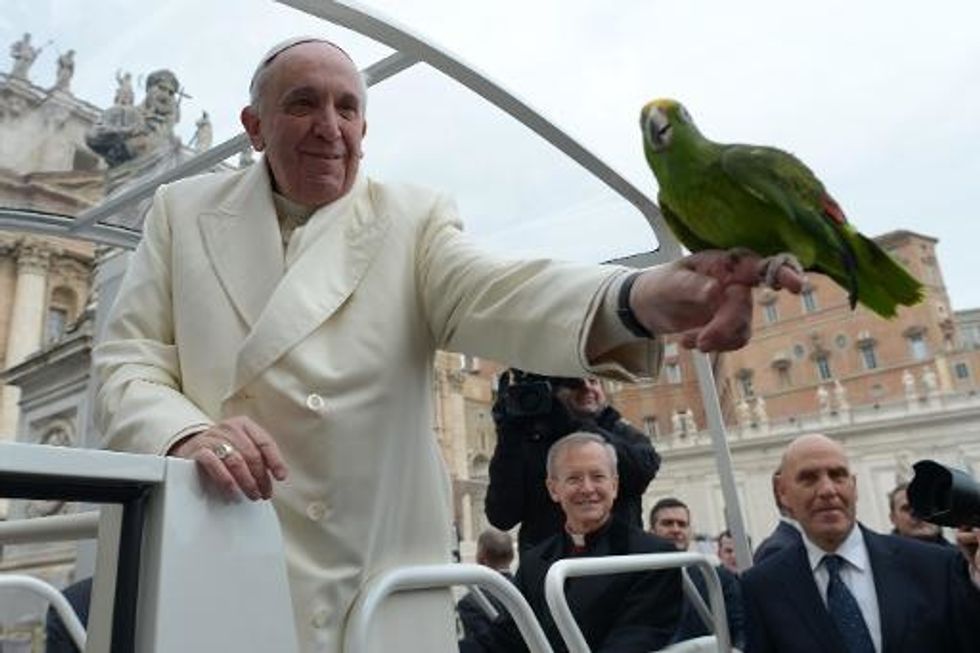 By Alvise Armellini
VATICAN CITY — The leader of the Catholic Church is "a normal person," Pope Francis insisted in an interview published Wednesday, in which he said he was offended by media portrayals of him as "some kind of Superman."
Since his election a year ago, Francis' popularity has skyrocketed. He is seen as humble, unorthodox, reform-oriented and media-savvy, and has attracted almost universally flattering headlines — even from unlikely publications such as Rolling Stone.
"I don't like ideological interpretations, a certain mythology of Pope Francis," he told the Italian daily Corriere della Sera. "To paint the pope as some kind of Superman, some kind of a star, I think it is offensive," he added.
"The pope is a man who laughs, cries, sleeps peacefully and has friends like everybody else. A normal person," Francis insisted.
Despite his protestations, Francis did appreciate graffiti that appeared on the walls near the Vatican, representing him as a flying superhero. His account retweeted the image in January, and last week he met the artist who drew it.
Wednesday's was the third media interview Francis has given as a pope, coming days before the one-year anniversary of his March 13, 2013, appointment. He previously spoke to La Repubblica, another Italian daily, and to Jesuit journal La Civilta Cattolica.
Francis was promoted to the papacy after his predecessor, Pope Emeritus Benedict XVI, became the first pontiff to resign in almost 600 years.
Noting that retired bishops did not exist until the Second Vatican Council of the 1960s but have now become "an institution," Francis said "the same must happen" with retired popes.
"Benedict is the first, but maybe there will be others," he said.

Once again dismissing concerns about the unusual "two popes" situation, Francis said he asked his predecessor "to go out and participate in the life of the Church."
Upon retiring, Benedict said he wanted to remain "hidden to the world," but he took part in last month's ceremony where 19 new cardinals were ordained. "The pope emeritus is not a statue in a museum," Francis said.
Speaking after Vatican-commissioned surveys revealed that many Catholics do not follow teachings on contraceptives and sex before marriage, Francis said the Church had to take "a long walk" and find ways to respond to the crisis of the modern family.
"Young people do not marry much. There are many separated families whose project of a shared life has failed. Children suffer a lot. We must give an answer. But for that we must reflect very deeply," the pope said.
Confirming previously expressed views, Francis signaled that there would be no major changes in doctrine on hot-button issues. But he stressed the need to take into account real-life situations, and gave a diplomatic answer on gay unions.
"Marriage is between a man and a woman. Secular states want to justify civil unions … moved by the need to regulate economic issues between people, such as health care coverage."
"We need to see different cases and evaluate them in their variety," he added.
Responding to questions about his private life, Francis said he was reading a book about the role of women in the church, and that the last film he watched was "Life is Beautiful,'' an Italian 1997 Oscar-winning comedy-drama about the Holocaust.
He also spoke about his love life before becoming a priest. He recounted that he had a girlfriend at the age of 17 and that another girl made his head "spin for a week" while he was at seminary school.
"Pardon the indiscretion, but how did it end?" the interviewer asked. "We were young. I spoke about it with my confessor," the pope was said to have replied, flashing a broad grin.
Photo via AFP