Frank Jobe, Doctor Who Saved Pitchers' Careers With Tommy John Surgery, Dies At 88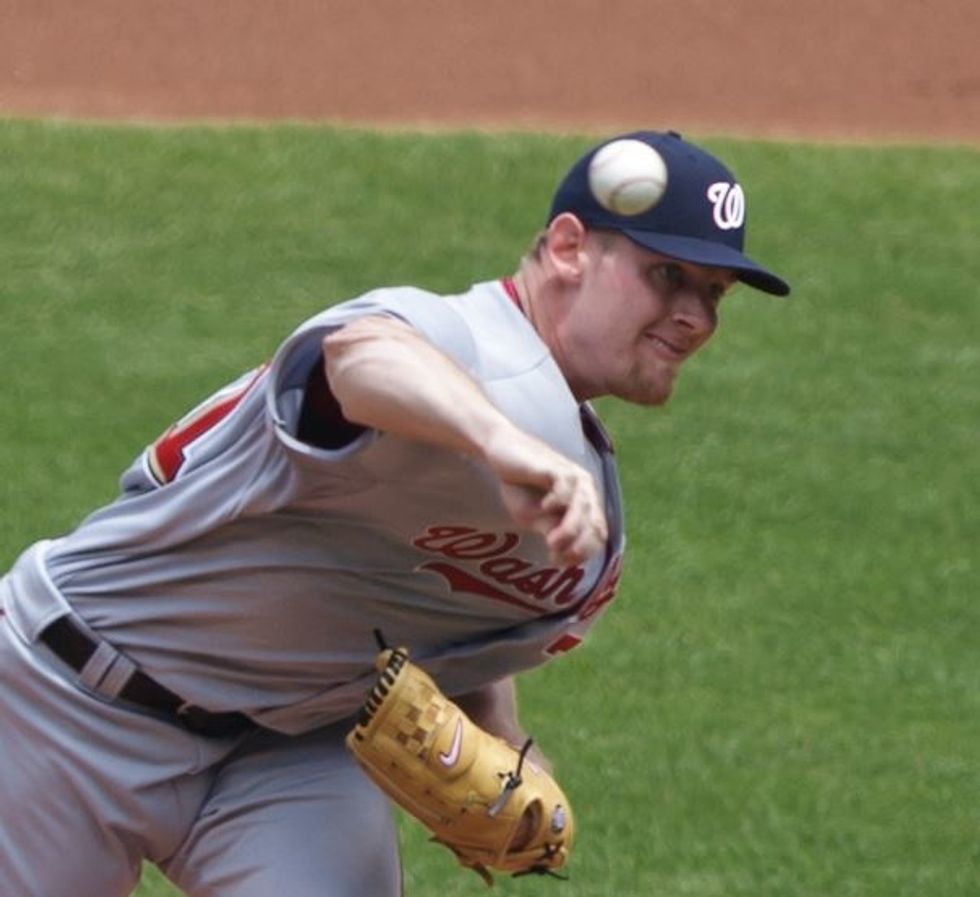 By Valerie J. Nelson, Los Angeles Times
LOS ANGELES—In the fall of 1974, Dodger pitcher Tommy John heard his arm snap like a guitar string after delivering a pitch. The torn ligament was the type of injury that commonly ended athletic careers, but John, then a 31-year-old star, pushed team doctors "to figure it out."
Orthopedic surgeon Dr. Frank Jobe made what many consider the most extraordinary medical advance in baseball history when he invented a transplant procedure that resurrected the pitcher's arm.
Jobe borrowed the idea of transferring a tendon from one body part to another, which had been used in hand surgery and to reinforce the joints of polio patients but never to repair a joint that endures so much stress — the elbow of a major league pitcher.
He snipped a 6-inch tendon from the pitcher's good arm and wove it like a figure eight through holes drilled in the elbow of the injured left arm to replace the ligament destroyed by overuse. It worked so well that Pete Rose, then a player with the Cincinnati Reds, quipped: "I know they had to give Tommy John a new arm. But did they have to give him (Sandy) Koufax's?"
Jobe, 88, died Thursday in Santa Monica, the Dodgers announced. No cause was given.
"Many of us go into medicine thinking we are going to change the world, and it just doesn't happen, certainly not to this magnitude," Dr. Timothy Kremchek, the Cincinnati Reds' medical director and one of the few doctors who perform the Tommy John procedure on major league pitchers, said in a 2005 interview with the Los Angeles Times.
Over the next 30 years, Jobe saved hundreds of pitching careers by performing the surgery. He attributed its popularity in part to the increase in million-dollar salaries, which put pressure on team doctors to consider near-bionic solutions to keep such players in the game.
Dr. James Andrews, a Jobe protege widely credited with perfecting the Tommy John surgery, has repeatedly called Jobe a founding father of sports medicine who brought treatment for baseball players out of the Dark Ages.
"Jobe initiated all of the things that have made elbow injuries both commonly recognized and treatable," Andrews, an orthopedic surgeon in Birmingham, Ala., told Investor's Business Daily in 2002.
As of 2013, more than 1,000 Major League Baseball players — most of them pitchers — had undergone the Tommy John procedure, the popular term for ulnar collateral ligament reconstruction.
"The impact he's had on the game can't be measured," Lewis Yocum, the longtime team physician for the Los Angeles Angels and Jobe's colleague, said in 1999. Yocum died in 2013.
The Baseball Hall of Fame honored Jobe last summer for developing the "historic elbow procedure" that has helped extend so many major league careers.
"Baseball lost a great man and Tommy John lost a great friend," John said in a statement Thursday night. "There are a lot of pitchers in baseball who should celebrate his life and what he did for the game of baseball."
If the Tommy John procedure remains the Mona Lisa of sports surgeries, as Times sportswriter Chris Dufresne once declared, then Jobe's landmark 1990 operation to rebuild the right shoulder of then-Dodger Orel Hershiser could be enshrined down the hall in the Louvre.
When Hershiser, a Cy Young Award winner who led the team to the World Series in 1988, needed surgery to repair cartilage damage and tighten the ligaments in his shoulder, Jobe proposed a revolutionary procedure that had been done on only about 30 people. None were major-league pitchers trying to throw 90 mph fastballs.
Until then, such an operation meant disturbing and damaging muscles, which made it almost impossible for a pitcher to come back. Jobe designed a less-invasive approach — instead of detaching the muscle to repair the joint, he split the muscle and made the repair. He used microscopic tools and newly invented anchors that secured the ligament to the bone, minimizing trauma.
Hershiser recuperated from the 45-minute operation in secrecy and allowed no photographs of his 13-month rehabilitation. After winning his first game post-surgery in 1991, he threw a party in honor of Jobe and gave him a trophy.
"He gave me back the thing I love," said Hershiser, who went on to pitch 10 more seasons and in two more World Series with the Cleveland Indians.

The two medical breakthroughs "revolutionized baseball because they have kept players on the field," Kremchek said.
Jobe, whose elegant hand strokes in the operating room have been compared to those of a symphony conductor, repeatedly said he would rather be remembered for the strides he made that kept athletes off the operating table.
In 1979, he established a biomechanics laboratory at Centinela Hospital Medical Center in Inglewood and pioneered motion analysis on the act of throwing. Rotator cuffs, a series of muscles that control overhead shoulder motion that can be abused by pitching, were the subject of the first study.
"We developed a lab that would photograph at 500 frames a second," Jobe said in 1989. "We put electrodes in the muscles of the rotator cuffs, and we also coordinated that with pictures so we would know which was active at which part of the pitch."
Rotator cuff injuries became less common, Jobe said, because of knowledge gained in his laboratory. The lab conducts studies in sports other than baseball, including running, tennis and swimming, and develops exercise programs to prevent and rehabilitate injuries.
Frank Wilson Jobe, the son of a postman and farmer, was born July 16, 1925, in Greensboro, N.C., and grew up there. His high school baseball career did not presage his impact on the sport — he spent most of the time on the bench.
After graduation, Jobe joined the Army's 101st Airborne Division in 1943 as a medical supply sergeant. Working with doctors who risked their lives on the front lines, he realized his calling.
"These guys would be operating in tents with bullets and shrapnel flying around," Jobe told The Times in 1991. "These guys were my heroes."
He vowed to treat any athlete who needed help, regardless of whether he ended up helping an opposing team, just as military doctors tended to the enemy.
"I consider myself a doctor for individuals, not teams," Jobe said. "You don't use medicine as a means of winning."
Back home after the war, he attended junior college in Tennessee and what is now La Sierra University in Riverside. After earning his medical degree from Loma Linda University in 1956, Jobe spent three years in family practice so he could pay off school loans.
While working in the emergency room during his three-year residency at Los Angeles County General Hospital, he became interested in orthopedic medicine. He also hit it off with an orthopedic specialist, Dr. Robert Kerlan.
After completing his residency in 1964, Jobe offered to help Kerlan with his workload. They sealed their partnership with a handshake.
"We really had a wonderful relationship for 35 years," Jobe said of Kerlan in 1998. "It was almost like a marriage; we were very, very close."
There was no jealousy between them, "and you usually can't say that about doctors," Kerlan told the Sporting News in 1993, three years before his death at 74.
The Kerlan-Jobe Orthopaedic Clinic opened in Inglewood in 1965 and later moved to Westchester. The Dodgers were already a client since Kerlan had been named their team physician when they moved from Brooklyn in 1958. Eventually the Angels, Lakers, Kings, Ducks and other teams joined their roster.
Baseball got a preview of what Jobe could do when he removed bone chips from the elbow of Dodger pitcher Johnny Podres in 1964. Post-surgery, Podres pitched two more seasons.
When Jobe operated on John a decade later, the ulnar nerve, which provides strength in the hands and fingers, became irritated during surgery. Weeks after the operation John's left arm dangled at his side, his numb hand curled into a claw.
A second operation kept secret from the public was performed three months after the first to shift the nerve to the back of the arm and allow the tendon to learn to become a ligament.
John said Jobe gave him a "1 in 100" chance of pitching again.
"That was a wild guess," Jobe said in 1989. "I didn't have any idea what the chances were."
The ever-modest Jobe admitted "it was probably the one thing in my career that stands out" but gave "the intelligent, cooperative" John credit for taking his 18-month rehabilitation seriously.
John had 288 pitching victories in his 26-year career, and more than half — 164 — came after the surgery. He went on to play for the Angels, the Oakland Athletics and the New York Yankees.
Jobe resisted his own fame, refusing to sign an autograph for the son of a star athlete because he thought the request ridiculous.
Jobe, a resident of Brentwood, is survived by his wife of 54 years, the former Beverly Anderson; their sons Christopher (an orthopedic surgeon), Meredith, Cameron and Blair; and eight grandchildren.
Photo: cathyt via Flickr