'Freedom Caucus' Leaders Protest Upcoming Cohen Testimony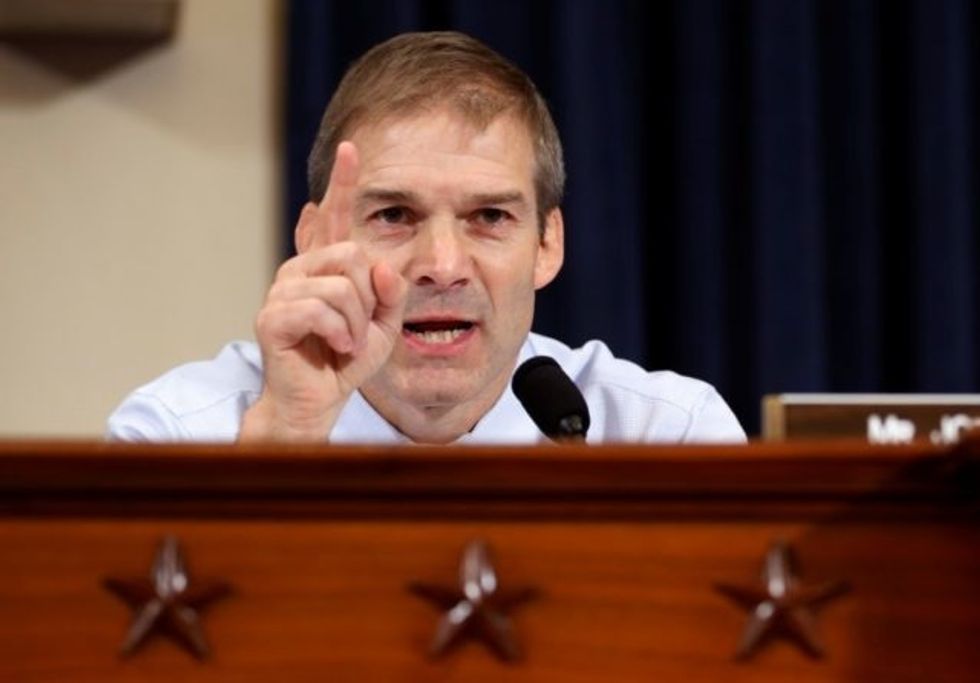 Reprinted with permission from Shareblue.
Rep. Jim Jordan (R-OH), a man accused of turning a blind eye to students getting molested, is now outraged at the idea of Democrats investigating Trump's alleged criminal activity.
Rep. Elijah Cummings (D-MD), chair of the powerful House Committee on Oversight and Reform, announced earlier this week that Michael Cohen, Trump's longtime lawyer and "fixer," will testify publicly before the committee on Feb. 7.
Cohen has spent months cooperating with special counsel Robert Mueller's investigation into Russian election interference and the Trump campaign's potential involvement in it. Cohen testified in federal court that Trump directed him to pay hush money to multiple Trump mistresses — which prosecutors say were felony attempts to influence the 2016 election by avoiding campaign finance laws.
Jordan, a co-founder of the ultra-conservative House Freedom Caucus and a longtime Trump lackey, was apoplectic that Democrats would dare to do their constitutional duty by conducting oversight of Trump and investigating his potential crimes.
Jordan claimed in a statement that Cummings "will be using the committee as a venue for political theater rather than legitimate oversight."
He refused to elaborate on why Trump's alleged criminal activity is not a "legitimate" line of congressional investigation.
Without providing any evidence, Jordan claimed that simply interviewing one of Trump's most trusted colleagues "makes clear that Chairman Cummings and the Democrats will do whatever it takes to attack this President."
North Carolina Rep. Mark Meadows, chair of the House Freedom Caucus, also complained about questioning Cohen — and said that if Cohen is going to be called to testify, Deputy Attorney General Rod Rosenstein should be too.
In a show of caution and restraint, Cummings announced that he has consulted with Mueller's team and has "no interest in inappropriately interfering with any ongoing criminal investigations."
Cummings also noted that the 2018 elections show Americans want Congress to get back to its "Constitutional responsibility to serve as an independent check and balance on the Executive Branch by restoring accountability and transparency."
This wouldn't be the first time Jordan thought it was fine to look the other way when people in power commit crimes.
Last year, almost a dozen people accused Jordan of helping to cover up predatory sexual behavior by a team doctor when Jordan worked as a wrestling coach at Ohio State University. After Jordan denied having known about the doctor's crimes, one of his former student-athletes said he believes Jordan "is absolutely lying if he says he doesn't know what was going on" at the time.
For the past two years, the GOP-led House of Representatives has followed the Jordan method of ignoring alleged criminal activity.
Previous GOP "investigations" led by Trump lackeys like Rep. Devin Nunes (R-CA) were so pathetic that even fellow Republicans mocked them. The GOP-led oversight was so lax Cohen was able to lie to Congress when Republicans were in charge with no repercussions — until Mueller's team caughthim.
But now that voters have put Democrats back in charge of leading these investigations, Cummings seems determined to do them right and get to the truth.
It's a new day in Congress, and no amount of whining from Trump's Republican allies will stop the new Democratic majority from doing its job and properly investigating Trump.
Published with permission of The American Independent.