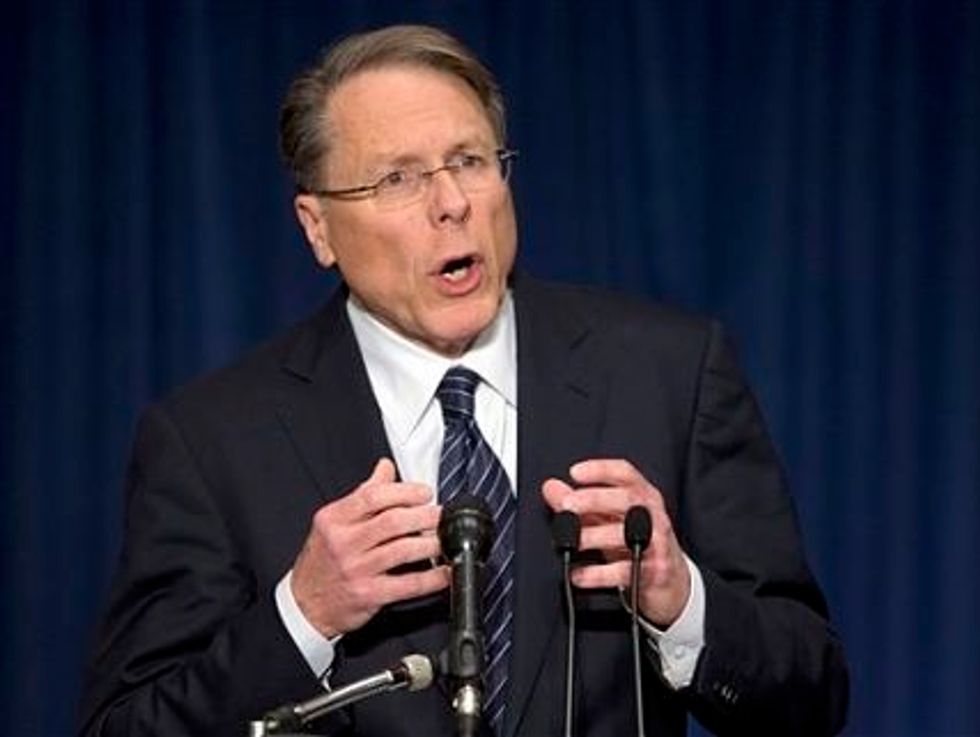 "Everybody got a pistol. This must really please the NRA" — from "Gun" by Gil Scott-Heron
So maybe the NRA is about to get its wish.
Here we are, a little over three weeks after the massacre at an elementary school in Newtown, CT, a little over two weeks after the National Rifle Association said there should henceforth be armed guards at every school, and at least one school system, Marlboro Township in New Jersey, is taking its advice. Under a 90-day pilot program in partnership with local police, students who returned to school last week found their campuses patrolled by armed officers.
But here's the thing. If this is truly a good idea — "The only thing that stops a bad guy with a gun is a good guy with a gun," said NRA CEO Wayne LaPierre in a news conference — then why stop there? After all, it is not just our schools that are being shot up. So let us follow this advice to its logical end.
Consider:
Four firefighters in upstate New York were shot, two of them killed, on Christmas Eve when they responded to a call and were ambushed by a man with a semiautomatic rifle. So we should have armed guards on all our fire trucks.
Two customers were killed two days before Christmas when armed men opened fire with semiautomatic handguns inside a grocery store in Delray Beach, FL. So we should have armed guards at all our grocery stores.
Two people were killed and one injured on Dec. 11 by a gunman who started shooting at a shopping mall near Portland, OR. So we should have armed guards at all our shopping malls.
Two people were killed and two others injured Nov. 6 when an employee started shooting inside a chicken-processing plant in Fresno, CA. So we should have armed guards at all our chicken-processing plants.
One man was killed and five others wounded in a shooting at a New Year's Eve party in a private residence in Lakewood, CA. So we should have armed guards at all our private residences.
One man was killed, a pregnant woman and her unborn child wounded, in a Dec. 9 drive-by shooting on a street corner in Miami. So we should have armed guards on every street corner.
That list, by the way, represents only a random sampling of recent shootings, most so run-of-the-mill, so plain-vanilla ordinary, they didn't even make news outside their local areas, which should give you an idea of how common gunfire in this country is. According to the Brady Campaign to Prevent Gun Violence, nearly 98,000 of us are shot each year, a figure that includes law enforcement activity. That's nearly 268 a day, 11 every hour.
By the reasoning of the NRA, you do not address that sad state of affairs by crafting laws that strive to balance the rights of responsible gun owners with the need to block the irresponsible, the dangerous, the criminal-minded, the unhinged, from access to these WMDs. No, by the NRA's reasoning, the solution to too many guns is more guns still.
The organization frames this as a defense of freedom. To which the best rejoinder is provided by Gil Scott-Heron in the song quoted above: "Freedom to be afraid is all you won."
It is a trenchant observation. Just the other day, two seventh-graders in Tillamook, OR. found a handgun, with a round in the chamber and the safety off, on the floor in a movie theater. It had apparently slipped out of the holster of one Gary Warren Quackenbush, 61, who said he felt the need for protection as he watched The Hobbit.
Quackenbush reportedly feared someone might shoot up the place — as happened in Aurora,CO, last July during a Batman movie. So add movie theaters to the list of places we should have armed guards. We are a people shot through with fear, a nation under the gun.
And one wonders how much more of this "freedom" we can take.
(Leonard Pitts is a columnist for the Miami Herald, 1 Herald Plaza, Miami, Fla., 33132. Readers may contact him via email at lpitts@miamiherald.com.)
(c) 2013 The Miami Herald Distributed by Tribune Media Services, Inc.
Photo credit: AP/Evan Vucci