Freshmen Make Former USC Stars Take Notice With Their Play In Opener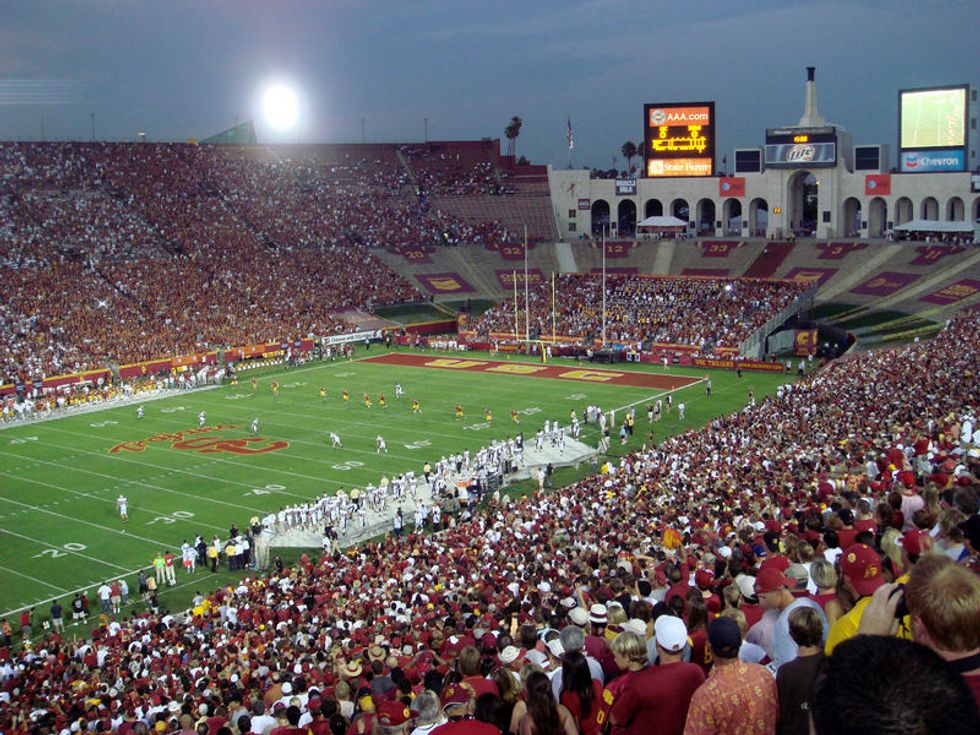 By Gary Klein, Los Angeles Times
LOS ANGELES — Their stellar USC careers spanned different eras during the last two decades.
Receiver Keyshawn Johnson dominated games in the mid-1990s. Quarterback Matt Leinart won a Heisman Trophy in the mid-2000s. And receiver Robert Woods played the last of three record-setting seasons in 2012.
The former All-Americans watched USC's season-opening victory over Fresno State and were struck by the same thing: A seemingly unending parade of freshmen making dazzling plays for the Trojans.
"Definitely something to be excited about," said Johnson, who watched from a suite on the Coliseum field.
"They looked the part," said Leinart, who monitored the game in a San Francisco television studio.
"Very, very impressed," said Woods, who watched from his home near Buffalo, New York.
Receivers JuJu Smith and Adoree' Jackson, tight end Bryce Dixon, and offensive linemen Toa Lobendahn, Damien Mama and Viane Talamaivao were among 11 freshmen who contributed in the Trojans' 52-13 victory.
Smith sped and powered his way to 123 yards receiving, the most ever in a debut by a USC true freshman.
Jackson caught a touchdown pass and also played cornerback and returned a punt.
Dixon caught a touchdown pass, and the young linemen helped protect quarterback Cody Kessler from being sacked.
It was a stirring first game for a freshman class hailed among college football's best on national signing day last February.
"I feel like everybody hyped us up," Jackson said, "and we had to live up to it."
Jackson is the USC first player since Chad Morton in 1996 and 1997 to play a significant amount of plays on offense and defense.
After the Fresno State game, and again this week after reviewing it, Jackson graded his performance a C.
Johnson, Leinart, and Woods gave the freshmen collectively higher marks.
"It didn't seem like it was too big for them, which is a great sign," said Leinart, who is a college football analyst.
Johnson, the No. 1 pick in the 1996 NFL draft, said he was surprised by Smith's size and speed.
The 6-foot-2, 210-pound Smith turned several short receptions into long gains.
"His size is going to allow him to be explosive, break tackles, and gain yardage after catches," Johnson said. "People are going to be afraid to hit him."
Smith and Jackson also impressed former Trojans coach John Robinson, who said he watched part of the game from the sideline.
"They looked as natural as hell," he said. "I don't remember thinking, 'These guys are freshmen?'"
With the opener behind, the freshmen will face a new challenge Saturday in a Pac-12 Conference opener at Stanford.
Woods, a second-year receiver for the Buffalo Bills, said there was a marked difference between playing at the Coliseum before 80,000 cheering fans and playing on the road at Stanford, where USC has not won since 2008.
The Cardinal program, Woods noted, develops smart teams not prone to making errors.
"You have to be on your game," he said. "You can't have any freshman mistakes. You have to play more mature than a freshman."
USC's freshmen accomplished the feat last week, and USC Coach Steve Sarkisian expects they will again.
"I didn't think the moment was too big for them to play in the Coliseum," he said, "and I don't anticipate it will be that way Saturday.
"But if it is, we have to do a good job of recognizing it as a coaching staff and help continue to motivate those guys to get back into the right frame of mind so that they can compete at a high level. Because it's really clear we're a better football team when those guys are playing at a high level."
Photo: Bobak Ha'Eri via WikiCommons
Interested in sports news? Sign up for our daily email newsletter!