#EndorseThis: A Friendly Message From Putin In SNL Cold Open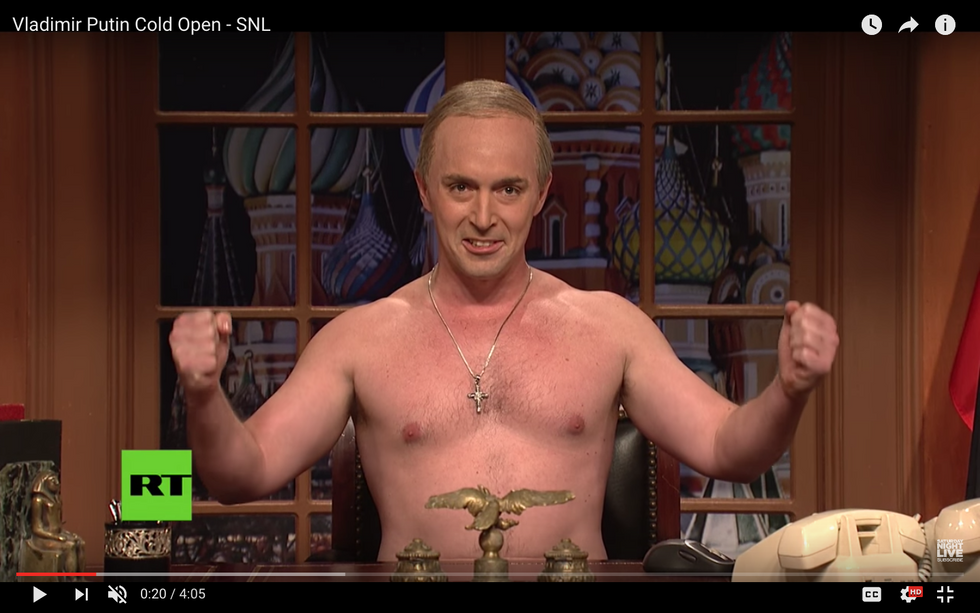 The mainstream media mostly continues to "normalize" Trump — and minimize or even ignore the likelihood that the Kremlin installed our new president. But in its latest "cold open," Saturday Night Live went there, with fearless gusto. The SNL opening sketch featured a well-deserved star turn by Beck Bennett, whose shirtless portrayal of Vladimir Putin has been overshadowed by Alec Baldwin's brilliant Trump during this season.
"Relax, I got this," smirks Putin, directly addressing the troubled American majority. "Putti is going to make everything OK. I promise that we will take care of America. It's the most expensive thing we ever bought." He offers a few pungent observations about his "friend" Donald Trump — whose stumbling ineptitude has clearly disappointed the former KGB boss,
It's hilarious, in that chilling style to which we all must become accustomed in the new era. Bennett is joined briefly by Kate McKinnon who plays "Olya," a shuffling figure summoned by Putin to offer a testimonial about how "happy" she is as a woman in his Russia. (She later doffs her babushka for a pink "pussy hat," a deft nod to the dissident Moscow band Pussy Riot.)
The most penetrating news analysis comes from comedy writers these days. Maybe that was always true.