Front-Runner Trump Signs Republican Loyalty Pledge
@reuters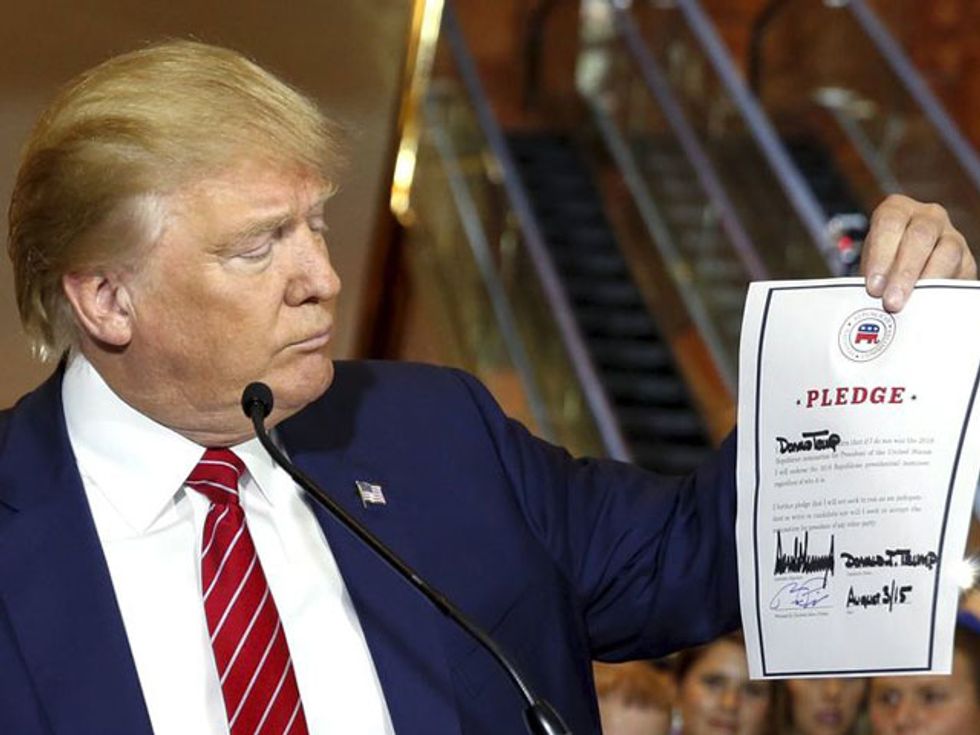 By Emily Flitter
NEW YORK (Reuters) — Republican front-runner Donald Trump on Thursday bowed to pressure from the party establishment and signed a pledge not to run as an independent candidate in the November 2016 presidential election.
"I see no circumstances under which I would tear up that pledge," the real estate magnate told reporters at Trump Tower in Manhattan.
Trump had previously refused to rule out a third-party bid if the Republican Party did not treat him fairly.
His pledge of loyalty on Thursday was a victory for Republican National Committee in its efforts to rein in the billionaire, who leads opinion polls but has upset mainstream Republicans with his brash style and unusually personal attacks on rivals.
An independent Trump candidacy could split support for the Republican Party and give the Democrats a huge boost.
Almost two months after reaching the top of opinion polls among Republicans, Trump has come under sustained fire for the first time from one of his main rivals for the nomination, Jeb Bush, the former Florida governor.
Nudging Trump toward signing the pledge was a weeks-long effort by RNC Chairman Reince Priebus and other officials, an RNC official said. Priebus met Trump on Thursday.
"This gets the proverbial elephant out of the room and allows the focus to be on winning the White House and taking the prospect of a third party off the table," the official said.
Reuters/Ipsos polling shows Trump with support among nearly 31 percent of self-identified Republicans as of Sept. 1, with Bush at nearly 12 percent, behind former neurosurgeon Ben Carson. http://bit.ly/1hWTSGh
Trump drew boos from the audience at a Republican debate in Ohio last month when he refused to rule out going it alone in 2016.
He has been under pressure since then to declare his party loyalty, and party officials have been working for weeks to have him sign a pledge. "It reflects a lot of behind the scenes work," the RNC official said.
Political parties at the state level often ask candidates to sign loyalty pledges, but this is believed to be the first time the Republican Party has done it nationally.
(Additional reporting by Alistair Bell and Alina Selyukh in Washington and Steve Holland in Hampton, N.H.; Editing by Cynthia Osterman)
Photo: U.S. presidential hopeful Donald Trump holds up a signed pledge during a press availability at Trump Tower in Manhattan, New York September 3, 2015. REUTERS/Lucas Jackson