Full Al Smith Dinner Video: See Why Trump Bombed (And Why Giuliani Seethed)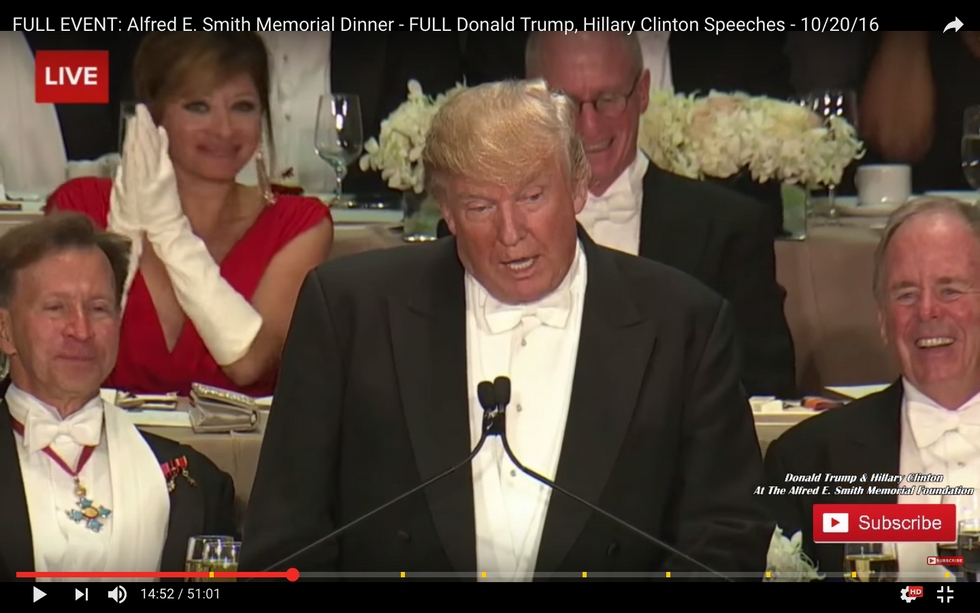 At the Al Smith dinner in New York — a yearly charity roast for the benefit of city children — presidential election season finds the major party candidates mocking themselves and each other with good-natured glee. Unless one of them happens to be Donald Trump, who seemed unable to suppress his bilious bitterness. When he grimly attacked Clinton as "corrupt" and anti-Catholic, the well-heeled guests did what they never do at this jolly event: They booed angrily. Clinton got off a few sharp remarks at her tormentor's expense (and lobbed a nice zinger back a few rows toward former mayor Rudolph Giuliani, who has been babbling outrageously about her and her husband for months).
Trump's remarks start at about 9:00, Clinton's at around 27:00. Both speeches are worth watching, but be prepared to cringe as well as laugh.