Gallup: British Disapproval Of Trump At 64 Percent — Before He Landed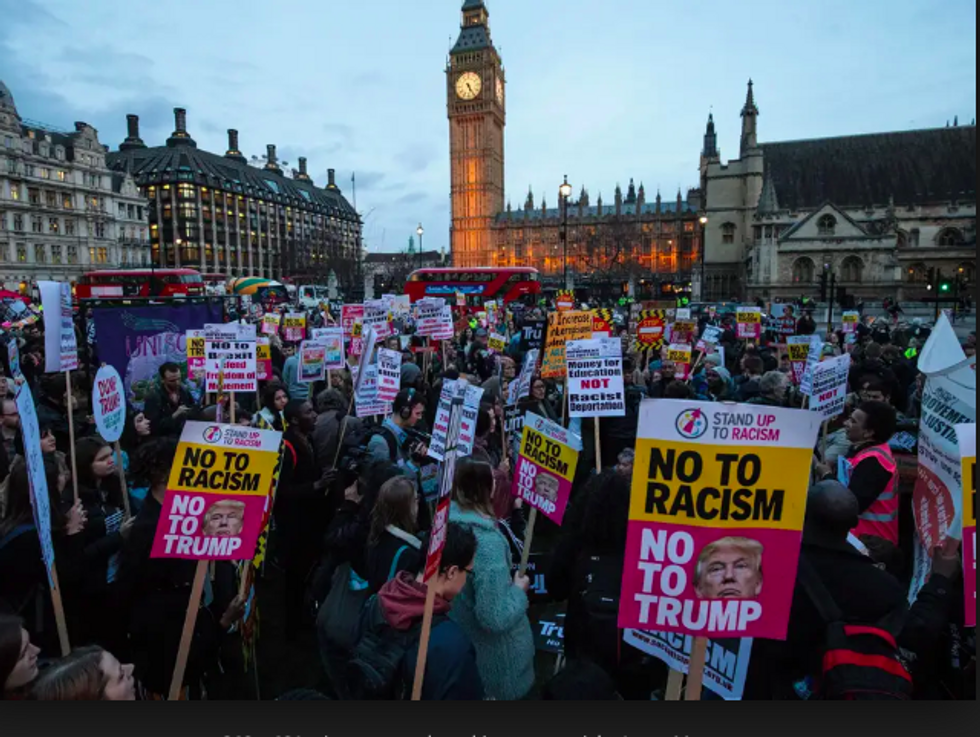 Trump loves to claim that the U.S. is "respected again" after he took office.
But a Gallup poll shows the exact opposite.
As soon as former President Barack Obama left office and Trump was sworn in, Britons' disapproval of American leadership skyrocketed.
During his last year in office in 2016, 59 percent of Britons approved of Obama, while 32 percent disapproved.
Those numbers more or less flipped in 2017, the year Trump was inaugurated, with just 33 percent of Britons approving of Trump and 63 percent64 Pe disapproving.
In 2018, Trump's approval rating plummeted even more, with 26 percent of Britons approving of American leadership and 64 percent disapproving.
In fact, Trump's dismal 26 percent approval rating among Britons is even lower than his 31 percent approval rating worldwide, according to Gallup.
Such dismal approval numbers paint a good picture for why tens of thousands of Brits took to the streets to protest Trump's state visit.
Armed with pithy signs and a massive balloon depicting Trump as a baby, the protesters turned out in force to tell Trump he is not welcome in their country.
Trump doesn't seem to be taking his cold reception very well.
Rather than let the protests roll off his back, he took the ridiculous route of claiming that the throngs of people protesting him don't actually exist.
It's a fake narrative that Fox News was happy to play along with.
In all, Trump's trip to the U.K. has been a major flop.
Aside from the protests, Trump has received negative headlines for everything from bringing his children along for the state visit when they weren't invited, to the fact that he was snubbed by a British politician he endorsed to be the next prime minister of the U.K.
What a fail.
Published with permission of The American Independent.