'Game Of Thrones' Eyes Emmys Glow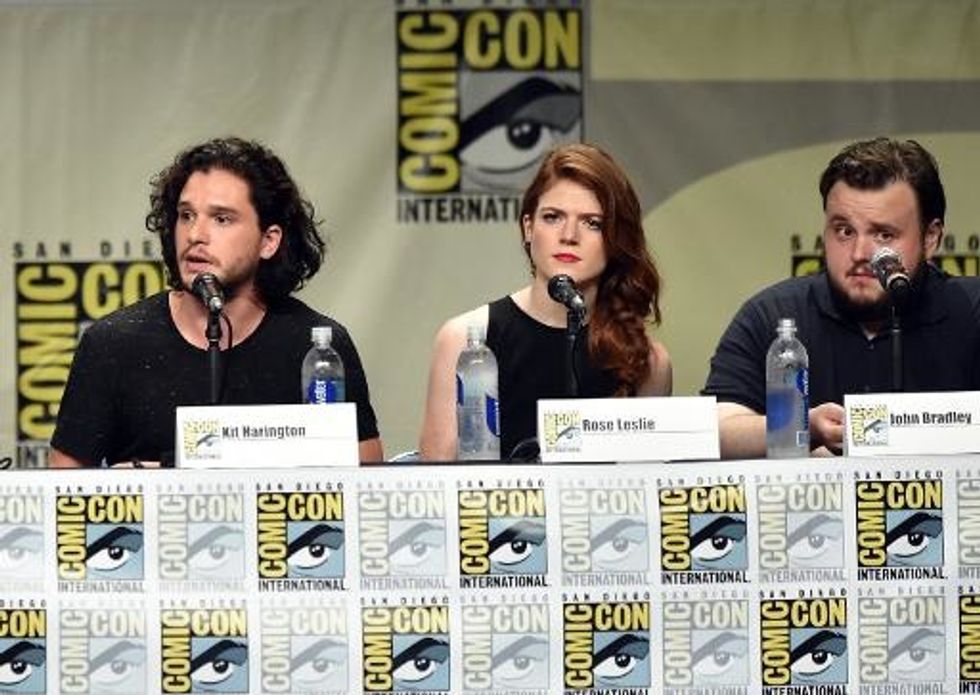 By Veronique Dupont
Los Angeles (AFP) — With a staggering 19 nominations, royal feud saga "Game of Thrones" will cast a long shadow over Monday's Emmy awards, akin to the Oscars of U.S. television.
Based on George R.R. Martin's best-selling novels about power struggles between dueling clans in seven mythical kingdoms, it won most nominations overall — including for best drama series.
"Thrones" — already renewed for a fifth and sixth season — is among Home Box Office's nominated shows. Overall, HBO heads into the ceremony with a winning 99 nods, compared to 31 for online streaming giant Netflix.
The 66th Emmys — to be presented at the Nokia Theater in Los Angeles — kick off at 5:00 pm.
Joining host Seth Meyers on stage will be a slew of celebrities, including fellow comedians Stephen Colbert and Jimmy Fallon.
"Fargo," an offshoot of the quirky 1996 Coen brothers' movie, heads into the ceremony with nominations in an impressive 18 categories, with Billy Bob Thornton a contestant for lead actor in a miniseries.
And cult crime series "Breaking Bad" — which won best drama last year — is again among top contenders for the coveted title, although dismayed fans saw it end almost a year ago after five seasons.
– Cranston in the mix –
Bryan Cranston, who played cancer-stricken teacher-turned-drugs kingpin Walter White in the blockbuster series, is nominated in the lead actor category, a top prize snagged in 2013 by Jeff Daniels of "The Newsroom," who is his competitor again this time around.
"Breaking Bad" is also up for statuettes in the best supporting drama actress and actor categories.
Another hot commodity is HBO crime drama "True Detective," which scored competing lead actor nominations for its co-stars Woody Harrelson and Matthew McConaughey, a police duo who hunt for a serial killer in Louisiana.
It is in the running for best drama series as well.
But Netflix's breakthrough women's prison show "Orange is the New Black" is very much on the radar, too.
It is vying for the best comedy series crown against long-running series "The Big Bang Theory," "Louie," "Modern Family," and "Veep," as well as HBO newcomer "Silicon Valley."
Taylor Schilling from "Orange is the New Black" and Julia Louis-Dreyfus from "Veep" are among those facing off for lead actress in a comedy.
The race for lead drama actress, meanwhile, pits last year's laureate Claire Danes from "Homeland" against Michelle Dockery from "Downton Abbey," Lizzy Caplan from "Masters of Sex," Julianna Margulies from "The Good Wife," Kerry Washington from "Scandal," and Robin Wright from "House of Cards."
Monday's ceremony will be overshadowed by the apparent August 11 suicide of Hollywood great Robin Williams, which rocked the entertainment world.
With emotions still raw, his friend and fellow actor-comedian Billy Crystal will pay tribute to the Oscar winner during the "in memoriam" part of the primetime program.
Others slated to make an appearance include the actresses Halle Berry, Debra Messing, and Lucy Liu, as well as singer Gwen Stefani and nominees Cranston and Harrelson.
AFP Photo/Kevin Winter
Interested in entertainment news? Sign up for our daily email newsletter!