Gay Rights Activist Hauled Away Twice In 2 Days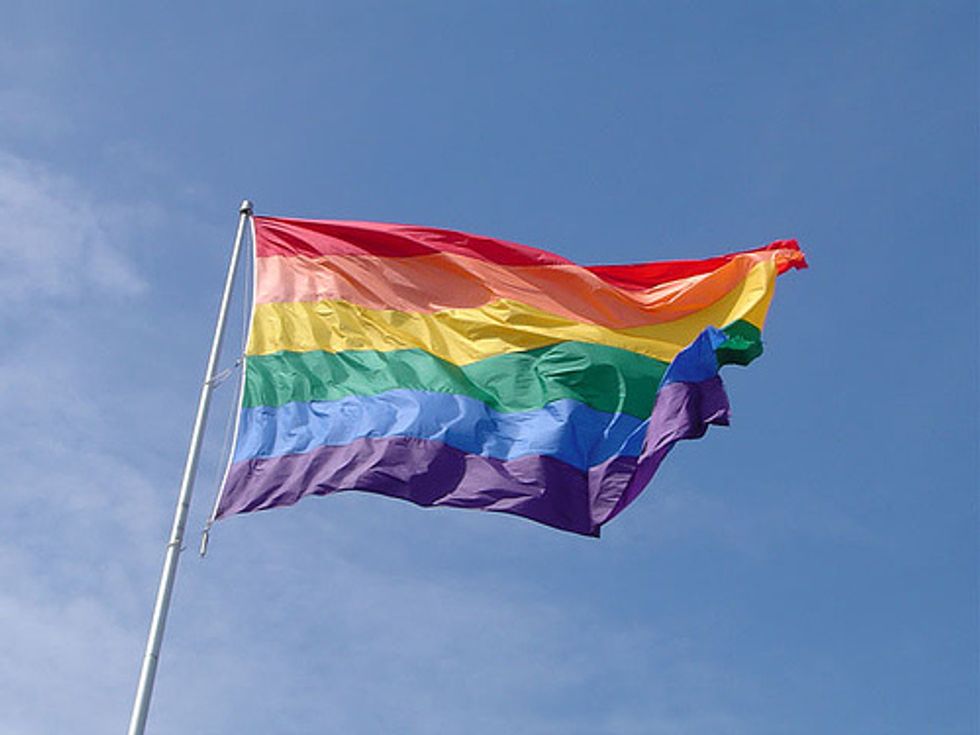 William Douglas, McClatchy Foreign Staff
SOCHI, Russia — Adorned in rainbow colors from head to toe, Vladimir Luxuria was out and about — at least temporarily — in Olympic Park Monday night.
"It's okay to be gay in Russia!" she said repeatedly in English and Russian in a voice as loud as her wardrobe as onlookers walked by. "It's okay to be gay!"
Luxuria, a transgender former member of Italy's parliament, looked no worse for wear the day after she said she was hauled into a Russian police station for having a rainbow-colored flag near Olympic Park that said "It Is OK to be Gay" in Russian.
Apparently it wasn't okay with Russian officials who took Luxuria away again Monday night as she tried to enter Shayba Arena, where she tried to take in a women's Olympic hockey match between Canada and Switzerland.
"I'm going to enjoy," she said about an hour before being taken away in a car. "I'm going to say that I like very much the modernity of this place and I wish a modernity of mind of this country because there are a lot of homophobic episodes of violence and nobody seems to care about this because there is a terrible law saying you can't talk about gay issues in public because there could be a minor listening to you."
Luxuria touched off an international firestorm Sunday when she reported to an Italian gay rights group that her protest over Russia's anti-propaganda law on traditional sexual relations — widely viewed as an anti-gay measure — triggered an aggressive response from the local cops, who hauled her into a precinct and questioned her for hours.
Monday night, after gliding across a bridge leading to Olympic Park to the picture flashes of cameras and phones, Luxuria recounted what happened Sunday to a gaggle of mostly Italian journalists. She didn't use the words "arrest" or "detained," descriptions the Italian gay rights group gave to Italian media and wire services.
That said, Luxuria didn't particularly feel free to leave the station at will.
"I was kept in a room, not actually arrested," she said in English. "I was deprived of my freedom for a couple of hours, actually. They decided when I could leave. They also wanted me to switch off the telephone. And they didn't give me back my flag."
She said the incident began around 7:30 p.m. Sunday when two people who asked her to give them the flag she had on her shoulder that had "It Is OK to Be Gay" written on it.
Earlier in the day, Luxuria tweeted a picture of herself outside the Olympics' Medal Park holding a rainbow-colored fan. The message under the picture said "I'm in Sochi! Regards with the colors of the rainbow in the face of Putin!"
When Luxuria protested and tried to get her flag back, the men took her to the police station, where they asked for her passport and visa.
"They kept me waiting for a couple of hours, saying I had to wait all this time because they had to find someone who could talk in English," she said. "Then, at last, a person talking English came. And he said that I'm very welcome here in Russia as long as I don't show slogans or things written in Russian."
Last June, Russian President Vladimir Putin signed a law that prohibits individuals from promoting "homosexual behavior" and spreading "propaganda of non-traditional sexual relations" among minors.
It levels fines up to 5,000 rubles — about $155. In addition, foreigners charged under the law could face administrative arrests for as long as 15 days.
Opponents of the law say it has heightened anti-gay sentiments in Russia. They predicted that it would affect athletes, fans, and tourists attending the 2014 Winter Olympics if they do anything that's perceived as advocating lesbian, gay, bisexual or transgender rights.
Russian Olympic organizers and International Olympic Committee officials said the law wouldn't affect the games because Russia is bound by Principle 6 of the Olympic Charter. That principle prohibits discrimination in any form.
Still, several world leaders, including President Barack Obama, skipped attending the Winter Games' opening ceremony to show their disapproval of the law.
Obama went a step further and sent one of the lowest-level official delegations to represent the United States in recent Olympic history. The U.S. party included two gay former Olympians.
At their Monday morning press briefing, Olympic organizers said Luxuria's Sunday claims are news to them.
"The thing is we have talked to police and according to police there is no record whatsoever of any detention or arrest," Alexandra Kosterina, a spokeswoman for the Russian Olympic organizing committee told reporters Monday. "If we get another update I will certainly tell you but so far the police have no info at all."
But officials at Amnesty International's Moscow office said the lack of paperwork or other evidence of a protester being taken into police custody isn't unusual in Russia, particularly Sochi.
"This is not uncommon in Russia that we've seen people briefly detained without documentation," said Damelya Aitkhozhina, an Amnesty International researcher. "This particular situation is part of a large crackdown on civil society and freedom of expression in Russia."
Olympic officials hedged Monday morning on whether Luxuria would be welcomed back onsite.
"On the wider issue, as we have said very often, I am sure the Games will not be used as a platform for any demonstration, and we hope that continues," IOC spokesman Mark Adams said.
There have been few public protests over the law at the games. The only overt challenge to the law came from Austrian Daniela Irachko-Stolz, who won a silver medal in the women's first-ever Olympic ski jump competition.
"I think I did my best at the ski jumping, and I'm married to a woman," she said after her event. "It's a good statement, especially in Russia, to show that people can live together."
Then along came Luxuria, a 48-year-old former member of Italy's Communist Refoundation Party. Now a television host and gay rights activist, Luxuria was born a male but lives as a woman. She served in Italy's parliament from 2006 to 2008 and was Europe's first openly transgender parliamentarian.
She said she came to Sochi to provoke thought about the anti-propaganda law — not to get arrested.
"I don't want to be arrested, it's not nice to be all alone in a room with neon lights, not knowing what's going on," she said. "I don't want to be arrested, but it is important to stand up for rights of gay lesbian, and transgender people all over the world."
Photo: Sigmaration via Flickr