Gaza Fighting Erupts Again As Cease-Fire Expires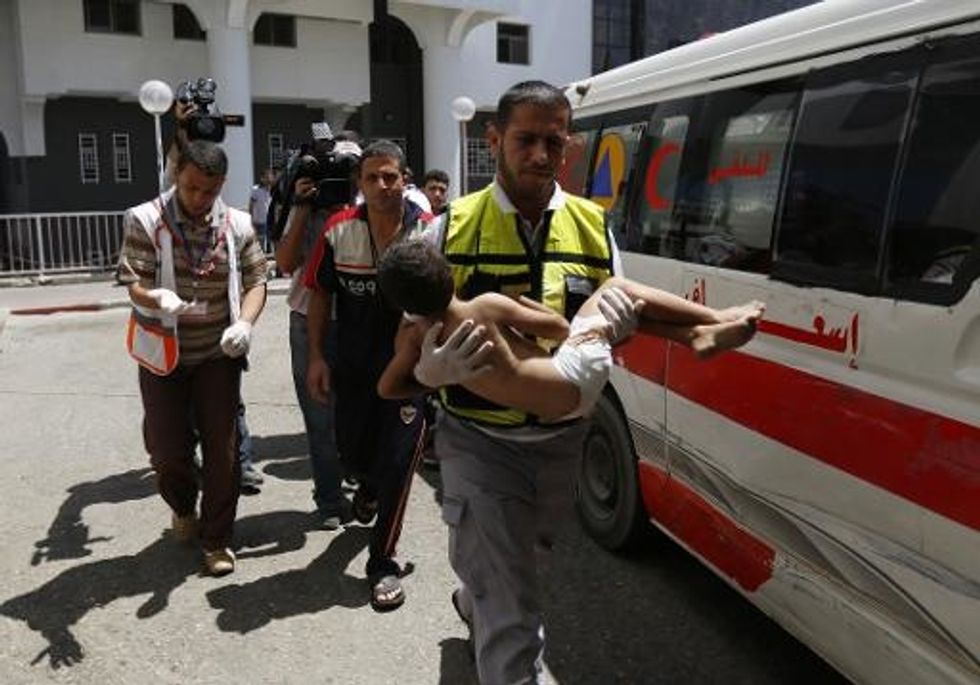 By Laura King and Batsheva Sobelman, Los Angeles Times
Fighting broke out in the Gaza Strip again Friday morning after a three-day truce expired, with Palestinian militants lobbing dozens of rockets into Israel and the Israeli military firing back with fresh airstrikes.
Egypt, which has been hosting indirect talks between the two sides, was struggling to get the truce back on track.
The Israeli army spokesman's office said in a statement that "terror sites" across Gaza had been targeted following the resumption of Palestinian rocket fire. Hamas disavowed responsibility for the initial volleys of rockets after the cease-fire's end, with smaller Palestinian factions claiming to have carried out the attacks.
At least two projectiles were intercepted by Israel's antimissile system, with others falling in open areas in southern Israel.
In Gaza City, Israeli drones circled overhead, and the streets were empty by midmorning as most people stayed indoors, having hurried away from areas that were previously targeted. In southern Israel, authorities reimposed restrictions on large public gatherings in communities close to Gaza.
Casualties were reported on both sides, with four people reported injured in Israel and several deaths on the Palestinian side, including that of a 10-year-old boy in Gaza City. But the outbreak of fighting was not as fierce as it had been in days prior to the three-day cease-fire.
The renewed violence left the future of the Cairo talks in doubt. Israel's delegation left the Egyptian capital following a contentious all-night session, according to Israeli and Egyptian media reports, and it was not clear when or whether it would return. The indirect talks have centered on extending the cease-fire but also on laying the groundwork for a longer-term accord.
The lull, the longest since the start of the conflict on July 8, had been punctuated by bellicose rhetoric from Hamas, and by warnings from Israel that it would hit back hard if attacked.
"The renewed rocket attacks by terrorists at Israel are unacceptable, intolerable, and shortsighted," said army spokesman Lt. Col. Peter Lerner after Israel resumed its strikes. He blamed "Hamas' bad decision to breach the cease-fire."
Hamas and its allies have fired more than 3,300 rockets and missiles into Israel during the past month, and Israel has raked the seaside strip with airstrikes and artillery fire aimed at destroying rocket launchers and infiltration tunnels.
Israel had said previously it would have no objection to continuing an unconditional cease-fire while indirect talks in the Egyptian capital continued. But Hamas refused to extend the truce until it first achieved political concessions from Israel.
Among other demands, Hamas has called for the lifting of a blockade on the territory by Israel and Egypt. Palestinians say the tight restrictions on movement of goods and people are strangling Gaza economically; Israel says Hamas' construction of an elaborate network of infiltration tunnels — and the buildup of a huge Hamas arsenal — show that freeer movement of goods in and out of Gaza would be impractical.
However, some parties have called for international monitoring of entry and exit points into the coastal enclave, including European proposals for a maritime passageway that would be monitored at both ends.
Israel launched its aerial campaign against militants in Gaza after weeks of rocket fire and launched a ground incursion into the narrow coastal strip on July 17. During four weeks of fighting, some 1,900 Palestinians have died — the majority of them civilians, according to the U.N. — and 64 Israeli troops were killed. Israel unilaterally withdrew its ground forces just before the three-day truce took effect on Tuesday morning, but its troops remained deployed outside the border fence.
Special correspondent Sobelman reported from Jerusalem, and special correspondent Maher Abukhater contributed reporting from Ramallah, West Bank.
AFP Photo/Mohammed Abed
Interested in world news? Sign up for our daily email newsletter!