Gaza Fighting Rages As Conflict Enters Fourth Week
@AFP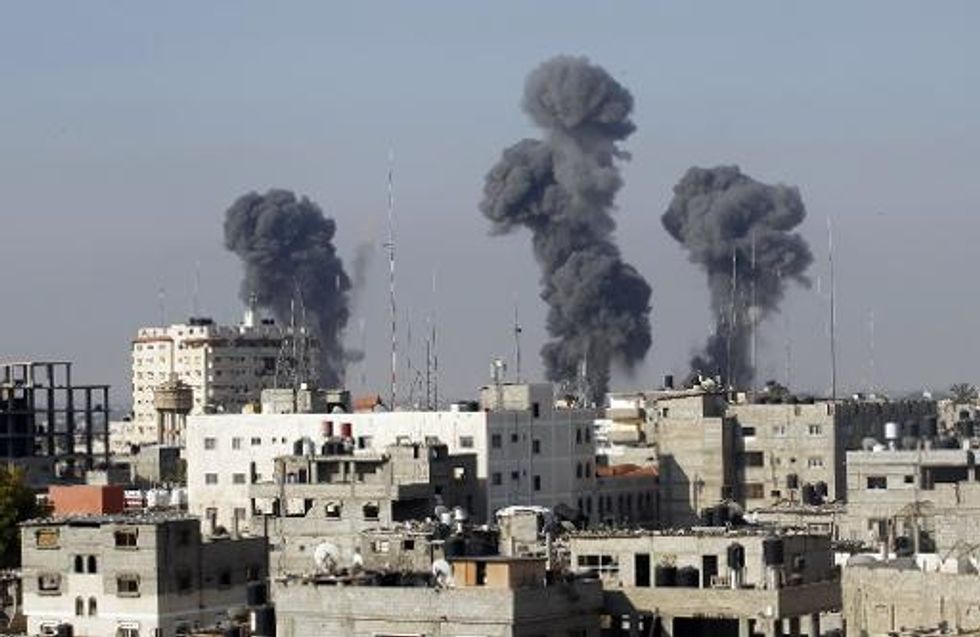 Gaza City (Palestinian Territories) (AFP) – Israel's bombardment of Gaza left dozens more Palestinians dead on Tuesday after a black day for the Israeli army, with the spiral of violence showing no sign of abating.
As the conflict entered its fourth week, diplomatic efforts by the international community and calls for an end to the bloodshed fell on deaf ears, despite the mounting toll in human life and destruction in the narrow coastal enclave.
Both sides appeared more determined than ever to keep up the fighting.
The Israeli offensive, which began on July 8 to end Hamas rocket attacks on Israel, has cost the lives of more than 1,100 Palestinians, civilians for the most part according to the UN, while the Israelis have lost 53 soldiers, the heaviest toll since the conflict with Hezbollah in 2006.
Three civilians — two Israelis and a Thai worker — have also died on Israeli soil after being struck by rockets fired from Gaza.
After an uneasy truce to mark the end of the holy month of Ramadan and the Eid al-Fitr holiday on Monday, a deluge of bombs rained down on Gaza throughout the night.
Several tank shells struck Gaza's sole power plant, causing damage and a fire, bringing it grinding to a halt, a senior official with the power authority said.
And an air strike targeted the home of top Hamas leader Ismail Haniya in Gaza City's Shati refugee camp, officials said.
By the time dawn broke on the second day of Eid, at least 24 people had been killed, among them nine women and four children, medics said.
"Suddenly, missiles were falling like rain," said Gaza resident Mohamed al-Dalo. "We all left our homes, some running in one direction, some in another, nobody knew which way to go, but people were calling out 'Evacuate'."
The World Health Organisation now estimates that more than 215,000 people, or one Gazan in every eight, have fled their homes in the overcrowded territory.
Many have headed for already-cramped UN schools in the north, where children ran barefoot around a dirty school yard alongside stinking piles of rubbish.
Israel meanwhile on Tuesday announced that another five soldiers had been killed in an ambush by militants the previous evening after they sneaked into southern Israel by a tunnel.
Also on Monday, mortar killed four soldiers near a kibbutz in southern Israel, the army said, while also indicating that another soldier had been killed in action in southern Gaza.
Their deaths raised to 53 the total number of soldiers killed in the Gaza offensive.
Following a relatively quiet weekend, the violence surged again on Monday, drawing increasingly urgent international demands for an end to the fighting
"In the name of humanity, the violence must stop," pleaded UN Secretary General Ban Ki-moon.
But the calls went unheeded, with Israeli Prime Minister Benjamin Netanyahu warning Monday it would be "a lengthy campaign" that would not end before troops destroyed cross-border tunnels used for staging attacks on southern Israel.
"Israeli citizens cannot live with the threat from rockets and from death tunnels — death from above and from below," he said.
Tensions had risen sharply after a shell on Monday landed inside the Shifa hospital compound in Gaza City, followed by a blast at a children's playground in the city's Shati refugee camp, that killed 10, eight of them children.
Residents in Shati said an F-16 fired several missiles at a motorized rickshaw in a claim denied by the Israeli army, which also said it had not targeted the hospital.
"We have not fired on the hospital or on Shati refugee camp," Major Arye Shalicar told AFP, saying the army had footage showing militants firing at Israel but the missiles falling short and striking targets inside Gaza.
With the toll of Palestinian dead rising, Iran's supreme leader accused Israel of committing "genocide" in Gaza, and demanded the Islamic world arm those Palestinians involved in fighting the Jewish state.
In a speech Tuesday marking the Eid festival, Ayatollah Ali Khamenei said Israel was acting like a "rabid dog" and "a wild wolf" and causing a human catastrophe in Gaza, where people should be helped to defend itself.
And Palestinian president Mahmud Abbas was expected to visit Cairo with representatives of Hamas and Islamic Jihad, another militant group, for fresh talks with the Egyptians on ending the violence in Gaza, a senior source in Ramallah told AFP, without saying when.
AFP Photo/ Said Khatib