Gaza Truce Deadline Looms; Israel, Hamas Stick To Demands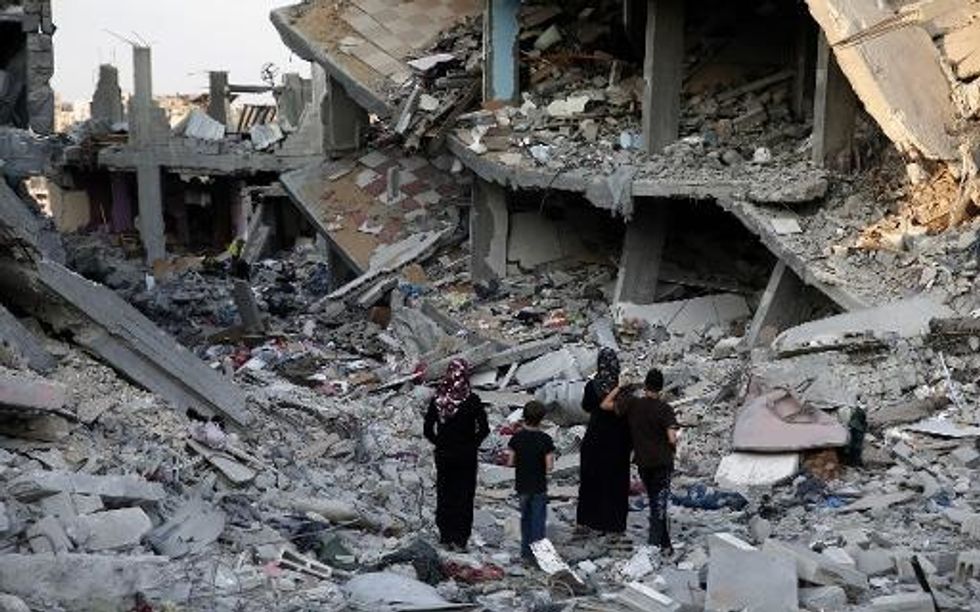 By Laura King, Batsheva Sobelman, Los Angeles Times
The latest Gaza truce is the longest so far, lasting five days, but an agreement over demands remains elusive.
Hamas appears at odds not only with Israel but other Palestinian factions in the delegation to the Cairo talks.
As the clock ticked down on yet another Gaza cease-fire, Egyptian mediators on Monday prodded Israel and the Palestinians to take steps to avert another outbreak of hostilities, but neither side showed public signs of softening its demands.
The latest truce — the longest so far, lasting five days — was due to expire at midnight local time. Israel warned the militant group Hamas, which controls the Gaza Strip, against any resumption of rocket fire, saying such a move would draw a forceful response.
Israel has expressed willingness to extend the cease-fire and continue indirect talks if the calm held. Israel's intelligence minister, Yuval Steinitz, told Israel radio on Monday that prospects for an accord were "not spectacular, to say the least." But he added that "one must wait … sometimes there are surprises."
Hamas, for its part, appeared to find itself at odds not only with Israel but with other Palestinian factions in the delegation to the Cairo talks, taking a harder line than the government of President Mahmoud Abbas on several points, including how and when an Egyptian and Israeli blockade of the coastal territory will be eased.
A monthlong war between the two sides, which tapered off with a series of cease-fires and the withdrawal of Israeli ground forces earlier this month, killed more than 2,000 Palestinians, most of them believed to be civilians, and 67 on the Israeli side, all but three of them soldiers.
When the last truce expired late Wednesday, there was argument almost up to the moment of the deadline. And even as the extension was announced, there was a brief flare-up of fighting — rockets fired from Gaza and retaliatory airstrikes by Israel. Hamas, which has allied fighters it says it does not directly control, denied its forces had fired the rockets.
Hamas came under pressure over the weekend to moderate its position in talks between Saeb Erekat, representing Abbas, and Khaled Meshaal, who lives in exile in Qatar and heads Hamas' political bureau. Israel's Haaretz daily newspaper said Abbas' government is trying to get Hamas to accept an Egyptian-authored formula for an accord even if it falls short of Hamas' demands.
But after the extreme scope of death and devastation in Gaza, Hamas wants to produce landmark results, such as a commitment for the reopening Gaza's seaport and airport. Israel insists that stringent security provisions would have to be in place to prevent Hamas from exploiting an easing of the blockade in order to rearm.
Delays in reaching an accord have been holding up the start of full-scale efforts to start reconstruction of Gaza, where the infrastructure has been battered and thousands of homes and businesses destroyed. Norway announced that its government and Egypt would cohost a donor conference to kick off what is likely to be a massive and lengthy rebuilding effort.
As the deadline neared, Monday brought a reminder of the events that helped touch off the Gaza conflict. The Israeli military said Monday that troops had demolished the West Bank homes of two suspects in the kidnapping and killing of three Israeli teens, and blocked off a third. After the teens' bodies were found, Israeli Prime Minister Benjamin Netanyahu blamed Hamas and authorized a wave of arrests of Hamas suspects in the West Bank.
Special correspondent Sobelman reported from Jerusalem.
AFP Photo/Thomas Coex
Interested in world news? Sign up for our daily email newsletter!