Gaza Truce Holds As U.S. Ties With Israel Show Strain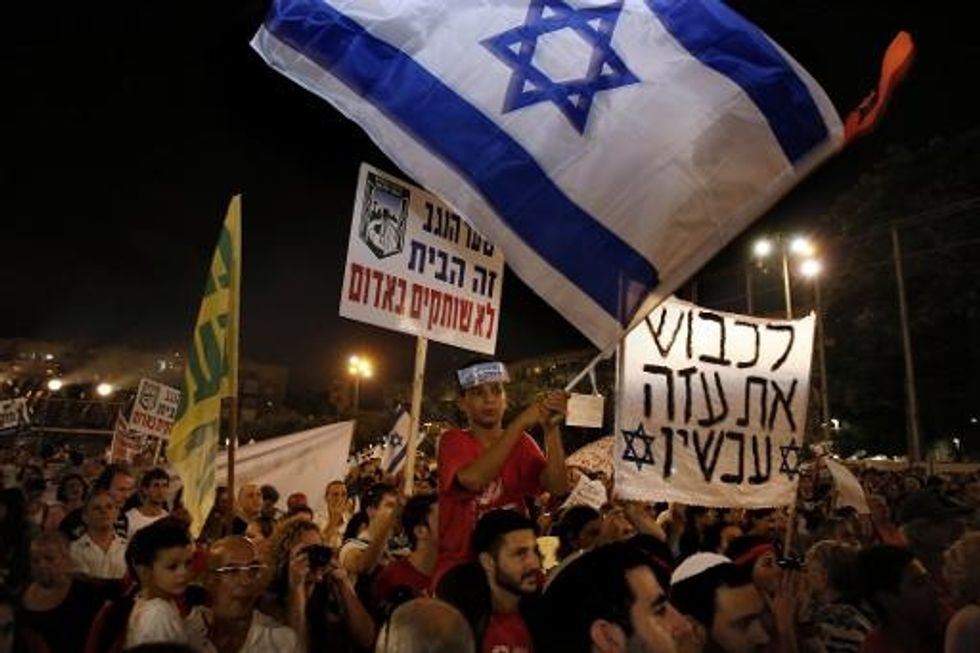 By Steve Weizman
Gaza City (Palestinian Territories) (AFP) — A fragile ceasefire around Gaza held for a second day Friday as Israel's relations with its U.S. ally showed new signs of strain with tough talks looming on a more lasting peace.
Washington denied a report that the White House was tightening the reins on the routine delivery of military aid to Israel over concerns about the proportionality of its military action in Gaza.
But the State Department acknowledged that arms shipments were being kept under review in the face of a conflict that has killed 1,962 Palestinians and 67 people on the Israeli side since July 8.
Egyptian mediators won a new five-day ceasefire late Wednesday to give Israeli and Palestinian negotiators more time to thrash out a longer-term truce.
The ceasefire got off to a rocky start in its first few hours but Israeli officials said it had held into a second day Friday.
The military said there was no Palestinian rocket fire overnight and that it had carried out no air strikes.
"There was nothing," a spokeswoman told AFP.
Negotiations are expected to resume in Cairo on Saturday evening, as Palestinian and Israeli negotiators consult with their political leaderships about the parameters for an eventual long-term truce.
Gaza's Islamist de facto rulers Hamas, who have representation on the Palestinian negotiating team, insist there can be no return to peace without a lifting of Israel's eight-year blockade of the beleaguered coastal enclave.
But Israel's right-wing government — under pressure from constituents from Gaza border towns that have endured persistent rocket fire from the territory — is refusing to countenance any major reconstruction effort without full demilitarization.
– 'Live in peace' –
Thousands of Israelis joined by the mayor of the border town of Sderot, Alon Davidi, rallied in Tel Aviv late Thursday against any outcome that does not provide them with lasting security.
"This is a universal principle. We want to live in peace," Davidi, a member of Prime Minister Benjamin Netanyahu's Likud party, told the crowd.
The army says Palestinian militants in the Gaza Strip have launched more than 3,500 rockets since July 8. More than 2,790 have slammed into Israel and around 600 have been shot down.
Netanyahu's security cabinet met for a second day Friday to hammer out a negotiating position for the next round of talks, media said.
There was no formal statement from the secretive body.
– Tension with United States –
Israel secured supplies of ammunition from the Pentagon last month without the approval of the White House or the State Department, The Wall Street Journal reported.
President Barack Obama's administration, caught off guard as it tried to restrain Israel's campaign in Gaza, has since tightened controls on arms shipments to Israel, the newspaper said, quoting U.S. and Israeli officials.
The newspaper said Obama and Netanyahu had a particularly tense phone call on Wednesday and that the Israeli leader wanted U.S. security assurances in return for a long-term deal with Hamas.
The chairman of the Israeli parliament's foreign affairs committee, Likud MP Zeev Elkin, said that spats between close friends were normal and the underlying Israel-U.S. relationship remained sound.
"Differences of opinion are legitimate and sometimes necessary," he told public radio.
But Alon Pinkas, Israel's former consul-general in New York, told the radio that Elkin and others who saw no danger signals were like "people on the Titanic saying how lovely the buffet is."
The Wall Street Journal said Netanyahu had essentially "pushed the administration aside," reducing U.S. officials to bystanders instead of their usual role as mediators.
State Department spokeswoman Marie Harf acknowledged that the administration was looking carefully at arms shipments to Israel but said the process was "by no means unusual."
"Given the crisis in Gaza, it's natural that agencies take additional care to review deliveries," she told reporters.
"This is not routine," Pinkas said. "Even when they do check, it's done quietly and not announced; it doesn't appear in the Wall Street Journal."
"Relations with the U.S. are a strategic asset that must not be harmed," Friday's Maariv daily quoted Finance Minister Yair Lapid as saying.
"This is a worrying trend and we cannot let it continue."
Relations between Washington and Israel were already strained by the collapse of U.S.-brokered peace talks earlier this year that the Obama administration had made a top foreign policy priority.
Obama has defended Israel's use of force against rockets fired by Hamas but has repeatedly voiced concern over the civilian death toll in Gaza.
The United Nations says that 72 percent of the Palestinian dead have been civilians.
AFP Photo/Gali Tibbon
Interested in world news? Sign up for our daily email newsletter!