Georgia, Missouri Execute Convicted Killers; First Since Botched Lethal Injection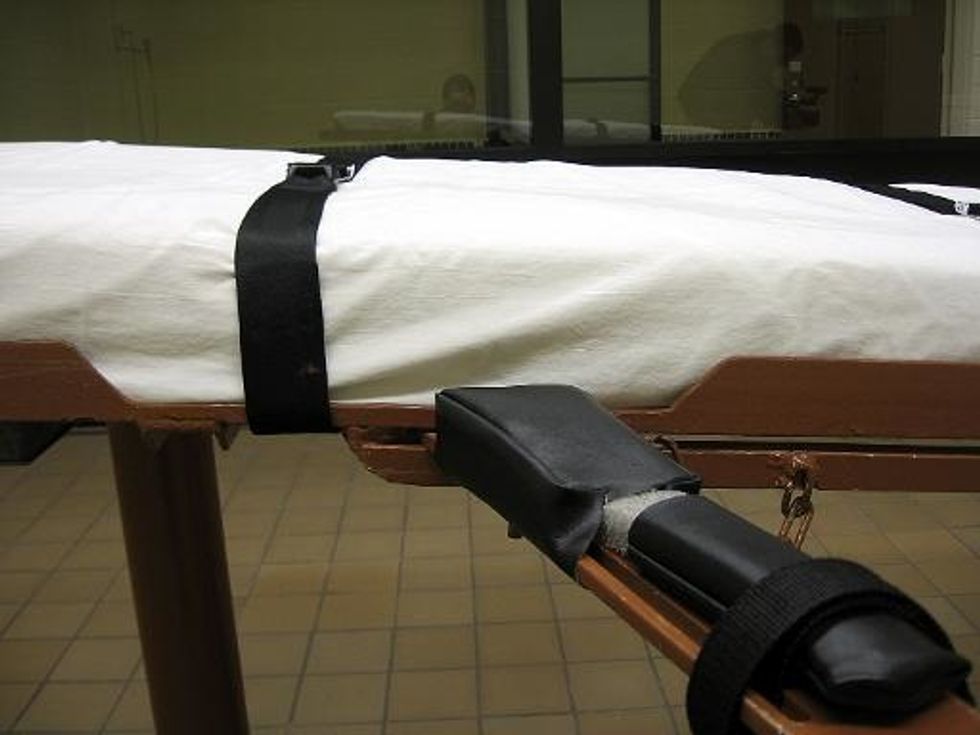 By Matt Pearce and Ryan Parker, Los Angeles Times
Convicted killers in Georgia and Missouri were executed late Tuesday about an hour apart, marking the first executions in the U.S. since the botched lethal injection of an Oklahoma prisoner in April.
Shortly before midnight in Georgia, Marcus Wellons, 59, was executed by lethal injection after a last-minute appeal to the U.S. Supreme Court was denied. Wellons was sentenced to death for the 1989 rape and murder of 15-year-old India Roberts. Witnesses at the Georgia Diagnostic and Classification Prison in Jackson reported that he apologized to his victim's family and asked for a prayer.
An hour later in Missouri, John Winfield, 46, was executed for killing two women who were friends of his ex-girlfriend, whom he shot and blinded in the assault. His death sentence went forward after Gov. Jay Nixon said late Tuesday that he had denied Winfield's request for clemency.
"The jury in this case properly found that these heinous crimes warranted the death penalty, and my denial of clemency upholds the jury's decision," Nixon said in a statement.
After Winfield was pronounced dead shortly after midnight in Missouri, the state's attorney general issued a statement.
"Nearly two decades have passed since John Winfield's cowardly acts of rage and jealously changed the lives of three families forever," wrote Chris Koster. "He brutally murdered two defenseless young women, one in front of her children, and attempted to murder the mother of his own children, leaving her permanently disabled."
Wellons and Winfield both had asked the U.S. Supreme Court to examine the secrecy laws in their states as a reason to stay their executions because of the undisclosed drug cocktails that would be used to kill them.
Secrecy laws such as Georgia's and Missouri's have come under especially heavy scrutiny from death penalty opponents after Oklahoma inmate Clayton Lockett writhed and groaned before his death in April.
Oklahoma officials had injected Lockett with a secretive, experimental cocktail administered by an execution team whose identities and qualifications were shielded by a secrecy law.
Wellons' legal team had argued that it was being unconstitutionally blocked from learning more about the quality of the drug to be used on its client and the qualifications of the officials administering it.
Three judges on the 11th U.S. Circuit Court of Appeals unanimously rejected those arguments earlier Tuesday, though one judge, Charles Wilson, wrote that Georgia's secrecy law had a "disturbing circularity problem."
Since it was Wellons' responsibility to prove that the state's execution plans were likely to cause an unacceptable amount of harm, Wilson wrote, "How could he when the state has passed a law prohibiting him from learning about the compound it plans to use to execute him?"
Wilson added that judges, too, would have difficulty examining the legality of the state's executions without more information on how they were being carried out. Despite those concerns, he cleared the way for Wellons' execution.
The U.S. Supreme Court has not fully considered any cases involving state execution secrecy laws, which death penalty opponents argue violate their clients' protections from cruel and unusual punishment and their First Amendment right to crucial government information about their cases.
Meanwhile, in Missouri, Winfield suddenly faced imminent execution after a federal appeals court removed a stay of execution Tuesday, leading to an emergency appeal to the U.S. Supreme Court.
Last week, a federal judge had issued the stay for Winfield's execution over concerns that state prison officials had improperly hampered his request for clemency to the state's governor. Winfield's attorneys said state officials had threatened a prison employee who planned to formally praise Winfield's character and conduct in prison.
Winfield was convicted of shooting the three women, killing Arthea Sanders and Shawnee Murphy, in 1996.
The full 8th Circuit court threw out the judge's hold 6-4, with another judge not participating, clearing the way for Winfield's execution.
In the majority opinion, the court wrote that because the prison employee eventually made his declaration in support of clemency anyway, there was no longer a problem.
The decision led Winfield's attorneys to make an emergency appeal to the U.S. Supreme Court.
"John Winfield is a model prisoner who is trusted by prison guards and serves as a positive role model for younger prisoners," Joe Luby, Winfield's attorney, said in a statement, adding: "We are hopeful the U.S. Supreme Court will reinstate the stay so that Mr. Winfield's clemency obstruction claim can be fully and fairly adjudicated."
Winfield's attorneys also attacked the state's execution secrecy laws.
Photo: Caroline Groussain via AFP