Georgians Choose Millionaire Newcomer Perdue In GOP Senate Runoff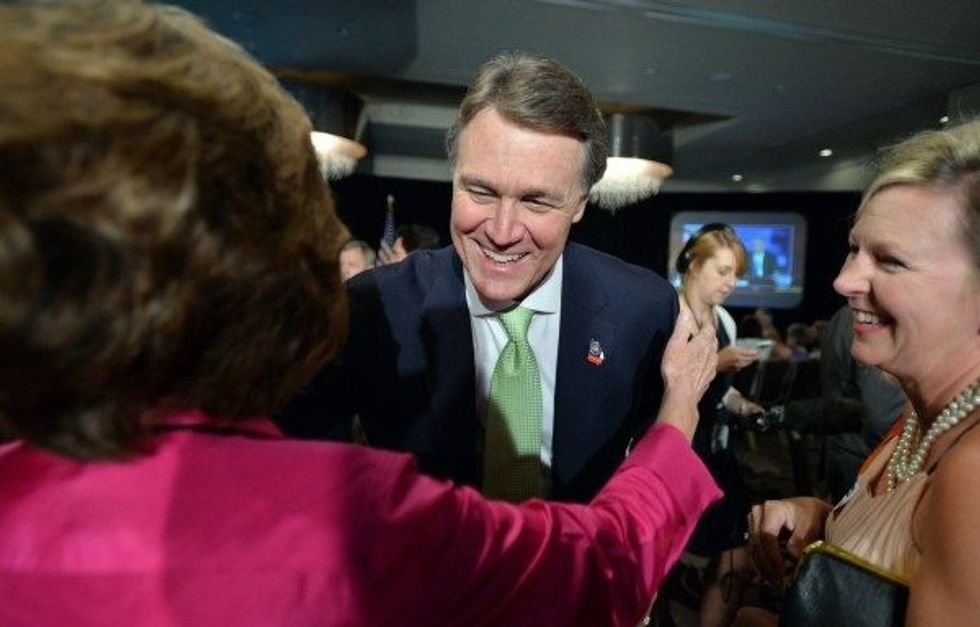 By Lisa Mascaro, Tribune Washington Bureau
WASHINGTON — Georgia voters Tuesday chose a millionaire from a political family, David Perdue, over longtime congressman Jack Kingston as the Republican nominee for an open Senate seat, ending a bruising primary fight that may have roughed up the party's prospects this fall in the battle for control of the Senate.
Perdue, the former Dollar General executive who poured more than $3 million from his personal fortune into his campaign, portrayed himself as an outsider with a fresh approach to Washington's problems, and he targeted the 11-term lawmaker as part of the status quo.
The cousin of former GOP Gov. Sonny Perdue now faces Democratic candidate Michelle Nunn, a moderate political novice and daughter of popular former Sen. Sam Nunn, making the November race a showdown of sorts for Georgian political families.
"Fixing big problems like this is what I've done all my life," Perdue said in ad midway through the campaign. "It's what I do."
The long primary campaign dragged into Tuesday's late-night cliff-hanger. Perdue led by more than 6,000 votes with more than 91 percent reporting when the Associated Press called the race. Voter turnout for the election, on a summer day that threatened rain, was low.
Nunn's team has used the months of Republican infighting to her advantage, building a strong campaign in a long-shot effort to turn the Peach State blue and giving Democrats their best chance to add a seat in a midterm cycle in which Republicans are favored nationally.
Control of the Senate will probably be determined in part by Georgia and the other Southern states; Republicans need to net six seats to wrest the chamber from Democrats. The Georgia seat, now held by retiring Republican Senator Saxby Chambliss, is one the GOP does not want to lose.
Republicans immediately cast their nominee as the outsider at a time when Washington is woefully unpopular with American voters.
"David's experience in the private sector will be put to good use in Washington," said Senator Jerry Moran (R-KS), the chairman of the Republicans' campaign committee.
For good measure, party Chairman Reince Priebus sent a picture on Twitter of Nunn and President Barack Obama under the title, "Georgians can't trust Michelle Nunn."
But in a preview of the tough campaign to come, the executive director of the Democrats' campaign committee, Guy Cecil, said Perdue's "shady business dealings" made it "clear multimillionaire David Perdue is only looking out for himself."
The long-fought GOP primary was a test for the U.S. Chamber of Commerce, which has played a more aggressive role this season to prevent more extreme Tea Party candidates from winning party nominations. Such candidates have been blamed for the GOP's failure to gain the Senate majority in past elections.
The Chamber of Commerce spent more than $2 million backing Kingston, according to the Center for Responsive Politics, including a late-breaking ad that portrayed Perdue as a crybaby — a nod to the former executive's own campaign ads that repeatedly set Kingston amid a sea of babies in Washington's often childish political dramas.
Perdue, who had never before run for office, led the wide-open field of candidates in May's first round of voting. Kingston was able to scoop up endorsements from both the Tea Party and the business community to improve his showing, especially in metro Atlanta, but apparently not enough.
Photo: Hyosub/Shin/Atlanta Journal-Constitution/MCT