Germanwings Co-Pilot Accelerated Plane Before Crash, Officials Say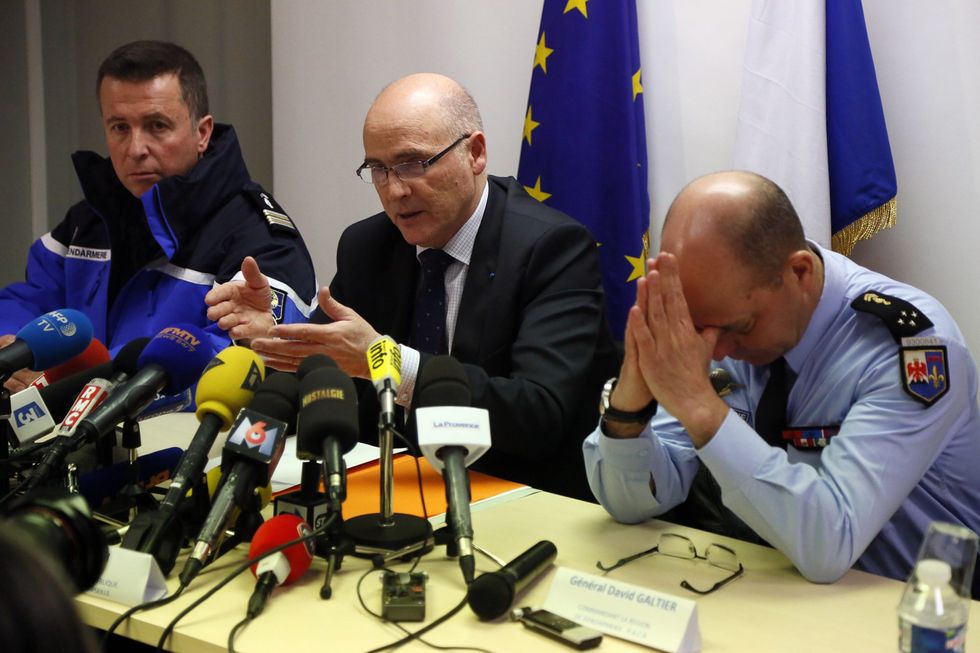 By Jessica Camille Aguirre, dpa (TNS)
PARIS — The second black box recovered from the wreckage of Germanwings flight 4U9525 shows that co-pilot Andreas Lubitz accelerated the aircraft as it descended into the Alps, French aviation officials said on Friday.
French aviation authority BEA also said that the flight data recorder confirms that Lubitz changed the autopilot to lower the plane to an altitude of 100 feet, a figure that experts have speculated was likely the lowest that it could have been set at.
The changes, which caused the Airbus A320's demise and killed all 150 people on board, are the subject of a raft of investigations into the culpability of Lubitz. The BEA findings add to evidence that he destroyed the plane on purpose, although investigators in Germany and France have still not identified a clear motive.
According to audio recordings from the first black box, Lubitz locked the cockpit door, preventing the return of the plane's main pilot, and was alone while changing the flight controls.
German prosecutors have revealed that Lubitz searched for suicide methods and cockpit locking mechanisms online during the week prior to the fatal crash.
In the absence of a suicide note or claim of responsibility, prosecutors have focused on Lubitz's psychological history to try to understand what could have prompted the 27-year-old to steer the aircraft into the ground as it flew from Barcelona, Spain, to Dusseldorf, Germany, on March 24.
A string of revelations have come to light, including that Lubitz had temporarily suspended pilot training in 2009 due to severe depression and had informed Lufthansa, Germanwings' parent company, of his mental state.
Two days after the crash, Lufthansa chief executive Carsten Spohr had said Lubitz had passed all his medical tests, and that he "was fit for flying without any restrictions."
Lubitz had also passed medical and psychological evaluations to obtain a student pilot certificate from the US Federal Aviation Authority in 2010.
But a note on his medical file showed that Lubitz had suffered from suicidal tendencies before receiving his pilot's license, German prosecutors said, and he had regular appointments with doctors despite having no diagnosis of a physical illness.
In the wake of the crash, authorities are scrambling to find out whether there are fundamental flaws in the system that allowed a man with an apparent death wish to sit at the controls of an airliner, and airlines around the world have independently brought in a two-person cockpit rule.
Safety investigators in France and a panel of German officials are conducting separate reviews of aviation safety procedures, including cockpit-locking mechanisms and psychological screening for pilots.
Following the Sept. 11 terrorist attacks in the United States, international standards were put in place requiring reinforced cockpit doors that must be locked during the flight.
If a pilot is incapacitated, there is a way for a cabin crew member to open a locked door, but Lubitz is thought to have overridden this system and manually blocked re-entry.
According to the cockpit voice recorder files heard by French prosecutors, the main pilot grew increasingly insistent in attempting to get a response from Lubitz as the plane descended.
(c)2015 Deutsche Presse-Agentur GmbH (Hamburg, Germany), Distributed by Tribune Content Agency, LLC
Photo: French prosecutor Brice Robin, center, discusses evidence pointing to deliberate actions by the co-pilot in the crash of a Germanwings jet, killing all 150 people on board, during a press conference on Thursday, March 26, 2015. Robin confirmed that Andreas Lubitz, a 28-year-old German citizen, refused to reopen the cockpit door for the pilot and pressed a button that sent the plane into its fatal descent. (Ruoppolo Guillaume/Maxppp/Zuma Press/TNS)