Gerry Adams Held Over Notorious IRA Murder
@AFP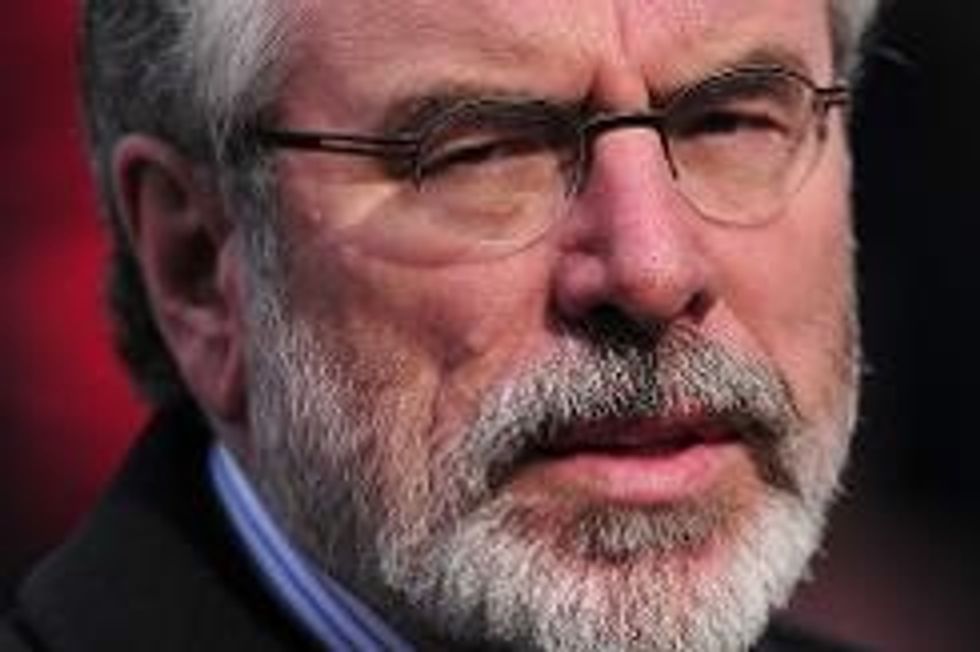 Antrim (United Kingdom) (AFP) – Northern Ireland police on Thursday questioned Sinn Fein president Gerry Adams, a chief negotiator in the Irish peace process, over the notorious IRA murder of a woman suspected of being an informant in 1972.
The 65-year-old republican leader was arrested on Wednesday night over the killing of mother-of-ten Jean McConville after voluntarily attending a police station in Antrim, Northern Ireland, for an interview.
Adams strongly rejected any involvement in the murder — one of the most infamous incidents in Northern Ireland's violent history — saying in a statement that the allegations were "malicious."
"While I have never disassociated myself from the IRA and I never will, I am innocent of any part in the abduction, killing or burial of Mrs. McConville," he said.
Sinn Fein was once the political arm of the Irish Republican Army (IRA) paramilitary group, which waged a bloody campaign over three decades for British-controlled Northern Ireland to become part of Ireland.
The party now shares power with the pro-British Democratic Unionist Party (DUP) in the devolved government in Belfast. It is also represented in the Irish parliament in Dublin.
Sinn Fein deputy leader Mary Lou McDonald said Adams's arrest was "politically motivated," as it came three weeks ahead of local and European Parliament elections.
McConville, a 37-year-old widow with ten children, was snatched from her home in west Belfast, becoming one of more than a dozen so-called "disappeared" of the conflict.
The IRA accused her of being an informer for the British army, although a police watchdog later found no evidence to support the claim.
The IRA admitted her murder in 1999 and four years later her remains were found on a beach in County Louth. She had been shot in the back of the head.
McConville's son Michael, who was 11 years old when he saw his mother dragged away, said he was pleased that the police were "doing their job."
However, he admitted in a BBC interview that he still refused to name the people he saw taking his mother, saying he still feared reprisals.
"If I told the police a thing either me or one of my family members or one of my children would get shot by these people," he said.
"Everybody thinks this has all gone away — it hasn't gone away."
Nobody has ever been found guilty of McConville's murder, but former IRA leader Ivor Bell, 77, was last month charged with aiding and abetting those involved.
Five others in addition to Adams have also been questioned.
Detectives are using evidence given to researchers at Boston College in the United States, who interviewed a number of former paramilitaries.
The interviewees were told the transcripts would not be published until after their deaths, but a U.S. court last year ordered that the tapes should be handed over to police.
Former IRA commander Brendan Hughes and convicted IRA bomber Delours Price, now dead, both alleged Adams was involved in McConville's death.
But Adams, a former member of the British parliament who was elected an Irish MP in 2011, has strongly rejected the claims.
"I believe that the killing of Jean McConville and the secret burial of her body was wrong and a grievous injustice to her and her family," he said.
"Well publicised, malicious allegations have been made against me. I reject these."
Adams, who has led Sinn Fein since 1983, says he was never an official IRA member, but he played a key role in ending its armed struggle.
He became involved in the 1960s Catholic civil rights movement seeking to end discrimination by the Protestant majority, and was detained several times in the 1970s.
For many in Britain he remains a controversial figure, but he won respect for his key role in the 1998 Good Friday peace accords, and for helping persuade the IRA to renounce violence in 2005.
Adams stayed out of the power-sharing government established under the peace deal, and in recent years has taken on the role of elder statesman.
But the spotlight swung back on his family last year when his brother, Liam Adams, was jailed for raping his own daughter in the late 1970s and early 1980s.
©afp.com / Carl Court