Getting Abortions In Texas Has Become Harder For Some Women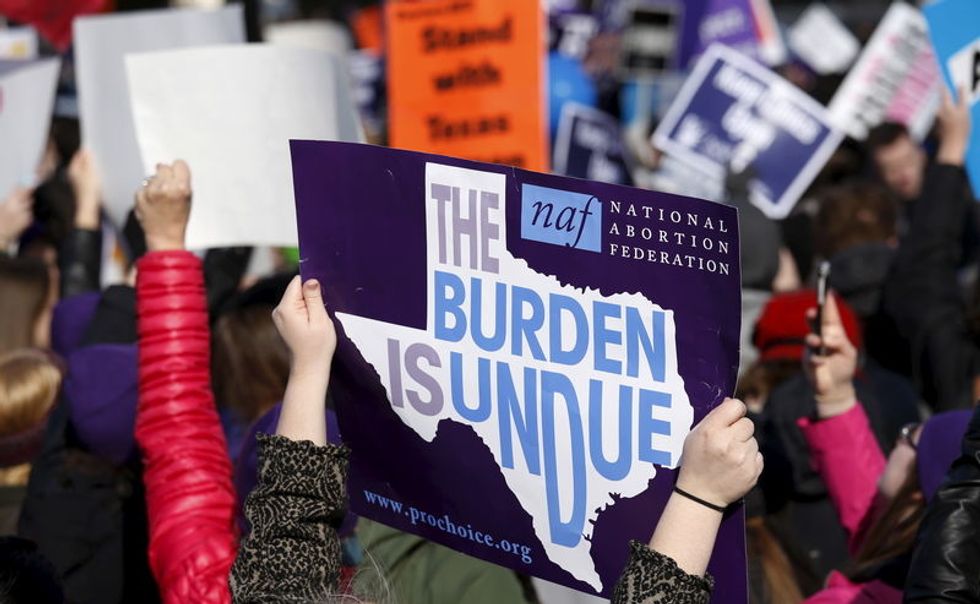 Reuters Health – Some women in Texas have faced added obstacles in getting abortions after the state passed a law in 2013 that put restrictions on providers, according to a new study.
Compared to women whose nearest abortion clinic remained opened, those whose nearest clinic closed were more likely to report traveling long distances, spending more than $100 and other difficulties in accessing abortion.
"Clinic closures really compounded the burdens women were already experiencing and this study brings that to bear in a very detailed way," said study author Liza Fuentes, of Ibis Reproductive Health in Oakland, California.
U.S. states have added almost 300 abortion restrictions since 2010, according to Fuentes and her colleagues of the Texas Policy Evaluation Project.
They write in the American Journal of Public Health that under the 2013 law passed in Texas, doctors performing abortions must have admitting privileges to local hospitals and must follow specific rules for medication abortions, most abortions at or after 20 weeks are banned and abortion centers must meet the standards of surgical centers.
To examine the effects of the law, the researchers surveyed 398 Texas women receiving abortions at 10 of the state's remaining clinics in mid-2014.
More than a third of the women – 38 percent – said their nearest clinic had closed after 2013. These women traveled an average of 85 miles each way to get an abortion, compared to 22 miles on average for those reporting that their nearest clinic had stayed open.
Overall, 44 percent of those whose nearest clinics closed had to drive more than 50 miles, compared to about 10 percent of those whose clinics remained open.
For women who had a clinic closure, "their distance to the nearest clinic (was) four times further than before the law," said Fuentes.
About a third of women whose nearest clinic had closed said they'd spent over $100, compared to a fifth of those who didn't have clinics close.
And 37 percent of women who lost their nearby clinics weren't able to have the kind of abortion they wanted (a medication abortion using the drug mifepristone), compared to 22 percent of those whose nearby clinics remained opened.
The only factor that didn't differ between the two groups of women was how far along they were when they got their abortion, the researchers write.
Fuentes told Reuters Health that the study couldn't account for women who had so much trouble accessing abortions that they didn't show up to the clinic.
"I think it's important to note what this study isn't able to do," she said.
In previous research, the same team found that after the law was passed, more women were delayed in getting abortions, didn't obtain abortions or even thought about self-inducing an abortion.
At current rates, about 30 percent of U.S. women will have an abortion by age 45, according to the Guttmacher Institute, a non-profit organization dedicated to the promotion of reproductive health.
SOURCE: http://bit.ly/1Wu5IWo American Journal of Public Health, online March 17, 2016.
Photo: Protesters demonstrate in front of the U.S. Supreme Court in the morning as the court takes up a major abortion case focusing on whether a Texas law that imposes strict regulations on abortion doctors and clinic buildings interferes with the constitutional right of a woman to end her pregnancy, in Washington March 2, 2016. REUTERS/Kevin Lamarque